Best Kydex IWB Holster Reviews
There are few issues as important as safety and security. The right to bear arms is in the American constitution for a reason. Since the dawn of humanity, humans have found it necessary to defend themselves from villains who would have violence in their heart. This means different things to different people, but for many, it calls for carrying a weapon.
If you're interested in carrying a concealed weapon, you need to look into a Kydex IWB Holster. In case you don't already know these terms, the word Kydex refers to a type of plastic and IWB stands for "Concealment Express Inside the Waistband." These are special holsters that provide for comfortable concealment and easy access. A concealed weapon needs to be completely secured, so it doesn't pose an accidental threat while allowing for easy access in case of an emergency. It's a delicate balance, and in this article, we will look at three best Kydex IWB holsters that manage to strike the right balance.
Concealment Express KYDEX IWB Gun Holster
(fits Smith & Wesson M&P SHIELD 9 / 40 – US Made – Inside Waistband Holster – Adj. Cant & Retention)
The first holster we will look at was designed by Concealment Express to fit the Smith & Wesson M&P Shield 9/40. It's designed to be as sleek and thin as possible, so you can carry it under your clothes without the weapon being visible. To achieve this Concealment Express uses .08i KYDEX plastic to safely secure the weapon without adding unnecessary bulk to the weapon.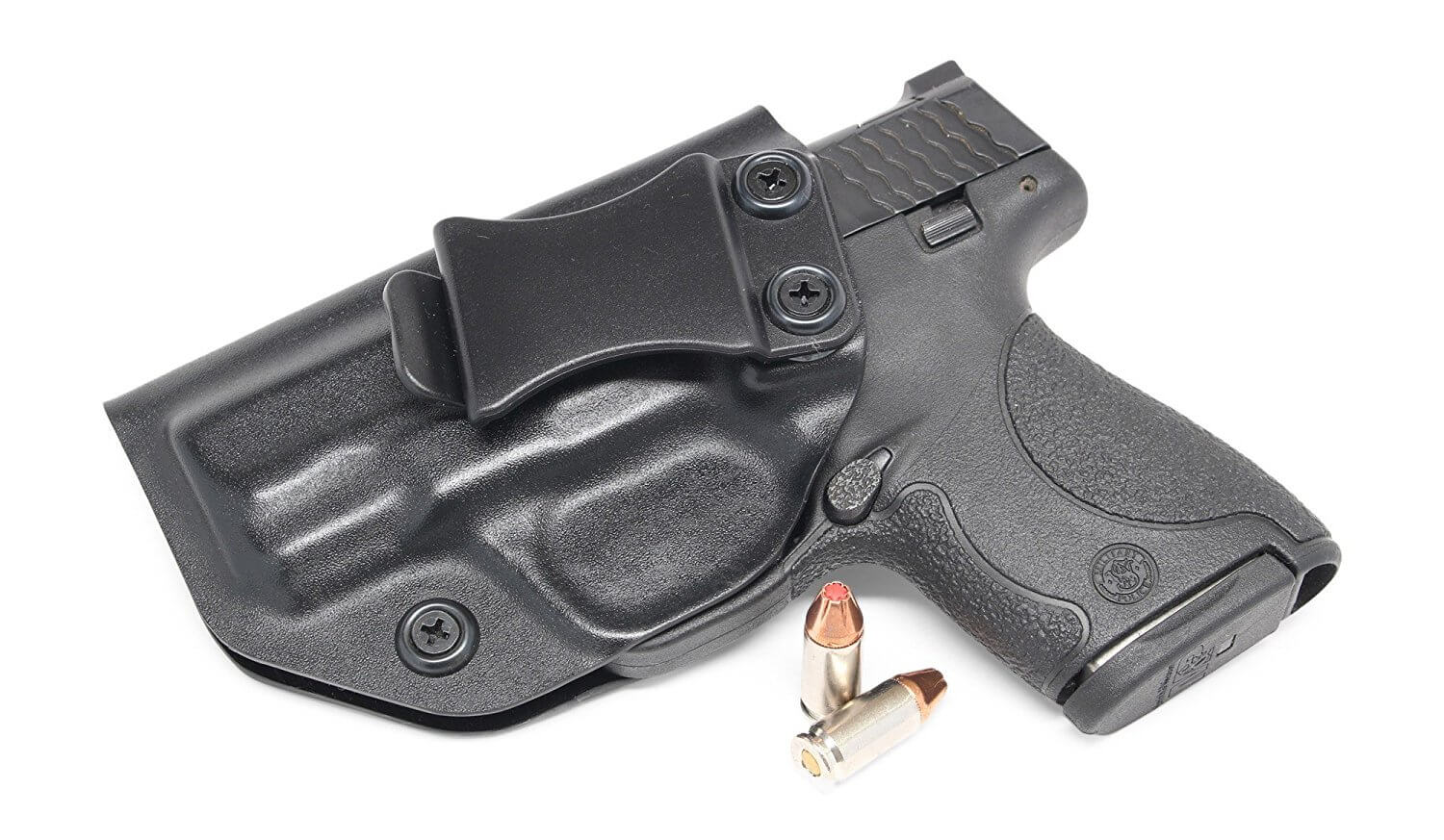 This holster is designed to be very light. It only weighs 2.6 ounces. Going by weight alone you will barely notice it while carrying it. To add to comfort and ease of you the holster's cant can be adjusted 15 degrees. This means that you can carry your gun, your way. Whether you want to have it on your hip, around your back, or just about anywhere else you can fit it this holster is up to the job.
This holster model is available in a wide range of variations to fit the needs of most gun owners. In terms of appearances the holsters come in black, carbon fiber black, raptor black, and carbon fiber storm gray. All of these colors also come in both left and right variations so that everyone can quickly access their weapon.
When looking at this model, it is important to remember that it is designed to fit a very specific gun tight. It has been built with the S&W shield in mind; other guns require different holsters. You should also be sure that any modifications to your gun do not conflict with the design of the holster. Any tall sights on the top of the gun may make it unable to slide into place.
Concealment Express IWB KYDEX Holster:
(fits GLOCK 26 27 33 – Custom Molded Fit – Made in USA – Inside Waistband Concealed Carry Holster – Adjustable Cant & Retention)
Our next holster in this list of the best Kydex IWB Holster is similar to the last but designed with the Glock in mind. If you have a Glock G26, G27, or G33, then you can buy this holster secure in the knowledge that it will fit your gun like a glove.
It's worth noting that while holsters from Concealment Express do their job, there are some drawbacks. For one thing, the material can come to sharp edges in certain points. You want to make sure you know where these are while deciding where to holster your weapon, so you don't hurt yourself when you sit down. With a little bit of caution and some trial and error, this isn't much of an issue, but it is something to think about.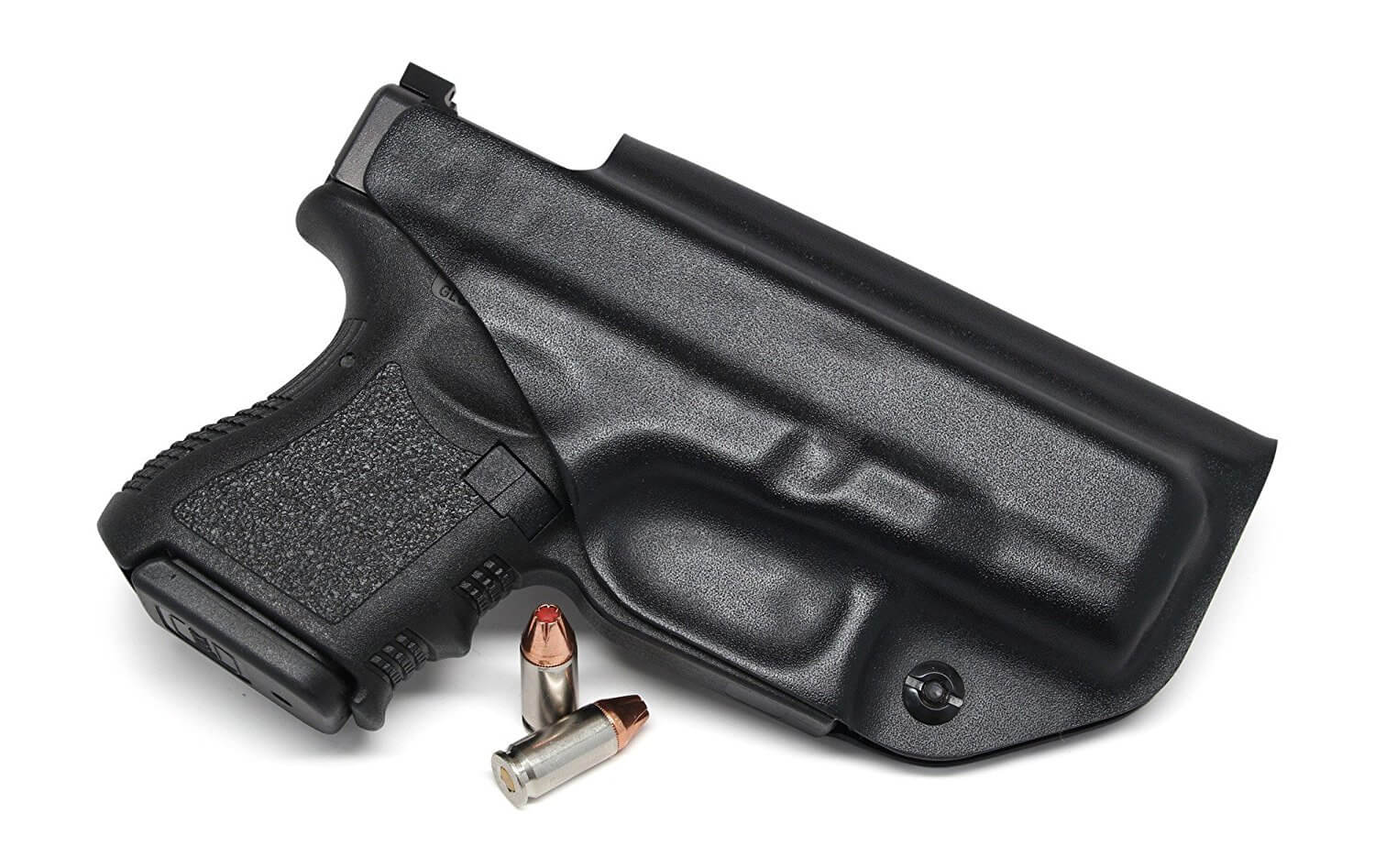 When buying a holster from Concealment Express, you should know that they come with a lifetime warranty. One of the benefits of buying from them is the peace of mind you get dealing with a company that takes pride in their work. For example, this holster is made from beginning to end in the USA. This should assure you that the product is top class, which is just the sort of thing you should demand from a product as important as a concealed carry holster.
Concealment Express IWB KYDEX Holster:
(fits GLOCK 19 23 32 – Custom Molded Fit – Made in USA – Inside Waistband Concealed Carry Holster – Adjustable Cant & Retention)
The final holster we're looking at is yet another Concealment Express. This one is also designed for Glocks, the G19, G23, and G32 to be specific. It's worth reiterating the importance of this level of specificity. You might think that all Glocks look similar enough that you could fudge your holster choice. But if you have a G32 and you buy a holster made for a G33 you are asking for trouble. The incorrect holster is bound to be too loose or too tight. At best, you're looking at wasted money, at worst you could end up running into trouble during in a deadly situation.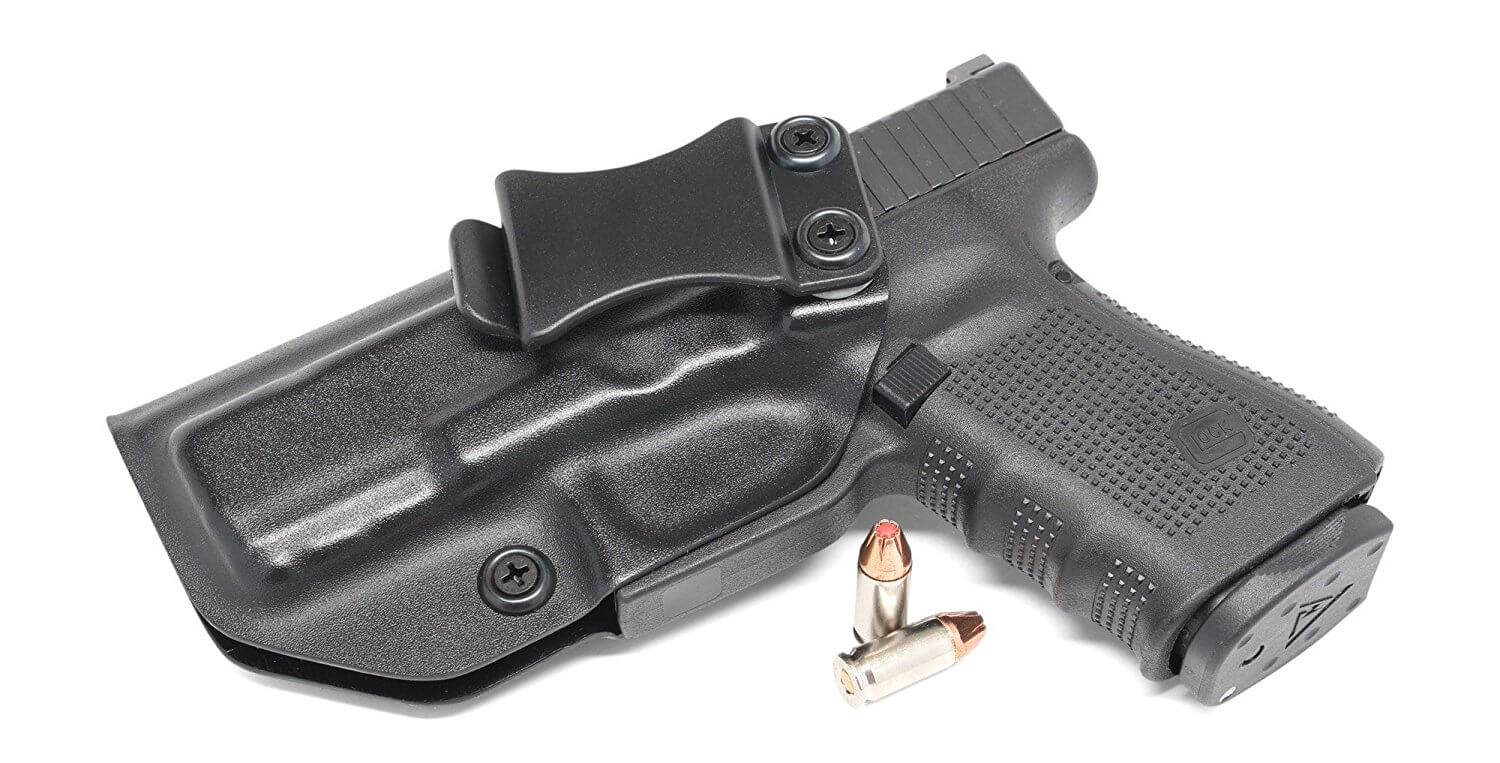 Holsters from Concealment Express are custom molded to fit specific gun types. This is the way it should be; you should be able to feel safe walking around with your gun holstered and a round in the chamber. If you're trying to get by with a one-size-fits-all holster, this just isn't possible.
Picking the Right Holster:
As you might have noticed in our list, the best KYDEX IWB holster comes from Concealment Express. Their basic design is the golden standard in this market, so if you want a holster, you can trust you might as well turn to them. So, when it comes time to decide which model you're going to buy the question you have to ask is what sort of gun you need to holster. The three models we have looked at are Concealment Express' most popular models, but they have a variety of other options for most of the handguns in wide use.
You should only try and fit a gun in a holster that was designed to its specifications. If a gun is too small, it may slide out, and if a gun is too large for the holster, it may be too difficult to pull it out smoothly in an emergency. A gun should fit in its holster like your hand fits into your favorite gloves. So before you buy any KYDEX IWB holster, make sure you're buying the right holster for your gun. The right choice could mean the difference between life and death.