In the modern world of big game hunting, the tree stand has certainly revolutionized the way we hunt. Specifically, portable deer stands have made it much more feasible for hunters to scout game and effectively hunt an area once the proper location has been determined.
Within the portable deer stand market there are a number of different industry segments. Some stands can be erected to completely support themselves and the hunter without a tree, these are often referred to as tripod or tower stands. Beyond the tripod stand, we narrow our focus down to the "tree" stand segment which includes stands that either hang on or are supported by a tree. Within this segment you'll find ladder stands, hang-on stands and finally climbing stands.
In this article, I'm going to take a closer look at reviewing the best climbing tree stand including why you would want one, what to look for when buying as well as what are my choices for the best climbing tree stands.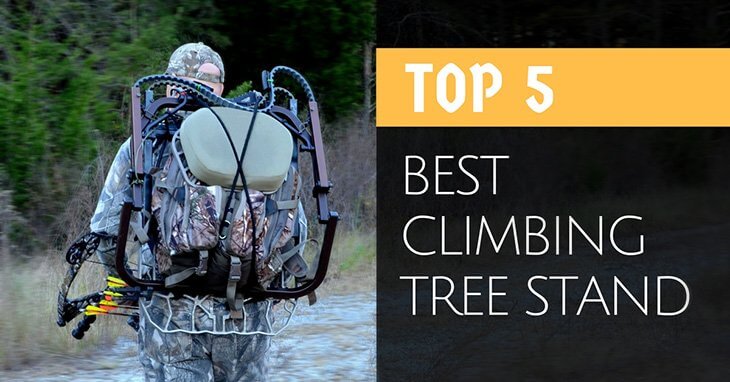 Best Climbing Tree Stands – My Top 5
Lone Wolf Hand Climber Combo II
My first stand choice when it comes to the best climbing tree stand review is the Lone Wolf Hand Climber Combo II. Lone Wolf is a well known brand in the tree stand industry and they have a reputation for producing high quality products. The Hand Climber Combo II is a typical stand from Lone Wolf, which means it's anything but typical compared to other tree stands.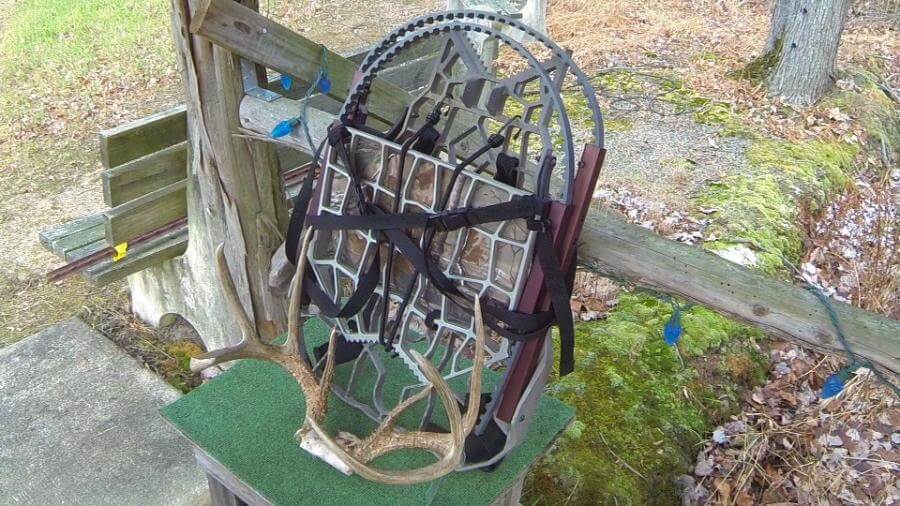 Weighing in at just 17.5-pounds, this stand can be carried comfortably over great distances to even the most remote stand locations. It's 5-inch carry profile also means it won't get snagged on limbs or branches while making the trek to your stand. The Hand Climber Combo is one of those stands that gives up a little bit in comfort but delivers exceptionally in the portability and weight rating categories.
The stand features a lightweight and strong one-piece cast aluminum platform. Included are a bow holder and backpack straps along with a TMA approved fall arrest system. With a weight capacity of 350-pounds, you can be sure this stand will safely support you during the hunt.
The Lone Wolf Hand Climber Combo II tree stand is an excellent choice for hunters looking for maximum stealth and portability.
Summit Goliath SD Climbing Treestand
Next up is the Summit Goliath SD Climbing Treestand. This treestand from Summit combines a rock solid platform with all day comfort allowing you to sit longer and see more game.
The Goliath weighs in at 25-pounds which makes it heavier than some stands but still very portable. The suspended and foam-padded seat with backrest delivers a comfort level you will not find in many climbing tree stands. With a weight capacity of 350-pounds the Goliath is strong and secure.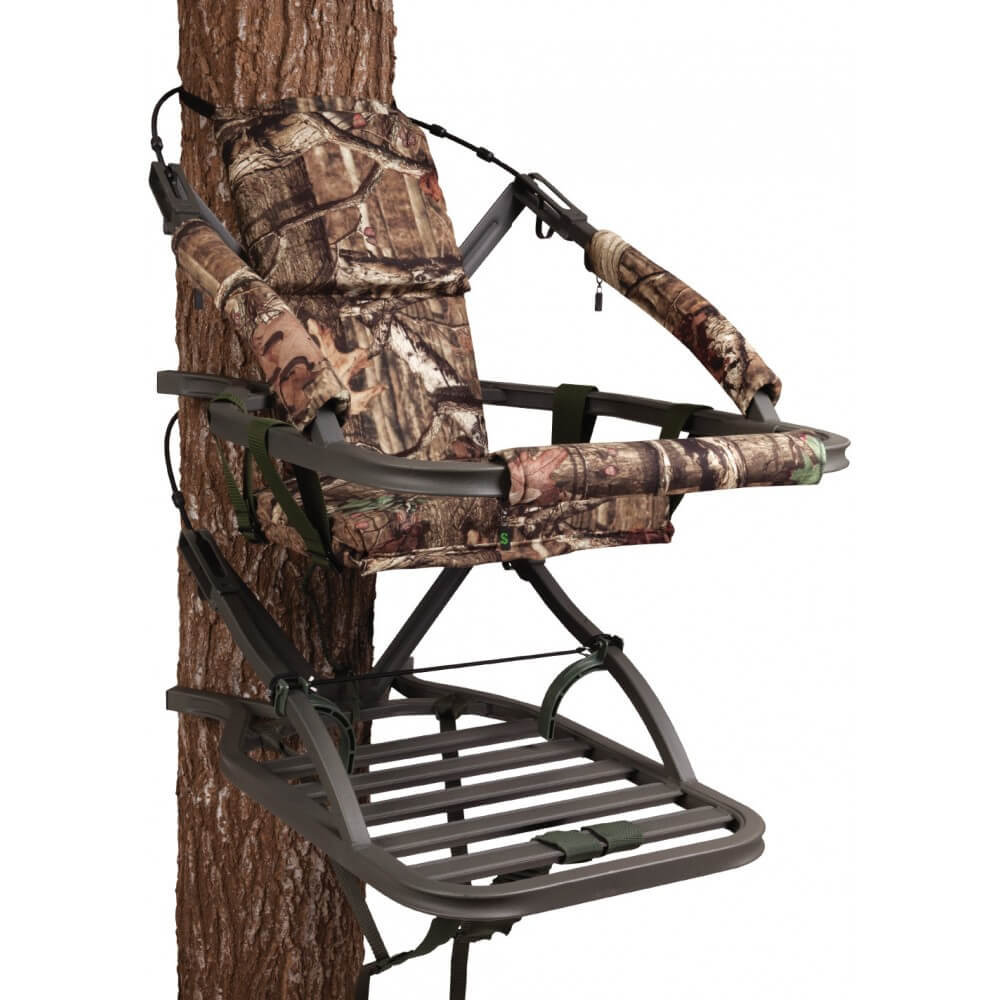 The Goliath also uses Summit's DeadMetal technology which helps to reduce stand noise while hunting. Any experienced hunter knows that foreign sounds in the woods are a dead giveaway to game animals. By strategically injecting the stand with expanding foam, the Goliath reduces vibrations and stand noise allowing you to hunt quietly.
Other features on the Goliath include the QuickDraw cable retention system and RapidClimb Stirrups. The QuickDraw system is the fastest and quietest cable system on the market. The RapidClimb stirrups adjust to fit any boots and keep them securely attached to the platform. The Goliath attaches to the tree quickly and quietly allowing you to focus on hunting.
If you're looking for maximum comfort in the tree stand and do not cover significant distances to and from your stand, the Goliath SD Climber from Summit is an excellent choice of tree stand.
Muddy Stalker Climber Treestand
The next stand that made our list is the Stalker Climber from Muddy Treestands. This lightweight and low profile stand is a great combination and makes an excellent choice for the minimalist hunter.
Weighing in at only 15-pounds, the Stalker stand is super lightweight and will not slow you down. This extreme level of portability allows the hunter to select stand locations way off the beaten path putting you in front of game animals that others simply cannot get to.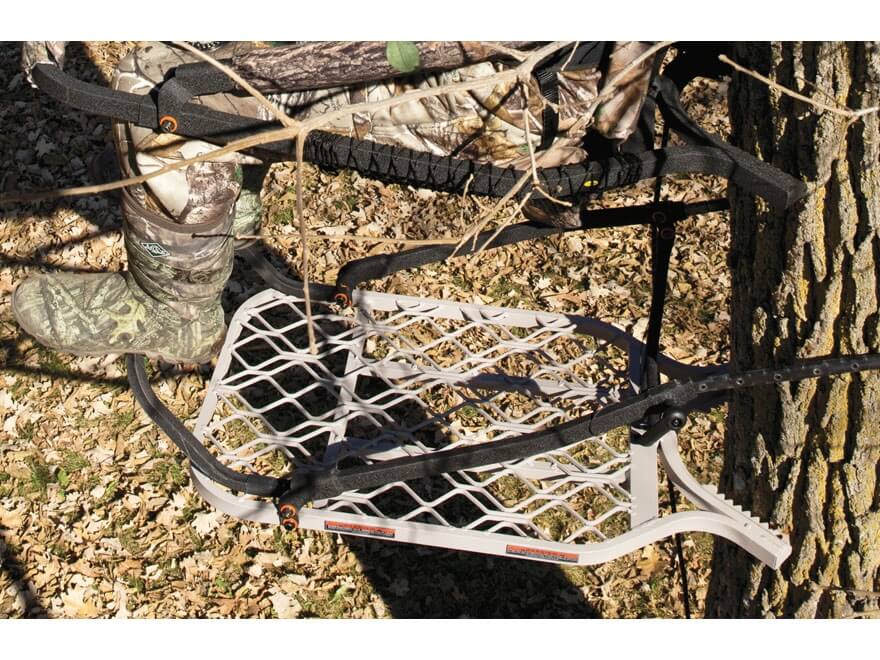 The design is quite simplistic with only a mesh seat and climbing bar combined with an ample and sturdy platform surface. The foot platform slats are coated in a non-slip material ensuring secure footing while climbing. I am a big fan of the nylon netted seat as it reduces bulk and weight from the stand while simultaneously adding comfort.
A slightly lower weight capacity of-300 pounds is worth mentioning but I can't fault Muddy for this. The Stalker stand was designed for the physically fit hunter, looking for extreme portability and stealth. If this sounds like you, the Stalker from Muddy is a great choice of tree stand.
Summit Treestands Viper SD Climbing Treestand
Next to make the cut on this list of the best climbing tree stand is another offering from Summit Treestands, the Viper SD. The Viper utilizes many of the same features found in the Goliath mentioned earlier in this article, however it delivers them on a smaller scale.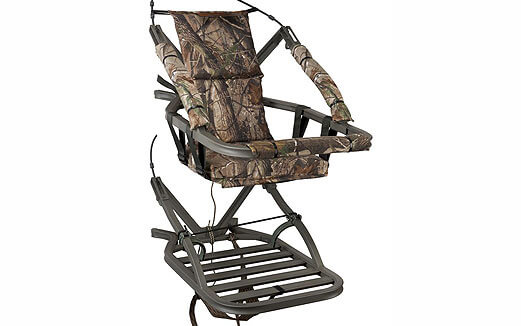 At 20-pounds, the Viper weighs a full 5-pounds less than the Goliath. The weight capacity has been dropped as well however it's still rated at a considerable 300-pounds. The Viper also uses a full-perimeter frame allowing you to safely hunt while sitting or standing. This extra level of versatility is often critical to bow hunters as they need to maximize every shot opportunity within range.
Summit has not stripped any of the innovation from this stand as it includes DeadMetal quiet technology, QuickDraw cable system, RapidClimb stirrups and more. The Viper SD is another great climbing stand from Summit delivered in a smaller and less expensive package than the Goliath.
Lone Wolf Wide Sit & Climb Combo II
Finally, I have chosen the Lone Wolf Wide Sit & Climb Combo II to round up my post featuring the Top 5 Climbing Tree Stands. This stand from Lone Wolf is what I consider to be the pinnacle of not only comfort and quality but also portability and functionality. With that said, you'll need to be prepared to pay a premium price for this all inclusive package.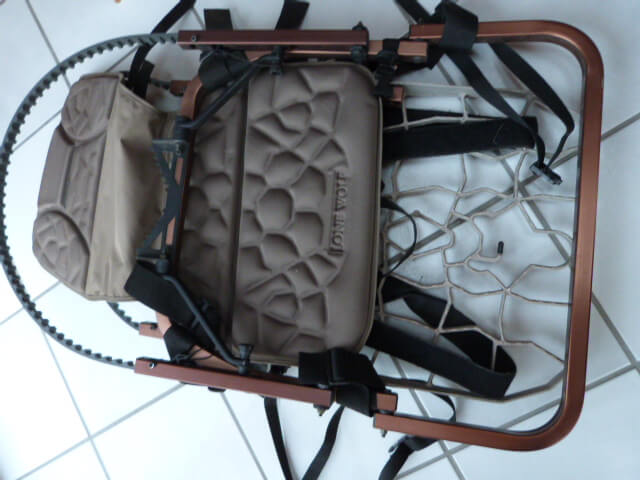 The Lone Wolf Wide Combo combines a super comfortable, 21-inch wide foam seat pad with a full size, one-piece cast aluminum foot platform. On top of that, the Wide Combo stand from Lone Wolf packs down to a mere 4-inch carry profile allowing you to slip through the woods with this stand on your back. Weighing in at only 21-pounds, it is truly a challenge to find another stand that packs this kind of functionality into such a sleek and lightweight package.
For the hunter that is looking for the best of the best and isn't afraid to pay for it, the Lone Wolf Wide Combo II is an excellent climbing tree stand.
Why A Climber?
The main advantage of a climbing tree stand is it's portability when compared to other portable tree stand variations. A climbing tree stand offers the hunter the ability to attach his or her stand to the tree, often in just a few minutes, and then climb to the desired height of the tree and begin hunting immediately. Virtually no other tree stand is as simple to setup and begin hunting out of as a climbing tree stand.
A climber is great for someone who hunts public lands and wants to sneak in and out of the woods without leaving a trail or trace of his or her activity. Most climbers can be comfortably carried on the back of the hunter and are taken in and out of the woods each day. This feature gives the hunter a level of stealth that would otherwise not be possible.
Another great feature of the climbing tree stand variation is the ability of the hunter to adjust the height of the stand accordingly. On other stands such as ladder stands or tripod stands the height of the stand has been predetermined by the manufacturer. Yet, as any experienced hunter knows, each situation and stand location is different, which requires the hunter to approach each situation in a unique way. A given stand location may require the hunter to hunt higher in the tree to provide the best shooting angles and visuals of the area. Another stand location however, may allow the hunter to use the natural elevation of the terrain to his or her advantage which would allow for a lower stand height. By using a climbing tree stand, the hunter has the flexibility to determine the best stand height.
For the serious hunter that wants maximum portability and maximum stealth; and for the hunter who chooses to hunt where no other hunter will go, the climbing stand is the only way to go.
What To Look For?
When purchasing a climbing tree stand, I tend to consider a number of different components. The first is quality. After all, your life could depend on the safety of the tree stand and accompanying safety harness so you want to be sure these are second to none. Also, tree stands are often used in some of the toughest outdoor conditions for prolonged periods of time. Exposure to the elements is a given for any tree stand. As a result, if the materials are not made to last, the stand could break down or deteriorate over time possibly putting the quality of your hunt and your own safety in jeopardy.
The second component I look for while deciding on the best climbing tree stand is the weight and portability of the tree stand. If I'm hunting a stand location that is easy to get to and I do not need to remove my stand from the woods at the end of each hunt I will probably use a different type of tree stand. Because climbing tree stands are often used under special circumstances where the stand needs to be removed from the woods each day, I want the stand to be lightweight, durable and comfortable to carry. If I have chosen a stand location deep into the woods, I'll want a stand that has a low profile when folded up on my back so I can sneak into the woods and make as little noise as possible.
Additionally, comfort is something you'll want to consider. Hunting often requires long days of sitting in tree stands where comfort can become extremely important. The longer you can sit in your stand, the better your chances of taking game. With respect to climbing tree stands, comfort often comes at either a premium or a compromise. Often times, a manufacturer can add comfort to a stand by adding padding to the seat or a back rest, however that also adds weight to the stand. The lightest weight and most portable stands often have very minimalist seating areas. If you're looking for a stand that has both a high level of comfort and a low overall weight you'll need to be willing to pay for that.
Finally, the ease of operation and attachment of the stand to tree is important. Most companies have this part of the stand figured out quite well, however some do it better than others. When time is of the essence and your hunt depends on it, you'll want to spend more time sitting in the stand than you do setting it up.
Conclusion – Best Climbing Tree Stand Reviews:
Hopefully after reading this article you have a better understanding of climbing treestands as well was what to look for when purchasing one.
As you found out, the climbing tree stand is a highly engineered and technical piece of equipment for the serious hunter. Climbing stands are not for everyone however. If you hunt private land and have the ability to haul larger stands into permanent hunting areas you might be better served with a tripod or ladder stand.
However, if you find yourself most often hunting public lands that require you to remove your tree stand after each hunt you'll likely best be served by a climbing tree stand. Also, if you hunt remote locations that require long hikes to get to, a climbing stand might be just what you're looking for.
Always take into consideration the compromise of comfortability and portability when purchasing a climbing tree stand. If you're looking for the lightest and most comfortable stands you will certainly pay a premium however you will very likely benefit from this decision in the field.
Finally, always purchase your tree stand from a reputable and trusted manufacturer as saving a few dollars on a tree stand will never be worth compromising your own safety. Additionally, it is often required that all tree stands be sold with an approved safety harness or fall-arrest system. These harnesses are meant to stop you from falling out of the tree in the event of a tree stand malfunction. It is important to always wear your safety harness while hunting from your treestand.