Best Tea Kettle under $50– My Top 3 Choices & Detailed Review Guide
If you live in a place that has a lot of cold weather throughout the year, you frequently need to make hot beverages when your belly craves for something warm. And this is especially true if you're in the outdoors, camping or hiking your way through wet or cold terrain!
Fun Fact – There are people who prefer to drink hot beverages in hotter regions too, as they believe that hot drinks cool your system down in hot weather. Strange?
We have a choice between the stove-top tea kettle or the quicker electric kettle. The traditional stove-top kettle with or without a whistling sound has probably been in use for a few hundred years and has evolved into the modern appliance we still see today, in homes and businesses in rural locations. The more common appliance today to brew hot beverages in homes and offices is the ubiquitous electric kettle.
My top 3 choices would be as follows:
BELLA 1.2L Electric Ceramic Tea Kettle with detachable base and boil dry protection (~$49.99)
T-fal BF6138 Balanced Living 4-Cup 1750-Watt Electric Kettle (~$28.34)
EPICA 1.75 Quart Cordless Electric Stainless Steel Kettle (~$23.95)
#1 – BELLA 1.2L Electric Ceramic Tea Kettle
This super decorative electric kettle is my #1 choice for the best tea kettle under $50. The ceramic Bella Tea Kettle is extremely aesthetic in looks and very useful in functionality. The kettle comes in varying designs and attractive colours to blend into any kitchen décor and environment. The Bella boils faster than a microwave and is safer than a stove.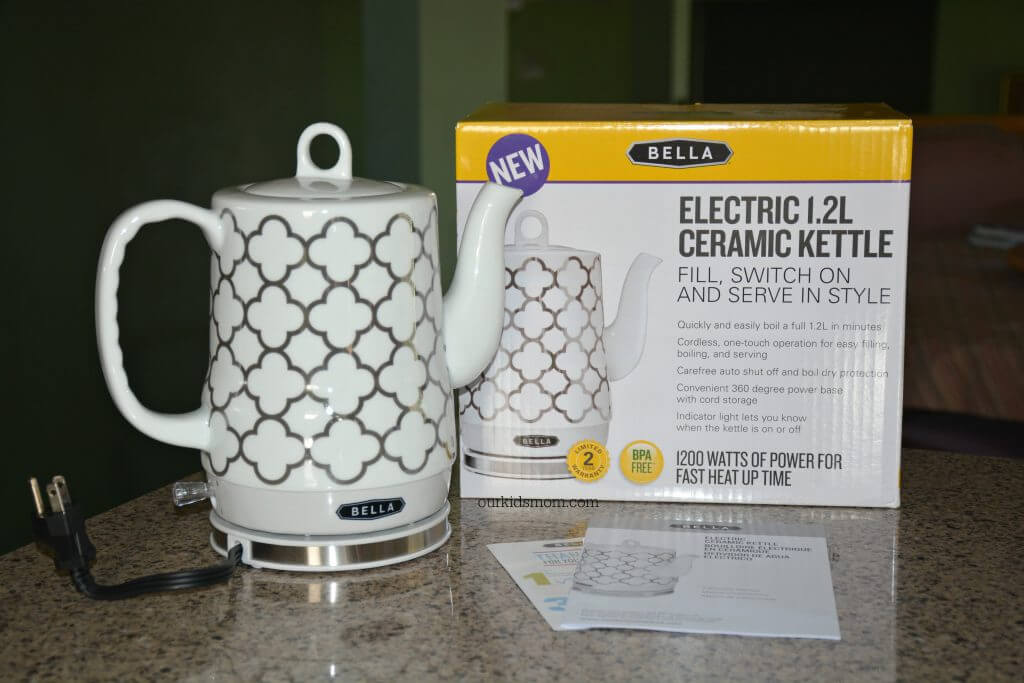 To use it all you do is flip the appropriate switch to let this kettle to the heating work for you. The powerful 1200W heating elements heat up the water very quickly. When the water reaches boiling point or the optimal temperature, the built-in shutoff feature kicks in to shut the kettle off to prevent unnecessary over-boiling.
Furthermore, the complete ceramic design of the kettle ensures you get great tasting water which is free of any extraneous rubber or metallic taste, every time you boil. The goose neck facilitates controlled pours, adding to the beauty and the practicality of this electric kettle. The bonus is in the fact that you can detach the base and easily manoeuvre this kettle to conveniently serve all your guests.
Pros:
1200W power
A ceramic exterior and interior. A natural insulator for great heating and warmth.
Beautiful addition to your kitchen
A Blue LED on the on/off switch gives you the status of the kettle
Auto shutoff and boil-dry protection ensure your kettle never reaches burning point
Very attractive for the counter top.
The product has good results.
Very useful detachable base to conveniently use the kettle
Cons:
The exterior is delicate, requires extra care not to be abruptly hit.
#2 – T-fal BF6138 Balanced Living 4-Cup 1750-Watt Electric Kettle
My #2 choice is a uniquely-shaped, heavy-duty kettle that can boil one litre of water quickly especially when you need a hot beverage in a hurry. It sports a deep black colour with android green contrasting nobs, and matching handle.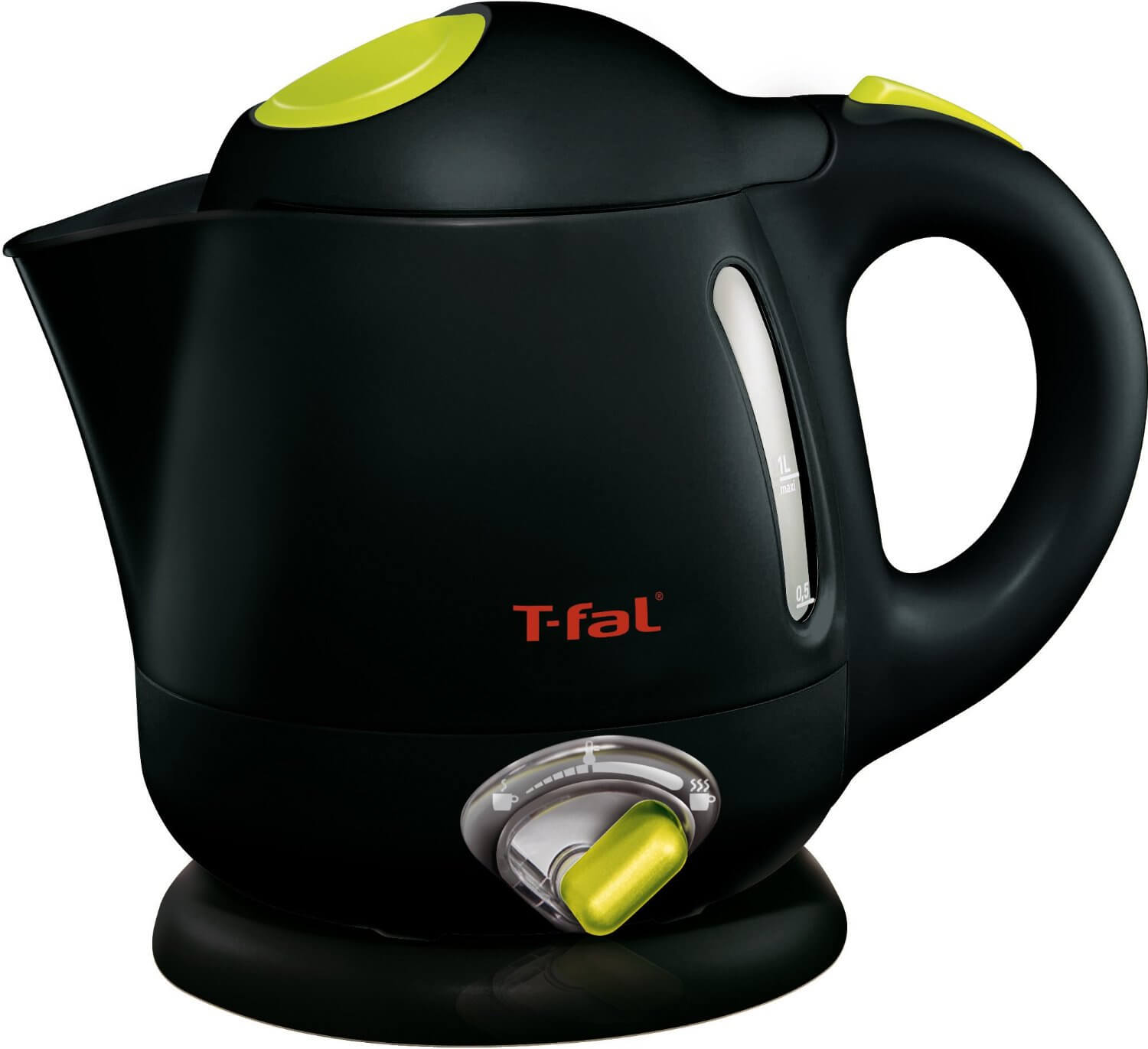 Having variable temperature controls, this electric kettle facilitates steeping of various types of tea powders to the delight of a tea connoisseur. Since this kettle is completely cordless, it provides an hassle-free experience of pouring out your beverage while you serve your guests. You can enjoy your tea in minutes using this powerful kettle.
The 360-degree swivel base, facilitates setting the kettle back from any angle. The automatic shut-off feature ensures your tea or liquid never overboils. Some users have mistakenly complained that this kettle seems to leak out water when it is used. This is because this kettle boils out water very quickly and if it is not lifted quickly from the base when the water reached boiling point; the water overflows through the spout. This only confirms the super efficiency of the heating element in the kettle.
Pros:
1750W – heavy-duty
No complicated interface or gizmos
Completely cordless for serving convenience
Water window to monitor liquid monitoring
Attractive colouring and design
Removable anti-scale filter
Cons:
The anti-scale filter does not catch the white scummy particles, and these are mostly found floating in the water after boiling, if you use tap water. This issue can be easily sorted by using distilled, purified, or filtered drinking water in the kettle, instead of tap water.
#3 – EPICA 1.75 Quart Cordless Electric Stainless Steel Kettle
This stainless steel, which is very simple to operate is my #3 choice for a tea kettle. No hassles with any fancy buttons and controllable features, you will love this Epica powerhouse for its simplicity that comes at a very affordable price-tag.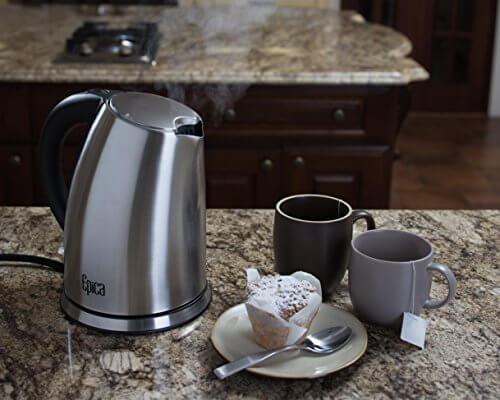 Using the Epica kettle, your hot drinks and beverages like tea, coffee, soups to name a few, are only a few minutes away as the Bellemain heater practically heats the water in under two minutes. Pouring out the liquid is very convenient since the kettle is completely cordless. The auto shutoff feature ensures there is no unnecessary overboiling. The stainless-steel material is also good quality and long-lasting.
Pros:
1500W power – lots of power
Kettle is simple to use and very portable as light weight
All features are automatically carried out, user input is minimal
1 year limited warranty
Cons:
The lid is lined with plastic inside, so may wear out with use.
Conclusion
I would vouch for all three of my choices for a very good tea kettle under $50 as just described and without hesitation would buy my choice #3 if the first two were not available, in that order, for some reason. The powerful heaters for the three kettles range from 1200W to 1750W and depending on the amount of water I need to boil at a time, any one of the three kettles would do the job splendidly.
Without a doubt, considering the features, price, and performance of the three kettles, my number one choice for Best Tea Kettle under $50 is the BELLA 1.2L Electric Ceramic Tea Kettle, for its powerful but, lower wattage, aesthetic looks and design and customer reviews.