If you work for the military or secret services, then as part of your professional responsibilities you will be required to handle and store a gun in such a way that you have instant access to your weapon, always. A Belly band holster is an accessory that helps you do just this.
Your gun stays in place without slipping as you move or run during your daily activity and your holster provides you instant access to your gun. It is an advantage for you if your holster facilitates carrying multiple weapons. Most traditional holsters allow only a single weapon.
You can also carry your car and house keys in your Belly band holster; and other things like credit cards and an ammunition magazine among other miscellaneous items.
I have checked out the features of a few Belly band holsters from different manufacturers and brands and have come up with my top 3 choices.
Best Belly Band Holster – My Top 3 Choices
ALPHAHOLSTER BELLY GUN HOLSTER – ABDOMINAL BAND PISTOL HOLSTER (~$82)
UNDER TECH UNDERCOVER ORIGINAL BELLY BAND (~ $32)
BELLY BAND WITH 2 MAG POUCHES BY PS PRODUCTS (~ $56)
#1 – ALPHAHOLSTER BELLY GUN HOLSTER – ABDOMINAL BAND PISTOL HOLSTER
My choice #1 for the best belly band holster is considered among the holsters ever made. The holster is smooth in design and very functional as you can store various weapons comfortably and use them very effectively. The outstanding feature of the AlphaHolster Belly Band Holster is the ventilation combined with the elasticity. There are no issues if you sweat profusely as the holster is waterproof and will not be affected. You will feel comfortable wearing it as it is made of a light material that gets rid of sweat easily.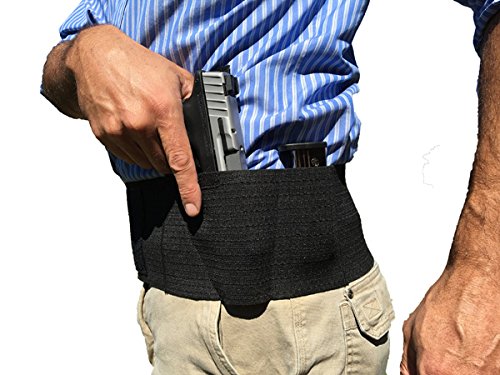 The elasticity of the holster enables you to reach your weapon very quickly as you continue wearing it through the day while going about your daily activity. You can draw your gun and replace it as quickly. Your weapon is not scratched or damaged by the holster's high quality construction.
Pros:
AlphaHolster belly holster is very flexible and this implies that you can carry on with your daily activities, while comfortably wearing it.
Slightly expensive but worth the money
Waterproof and sweat resistant.
It is also light to carry and wear
You can use it to store different weapons
Cons:
When you are seated, the stretchable material of this holster tends to roll and bunch, as it is very thin
You need to select the correct size for yourself, to avoid discomfort
#2 – UNDER TECH UNDERCOVER ORIGINAL BELLY BAND
The name of my #2 selection encapsulates stealth and concealment. The UnderTech UnderCover original belly band literally wraps itself very comfortable around your abdomen area. It efficiently does what it is designed to do which is keep your firearm close to your body when you instantly need it. In fact, you will notice no bulge protruding from underneath your t-shirt or shirt.
Very neat, right!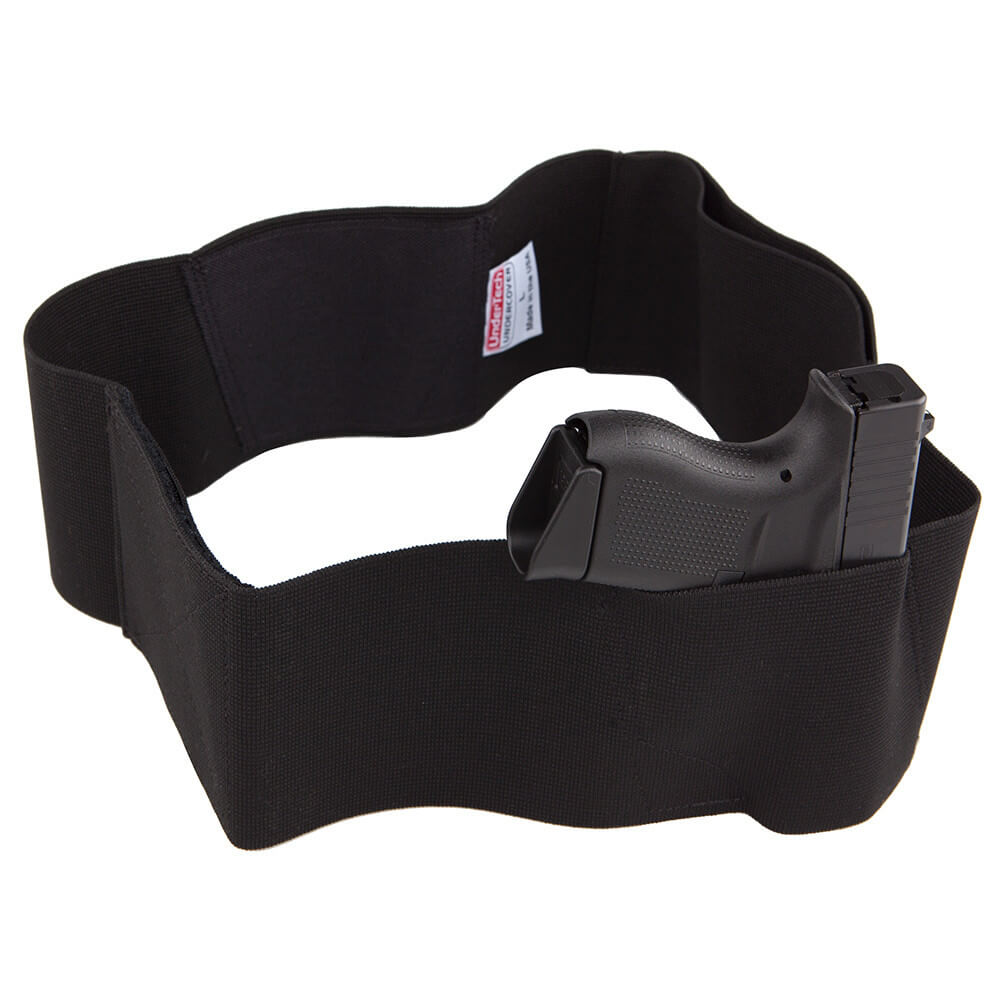 The attractive feature of this remarkable holster is the high level of flexibility and the functionality it provides. Imagine, you can just as conveniently wear it inside a business suit as you can when you are dressed for the gym. That means the UnderTech UnderCover Belly Band is manufactured to be worn in all kinds situations, whether involving work or play. Furthermore, the powerful strap offers a lot of sweat resistance and elasticity for comfort.
You can use this holster to store different weapons and wear it the whole day without moving or adjusting it.
Pros:
Under Tech Undercover belly band has additional slots to store extra magazines and other items.
It is elastic, and this ensures you are comfortable as you carry out your daily activities
It is sweat resistant
Cons:
The holster's larger sizes tend to make your abdominal area look bulkier
#3 – BELLY BAND WITH 2 MAG POUCHES BY PS PRODUCTS
This holster by PS products is my #3 choice for the category of the best belly band holster. It has a simple yet stretchable design, and is made of high quality plastic. This holster has a very secure and reliable Velcro closure. This holster has 2 additional magazine slots, so it is highly unlikely that you will ever run out of ammunition.

The elasticity of the holster is very impressive and blends easily to the body contours and clothes, to offer maximum concealment. You get a highly functional and comfortable feeling of your equipment on the body. Irrespective of whether you are wearing a shirt or a t-shirt, your belly band holster is so comfortable that you will not need to adjust it, once your wear it, even if you are doing physically demanding assignments.
Pros:
The holster can be used to store different pistols and handguns
It can be used as a dual magazine bag
Affordable
It is very elastic and securely holds your stomach, as well as your weapon.
Cons:
You may need to wash the new holster to make the edges soft
Conclusion:
I have considered the following factors before making my selections for my top 3 best Belly band holsters:
Material that has very high elasticity and at the same time being durable
Quality that will last for a long time
Gun holding ability – a holster should hold the gun firmly in place so it does not slip out
Size – the size of the holster should match the size of the individual. A bigger size for a smaller individual, will not only feel and look awkward but will make their abdominal region look bigger than it is.
My top choice is still ALPHAHOLSTER BELLY GUN HOLSTER as the best belly band holster because though slightly expensive it is worth the money spent. Also it is sweat resistant and feels comfortable enough on the body to enable me to carry on with my daily activities, without being conscious I am wearing one.
Without a doubt, I would not hesitate to select any of my other two choices in that order, if my top choice was not available for some reason.