Best Indoor Outdoor Thermometer – My Top 3 Choices
Whether I am indoors at home or in my place of work, at some point in time I do need to step out into the outdoors for various reasons. It is good to be forewarned so I am forearmed, so to speak. I can then try and make adequate preparations to face the vagaries of weather as I carry on through the course of my day – travelling, driving, walking, or running.
How do I know what the weather is going to be like? Sure, I can check the latest weather bulletin on the television or read the relevant section in my morning newspaper but is there a quicker way to get this vital information just before I leave home or office?
Yes! There is an easy way. Check out the display screen of an affordable indoor-outdoor thermometer within your home or office premises and you will have all the weather-related information you need. Below are my top 3 choices for the best indoor outdoor thermometer for the money!
La Crosse Technology 308-1412S (~ $44.99)
AcuRite 75077 Wireless Weather Forecaster (~ $37.75)
AcuRite 02027 Colour Weather Station (~ $49.97)
#1 – La Crosse Technology 308-1412S
Check out the wonderful features on my top choice for the best indoor-outdoor thermometer. The display panel on the 308 seems to be always alive, as its 12 different animated panels keep constantly changing as per prevailing weather conditions. A feature of this device is the trend indicator for indoor and outdoor temperatures with specific and customized alerts that indicate the temperature ranges from the lowest through to the highest. The barometer takes about 3-4 weeks to calibrate itself which implies very accurate forecasts for your specific location of region.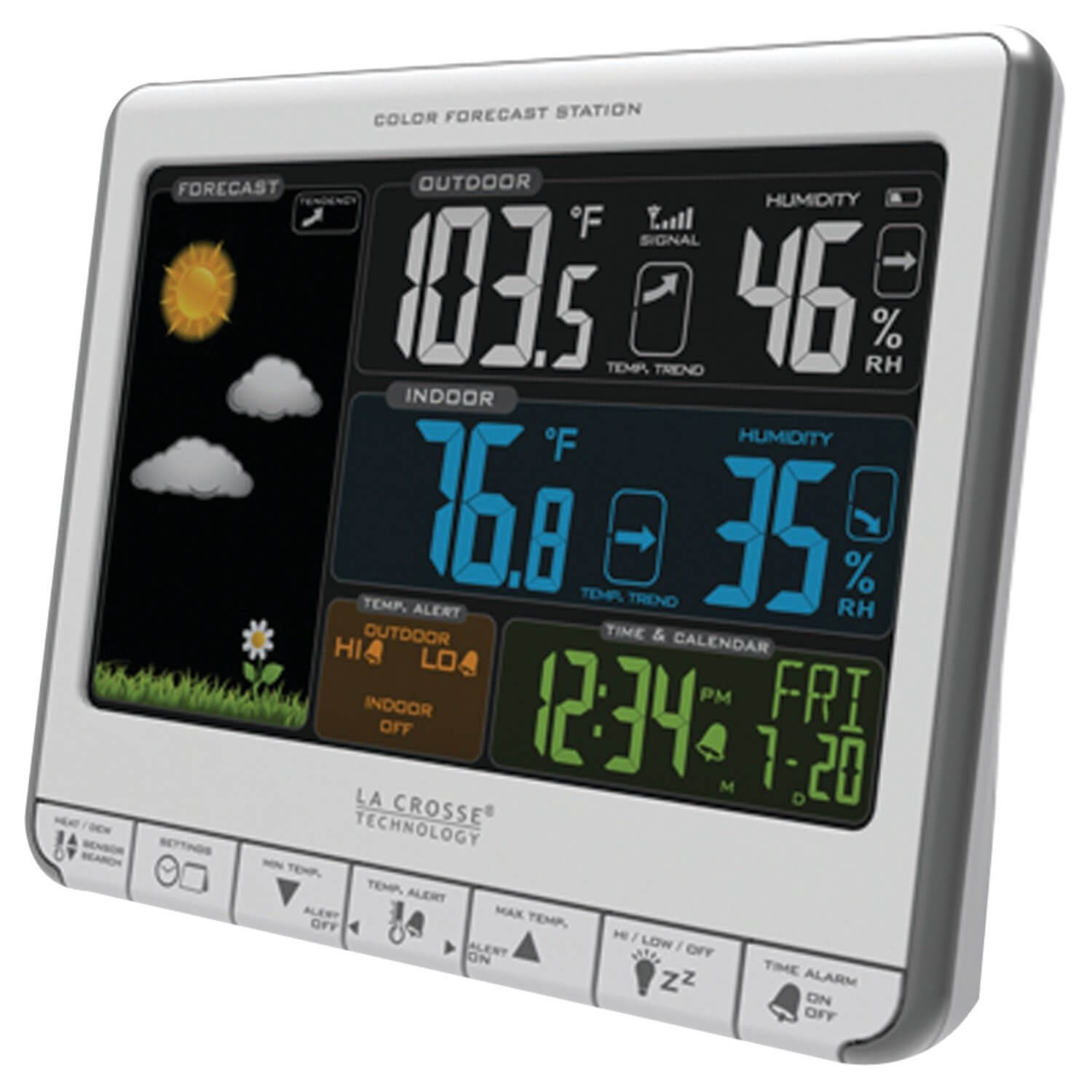 You can plan your day around your weather, by quickly studying the animated colour forecast icons on the display screen. The atomic date and time settings which allow the unit to accurately set itself with the progress of time.
The indoor display looks attractive and can be conveniently placed on a shelf, a kitchen counter or a window of your home or office. Unfortunately, it is not possible to mount this device on a wall.
This device is fun to use, convenient to charge through the USB port on the back panel and very practical in the information it so readily provides. This attractive device comes at a very affordable price of under $50 and is money worth spent for the functions and the accurate readings it provides.
Features and Specifications:
Display shows weather icons in different colours
Sunny, partly sunny, cloudy, rainy, and stormy
Minimum and maximum records for both indoor / outdoor temperature and humidity
Backlight is adjustable
Indicator for sensor signal strength
Temperature alerts
Trend alerts for temperature and humidity levels
Calendar and battery indicator
200 feet transmission range
Temperature range: Indoor – 32°F to 122°F; Outdoor -40°F to 140°Fahrenheit
Pros:
USB port for charging
Large Colour display
Accurate readings
Weather alerts and forecasts
Cons:
The display device may sometimes lose contact with the outdoor antennae unit
#2 – AcuRite 75077 Wireless Weather Forecaster
My #2 choice is the AcuRite 75007 which shows an icon representing the forecasted weather over the next 12 to 24 hours, prominently on its display. The indoor-outdoor temperature readings on the display ae quite easy to for anyone to read comfortably.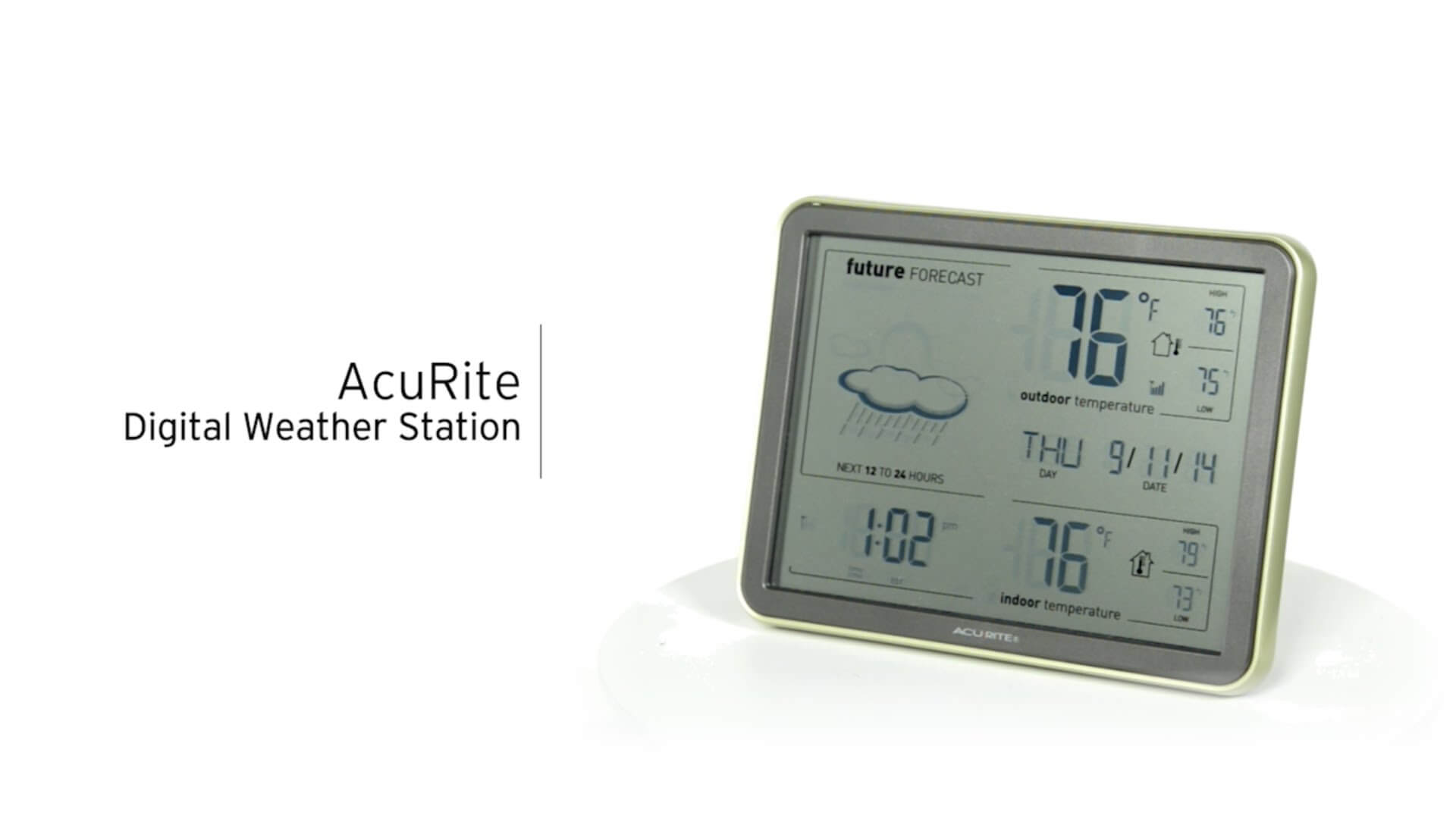 For the initial period of 14-days this device is in a learning mode and analyses to calibrate itself to the specific pressure changes endemic to your local region of area. The wireless outside sensor, which has an inbuilt temperature monitor, and integrated mounting options to facilitate easy installation. It is housed in a weather resistant case for durability and has an effective range to transmit from over 300 feet.
The atomic clock is always accurate, as it is synchronized with the National Institute of Standards and Technologies.
If you are looking for an affordable device worth every cent you pay, then look no further.
Specifications:
Wireless indoors / outdoors temperature in (°F and °C)
Min / Max temperatures with time and date stamp
Atomic date and time automatically set and adjusted for daylight savings
Displays both 12/ 24-hour time formats
Indoors temperature range (-39.8°F to 157.8°F)
Outdoors temperature range (32°F to 139.8°F)
Pros:
Jumbo display screen
14-day learning mode for accurate weather prediction
Self-adjusting atomic clock
Cons:
No humidity or pressure readings, only temperature
Can lose contact with sensor occasionally
#3 – AcuRite 02027 Colour Weather Station
My #3 choice shows indoor-outdoor temperature, humidity, barometric pressure with a weather trend indicator, and time and data on its display. The sensor collects relevant weather data including changes in temperature, humidity, and pressure to generate customized local weather forecasts based on a specific set of algorithms.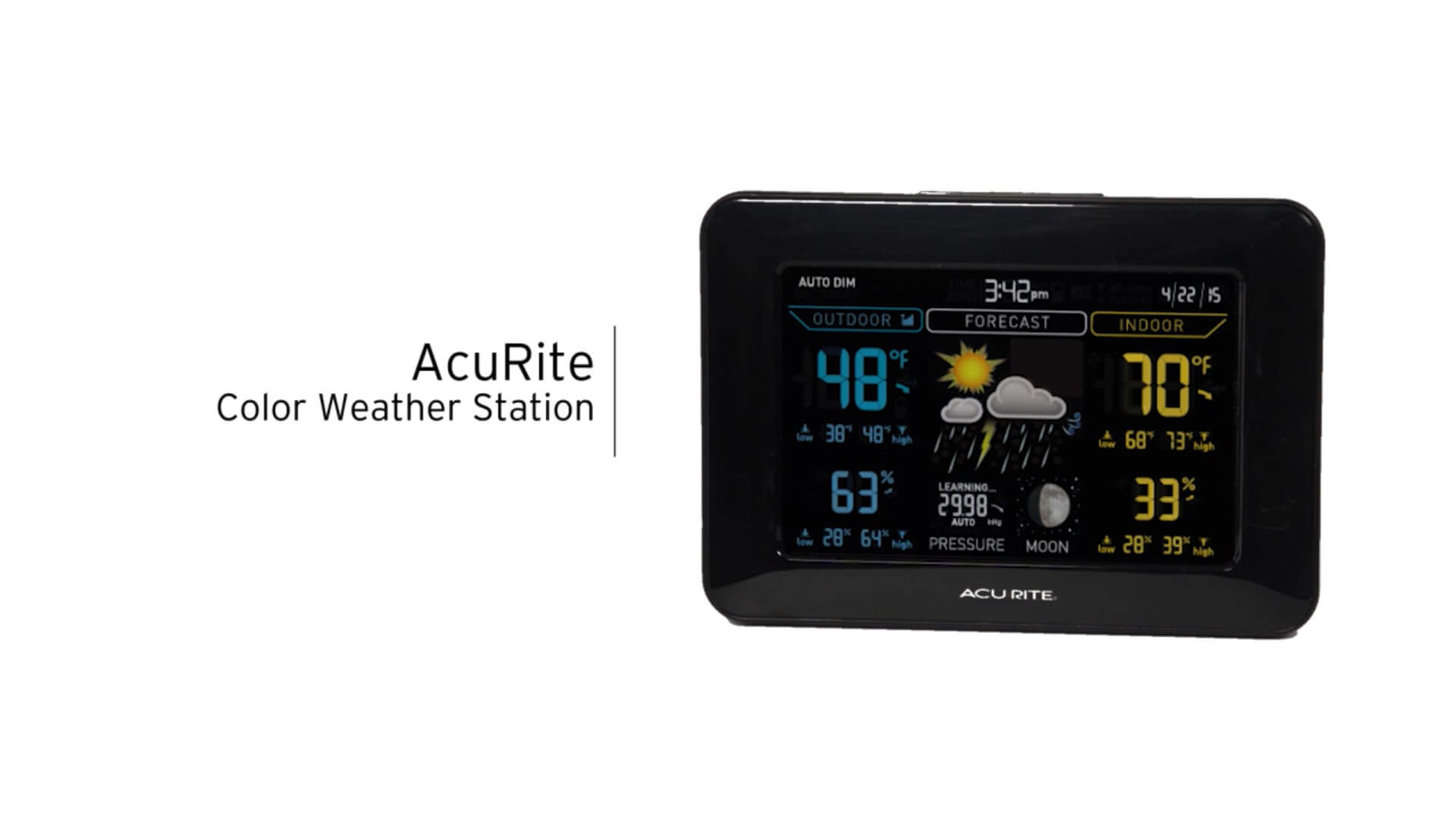 The AcuRite 02027 has a highly visible colour display containing colour coded icons with three different lighting settings. You can set your light preference manually or preferably use the Auto Dim Mode feature that automatically adjusts the light, based on time of day and the year.
You can mount the device onto a wall or simply place it on a stand or table top. The outdoor sensor has an effective range of 300 feet for transmission and works wirelessly.
Features:
Displays weather forecast, indoor and outdoor temperatures, and humidity, as well
Shows barometric pressure
Stores and displays high and low records
Wireless
Weather resistant
Easy installation process
Device works and records temperatures up to -40 degrees
Pros:
Colour-coded display is very easy to read
Readings are very accurate
Cons:
Display may not be very visible at higher angles
Conclusion – Best Indoor Outdoor Thermometer Review
All three of my top 3 choices would serve the purpose of having personal access to a good indoor-outdoor thermometer, but taking into consideration various aspects like the features, display size and colour, price and performance of all three of the indoor-outdoor thermometers my number one choice for the best indoor outdoor thermometer is the La Crosse Technology 308-1412S.