When you are out in the wilderness, you need to be prepared. Modern humans are used to having all of the amenities of society close at hand, so it can be hard to adapt to the world of bushcraft. When you're out in the wild far from civilisation, all you'll have are your wits and the things you can carry on you. That's why it's important to find the best bushcraft backpack possible before you head out.
In this article, we will look at my 3 top choices for the best bushcraft backpack. Each of these backpacks has something to offer, but only one will be the best for your needs. Read on and think over just what each of these backpacks can do to help make your bushcraft experience the best that it can be.
1. Badlands 2200 Camouflage Hunting Backpack – Meat Hauler – Rifle, Bow, and Pistol Compatible and Hydration Compatible
The Badlands 2200 earns its top spot on our list of the best bushcraft backpack thanks to a high level of utility and a great design. When you're equipped with one of these bad boys, you feel great, and you look great. This backpack is a fantastic choice if you like to hunt when you're out in the bush. It's specifically designed for use by hunters, with built-in compartments for all the hunting essentials. There is an integrated spotting scope pocket, a pistol older, and even a meat shelf so you can carry back the results of your hunt with ease and convenience.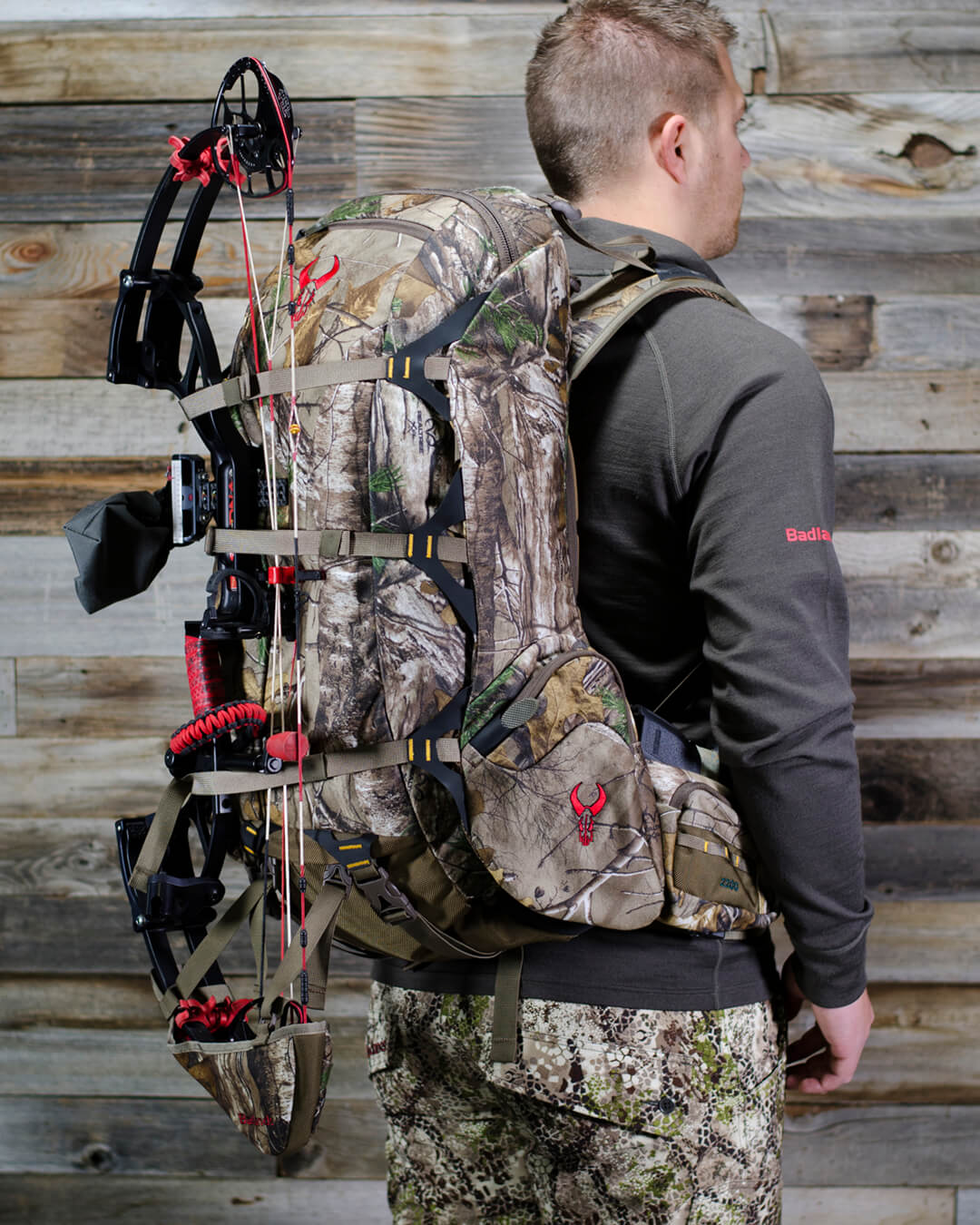 This is a backpack built with high-grade materials and quality craftsmanship. For an exterior that's both waterproof, silent, and durable Badlands uses KXO-32. This is stretched over a frame of T-6 aluminum. Everything works together to make a backpack that is strong, durable, and comfortable to wear. The Badlands 2200 comes in two different colors, Approach Camo and Realtree AP-Xtra. The back can also be switched from camo to orange for maximum safety.
The one real downside to this backpack is the cost. It's the most expensive backpack on our list, especially if you want to go from the Realtree AP-Xtra. But the cost doesn't just go to a fancy brand name; it's clear that all the money goes into paying for the full range of features that Badlands have packed into every square inch of this backpack. It may seem a little expensive for beginners, but if you're a seasoned bushcraft veteran, you know that a backpack like this is an investment.
2. OneTigris BUSHCRAFTER 50L 3 Day Pack MOLLE Tactical Military Assault Backpack Outdoor Sport Camping Hiking Trekking EDC Survival Rucksack
The Bushcrafter from OneTigris is a backpack for folks that want to carry as much as they can out into the bush. This backpack is designed to hold 50 liters, the most out of any on our list.
If you are just getting started in the world of bushcraft, then the Bushcrafter is a smart choice. It may not come with as many features as some other backpacks, but OneTigris passes the savings onto you. This backpack is highly affordable, offering a great ratio of storage liters per dollar without sacrificing quality.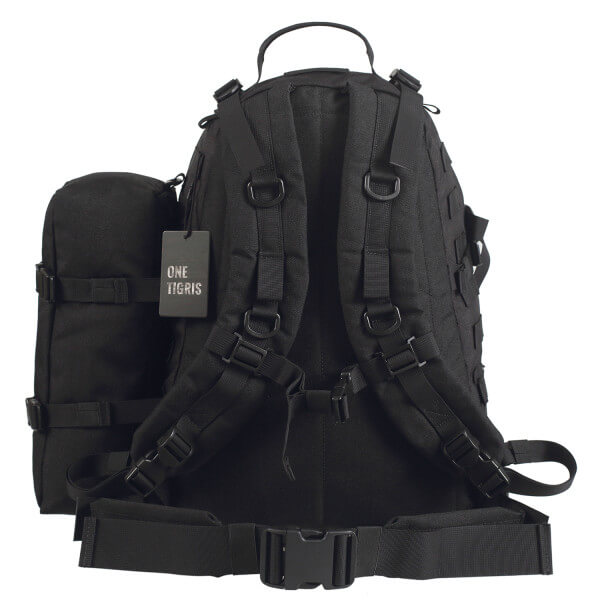 This storage space is divided between the main pack, front pocket, middle pocket, and expansion pouch. The expansion pouch can be removed if it's unnecessary. The main pack itself measures in at 20 inches tall, 15 inches wide, and 8 inches deep. It's made of durable 100D nylon, so you can trust that it will take a beating and continue to do its job. The pack comes in black, camo, and ranger green so you can find a Bushcrafter that fits your look as well as your storage needs.
The Bushcrafter is designed for the explorer with uncomplicated needs. If you want a backpack with a lot of specialized compartments and advanced features, then you might want to look elsewhere. But that's fine; it's impossible for every backpack to be perfect for every job. The important thing is that the Bushcrafter does what it was designed to do and does it well.
3. BackSak Waterproof Backpack: 500D PVC
The BackSak from Såk Gear might be the last backpack on our list, but it's far from least. This backpack is designed for wet environments, with a waterproof design to keep the contents of this backpack safe from the elements. It's a decent size, weighing in at around 2.4 pounds and capable of carrying 35 liters. This storage space is divided into the main compartment and two smaller pockets that offer extra waterproofing.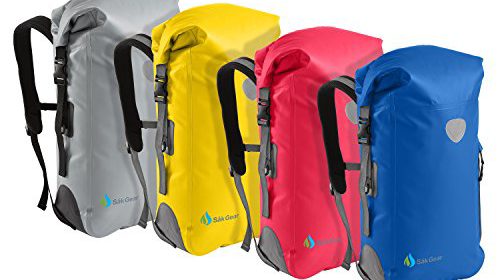 You might have noticed that the BackSak's main draw is its waterproofing. It is guaranteed to be waterproof thanks to its design and materials. This backpack is designed to seal shut tight. When properly closed no water can make it through its defenses. The exterior of the bag is made using 500D PVC, and water washes off of it with no problem. Don't settle for a backpack that soaks up water like a sponge and allows the contents within to be destroyed. With a BackSak you can take your smartphone and tablet out into the bush if you want. When the rain comes do, you can tuck your devices away and keep them safe and dry.
It also helps that the BackSak has a very nice look. The DigiCamo color is the most popular, it looks like a piece of military equipment and will help you blend into the environment. If you want to stand out, you can choose from blue, red, and yellow models that will help you avoid getting mistaken for a wild animal. Even if you do get the DigiCamo, you can still take it off without being too worried about losing it. The bag has reflective areas that make the bag, and you, easy to find even in low sunlight.
Conclusion – Best Bushcraft Backpack for the Money
Each of these different bags has something to offer. If you're a hunter that wants to carry your weapon and supplies as easily as possible, then the Badlands 2200 is a smart bet. If you're looking for a workhorse of a bag that can give you a lot of storage at a low price, then the Bushcrafter is a good pick for the title of the best bushcraft backpack
And if you are headed out into the elements the BackSak will keep your supplies nice and dry even when you're soaking wet. To be successful out in the bush, you need to bring along the right supplies for the job. Find a backpack that is designed to handle the sort of situations you're likely to face, and things will go much more smoothly in the end.