An average person on the street probably never imagines that he could be a victim of a robbery or a mugging and that an attack of a similar nature cannot happen to them at any time without warning. The assumption in most cases is that bad things like these do take place but they happen to other people. The harsh reality is that you could be the unfortunate victim of the next robbery or mugging and unless you have taken adequate preparations you may suffer some serious damage to your health, finances, and property.
There are unsavoury people around with the sole intention of living off your earnings and property and have made it their business to steal from other people to survive. Unless you are "Rock" the wrestler Dwayne Johnson or someone who participates regularly in the WWF tournaments, you would do best to look for a good self-defence knife.
Best Self Defence Knife under $100 – My Top 3 Choices:
Ka-Bar TDI Law Enforcement Knife – Best Karambit Knife (~$ 38.38)
Spyderco Matriarch Spyder Edge Knife (~$ 80.97)
SOG SEAL Pup Elite E37SN – Best Tactical Fixed Blade Knife (~$ 70.74)
#1 – Ka-Bar TDI Law Enforcement Knife – Best Karambit Knife
My choice #1 is the Ka-Bar which is a tactical knife popularly used by the military and law enforcement in the USA. This self-defence weapon will surely be a dependable friend and maybe your only lifeline in an emergency.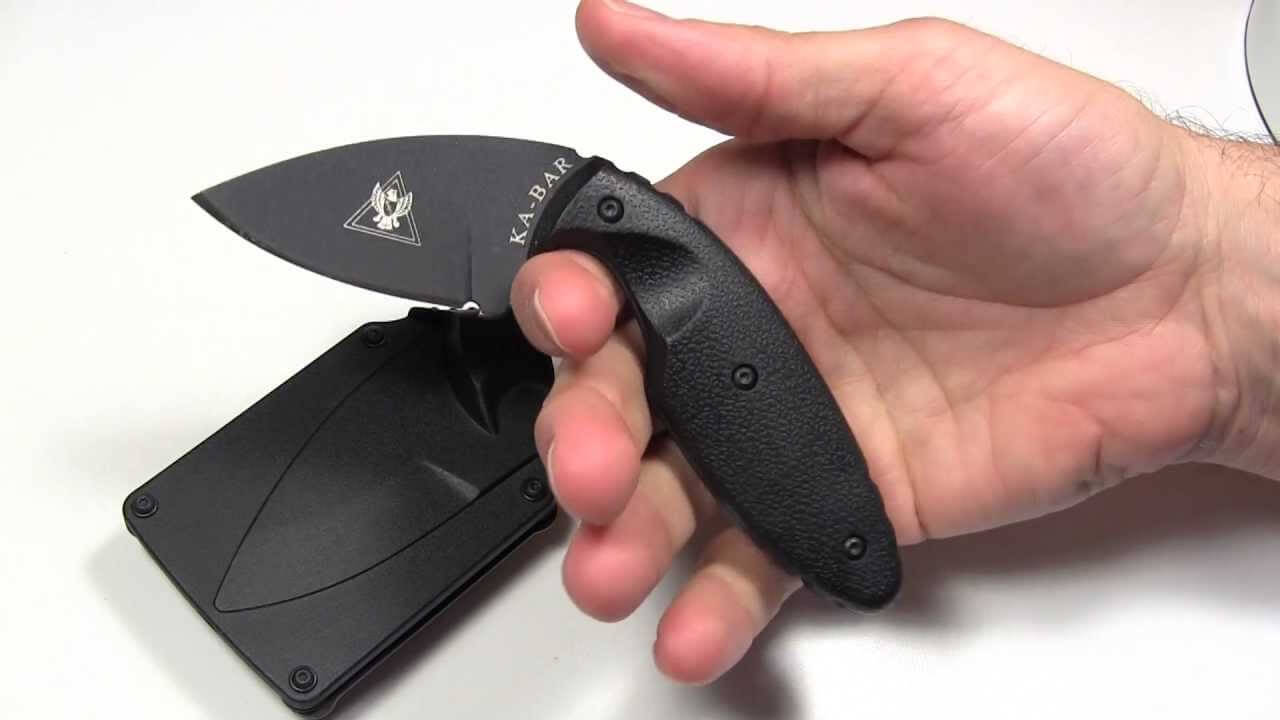 This karambit or curved knife has an overall length of 5.625" while it's blade is about 2.3125", but despite its small dimensions, most law enforcement officers have the Ka-Bar as a concealed weapon. This is a good alternate for them to fall back on in the rare case he or she is disarmed. You would expect to inflict deep and painful wounds on your adversary while you change a bit of his anatomical topography, as a reaction to protect yourself, if attacked. The design of the pistol-like grip enables you to use either hands on the knife naturally and as convenient. Better positioning is facilitated when you use your index finger in the finger grip, near the blade for added control. The impact-resistant zytel handle is virtually unbreakable.
Pros:
Very light at 0.20 pounds
Drop point tip
Easy concealable
Doesn't rust easily
Very affordable
Razor sharp blade and full tang construction
Reverse or forward grip, can use either hand to handle
Comes with a sheath with metal clip
Cons:
Stabbing motions not very impressive
Purely for self-defence purposes
#2 – Spyderco Matriarch Spyder Edge Knife
This ideal self-defence weapon is my #2 selection for the best self defence knife under $100 as it is almost impossible for someone to disarm you without you causing them some injury first.
In close combat, you can depend on this karambit knife to do some very serious damage. Though the initial impression on this knife is that it is small, it can deliver a superb cutting performance that you can stake your life on and do some cutting and slashing to your adversary. The pistol-like grip on the handle ensures you have a very good and firm grip on the knife using either hand as is convenient.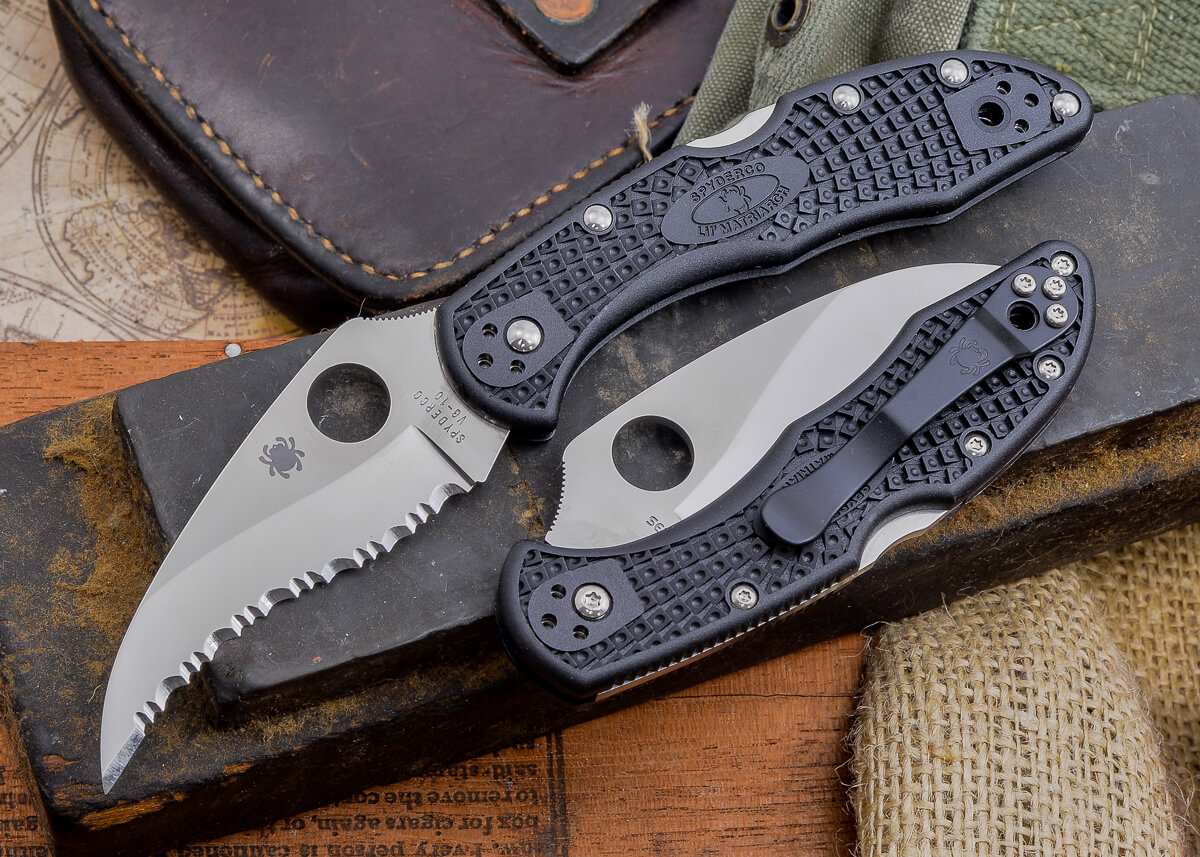 The overall length is 8.39" while the blade 3.55". The folding length would be about 5" making it very easy to conceal as it is small and very light in weight. You can even carry this formidable weapon in your breast pocket! The Spyderco knife is a folding knife that has a lock-back mechanism. If you slash at flesh using this knife, you can expect to cause a lot of damage to your opponent or adversary because of the uneven cuts from the serrated edge which will hit more veins than just cutting or slashing them. This knife has a serrated edge very unlike most other knives.
Some other features of this Spyder edge knife are the fibreglass reinforced handle and the four-position clip on it.
Pros:
Very lightweight at 0.22 pounds
Blade is razor sharp and supreme cutting performance
Easy to conceal
Tip-up/tip-down carry position
Serrated edge
Reverse or forward grip
Cons:
Not much for stabbing motions
Easily dulled and needs sharpening
Slightly expensive
#3 – SOG SEAL Pup Elite E37SN – Best Tactical Fixed Blade Knife
My #3 choice is this fixed blade tactical knife originally designed for the US Navy seals.
This knife can be used as a great self-defence weapon by ordinary citizens, though generally used by military personnel. Having an overall length of 9.5" it's blade is 4.85" long and has a convex shaped tip point which is an example of clip point blades. Concealing this knife on your person may be a little difficult but would easily discourage anyone from meddling with you to their hurt. You can slice, cut, and even stab a human opponent with it easily. Besides this, you can also use this knife for other everyday tasks.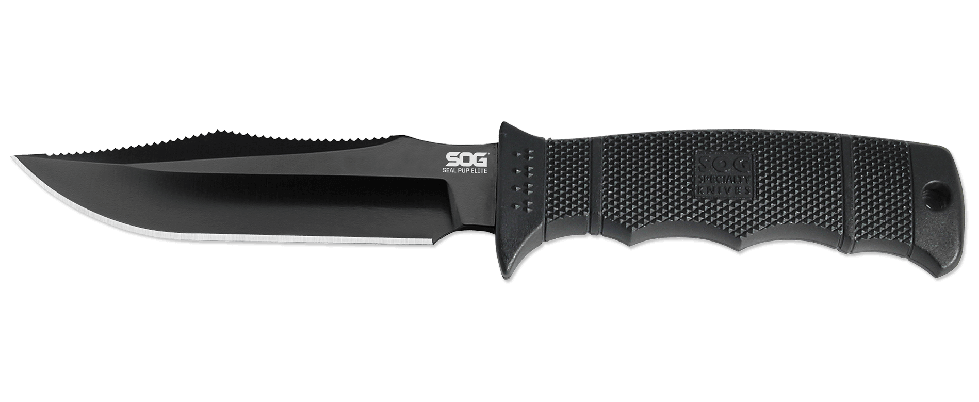 The unique factor with the Pup Elite knife is that the other side is partially plain edge and partially serrated with wide teeth. The spine is serrated form tip to handle and has a straight portion for you to place your thumb for control. The knife resists corrosion and rust as it is made of AUS-8 steel and is coated black, while the downside is that the stainless steel could easily dull.
The handle grip has deep finger grooves and is made of glass-reinforced nylon (GRN) which is a thermoplastic material that is very strong and impact-resistant. The handle is both weatherproof and waterproof. The nylon sheath provided with the SOG Pup knife has a belt loop attachment for easy conveyance and comes with a lanyard hole at the end of the handle.
Pros:
Versatile and lightweight at 0.34 pounds
¾ tang and partially serrated
Rust-resistant and razor sharp blade
Good for stabbing, cutting, slashing
Limited lifetime warranty
Cons:
Steel prone to dulling
Bulky, not easy to conceal
Conclusion – Best Self Defence Knife under $100
My top choice is still Ka-Bar TDI Law Enforcement Knife as best self-defence Knife under 100 dollars or even under $200 for its affordability, light weight, easy concealability and its features.
However, I would not hesitate to select any of my two other choices in that order, as all three knives are very good and useful as a self-defence knife.