If you have a budget constraint and are looking for a survival knife in a sub $100 budget, then check out my top picks for the best survival knife under $100
Imagine you are out in the rugged wilderness in the middle of nowhere-land and possibly facing a serious situation. You need to have a trustworthy and a dependable friend by your side in the form of a quality survival knife, to help you accomplish a wide variety of tasks, both major and minor, so you can survive the rough weather and the harsh unfriendly environment.
Some of the crucial tasks this very important tool can help you with are:
Splitting firewood

Creating a fire

Building a shelter

Cutting rope

Opening cans

Skinning game and many more
In a survival situation, your trustworthy implement or tool can help with any chopping, pounding, prying, thrusting, and cutting tasks typical of times spent in the wilderness. You can do all these and more, with a very good fixed-bladed knife from a reputed manufacturer.
My Top 3 Choices for the best survival knife under $200
My top 3 choices would be as follows:
Fallkniven A1 Survival Knife (~$188.09)

ESEE 6 (~$124.72)

Tops Knives Bushcrafter Kukuri (~$170.00)
#1 – Fallkniven A1 Survival Knife
This knife is my #1 all-rounder choice to survive in the wilderness by any counts. Just check out its fantastic features and you will probably understand why. At under 200$, the cost is quite affordable for the steel coloured version of this fabulous knife, and worth very cent spent on the price.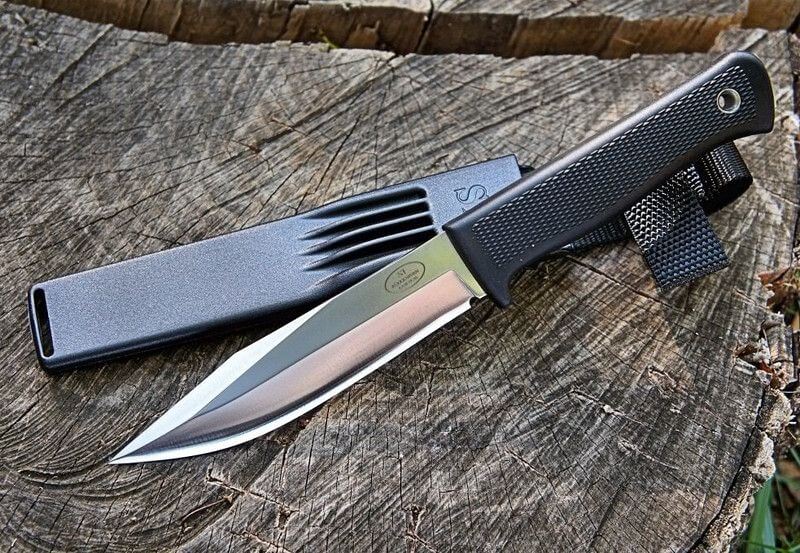 Click Here to See Pricing, Ratings, and Reviews on Amazon.com
Constructed using Japanese VG-10 steel (translate "G" into "gold" quality) for the blade, the essentially stainless-steel blade contains a sizeable amount of carbon to combine both the benefits of stainless and carbon steel into the VG-10 blade. The Fallkniven A1 keeps its edge over a long time, is incredibly sharp and is extremely easy to maintain and (rarely) sharpen. The blades of the world's most expensive and popular survival and chef knives, are made using VG-10.
The Fallkniven A1 has just the right blade length at 6.33" to make it an ideal survival knife. Check out some of its features; fixed blade made of VG -10, full tang for extra strength, flat top, superb handle with a fantastic grip, flat end, lanyard hole and drop point to easily pierce any object.
However, it's not all praise for this knife either, as you do not find any real choil and jimping for this knife, else the grip on the handle could have possibly been a little better. You may need to replace the Zytel or leather sheath that comes with the knife as it wears out quite quickly. Despite these very minor setbacks, the Fallkniven A1 comes very close to being the perfect survival knife.
Pros
Superlative engineering in construction and design

Perfect knife balance and good weight

Superior VG-10 steel blade combines features of stainless and carbon steel.

The Convex ground blade is ideal for hard use

The amazing handle provides a tremendous grip of the full tang knife to the user even in wet conditions, as it is made from textured hard rubber

Great knife that has all the must-have survival features (multipurpose)
Cons
Some users find the handle of the knife slightly short for use

The sheath is of low quality and flimsy and may need to be replaced with a custom sheath
#2 – ESEE 6 Survival Knife
True knife lovers have created this #2 choice of mine – the ESEE 6 knife. I am sure Rambo has joined me in cheering loudly for this one? The knife intuitively feels, balances and grips just right. The jimping beyond the bolster aids in a better grip on the knife.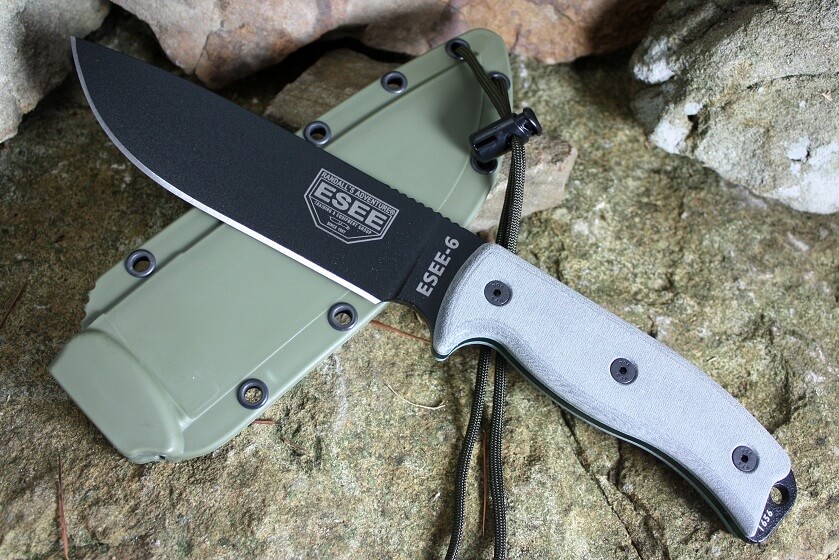 Click Here to See Pricing, Ratings, and Reviews on Amazon.com
The construction and the design of this knife makes it a sturdy, strong, and a durable tool, which can be used in all types of survival situations. The grey micarta scale handle feels good in the hand and has a lanyard hole in the rounded pommel at the end of the handle. The razor-sharp blade works exceptionally well for any chopping, cutting, splitting and similar tasks and holds its edge well in all situations.
The only drawback with this knife is both its length and weight, as it seems a little heavy and a little too long for some users to do some of their tasks. As far as I am concerned, I would recommend this knife to anyone who is looking for a fantastic tool to help them survive and camp, out there in the wilderness.
Pros
Looks and feels very good (remember Rambo cheering?)

1095 high carbon steel blade, ideal for rough use

The knife holds its razor edge for a long time
Cons
A little heavy, length slightly long, for some users

Plastic moulded sheath
#3 – Tops Knives Bushcrafter Kukuri
My #3 choice is this incredible survival knife that is suited for any type of outdoor situation. This is an ideal knife to help you with different kinds of jobs regardless of whether you are in a survival or a camping situation. The long fixed-blade that is 7.75" long and is made of 1095 RC 56-58 steel makes this kukri extremely durable, sturdy and one very tough customer.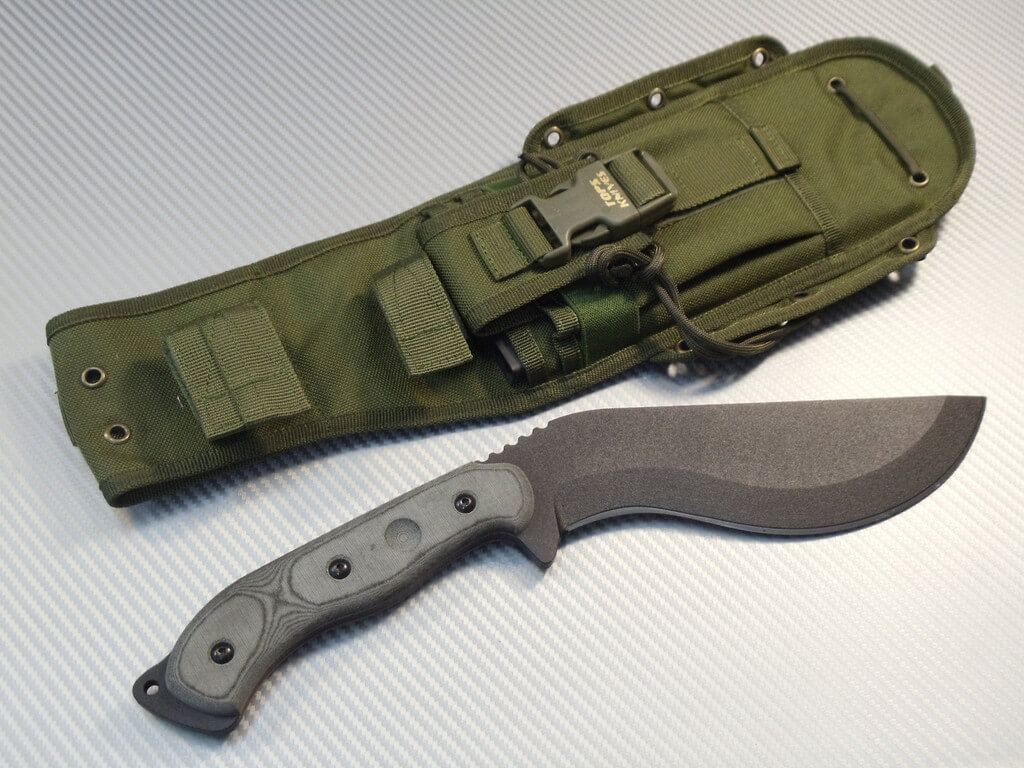 Click Here to See Pricing, Ratings, and Reviews on Amazon.com
The blade has a lot chopping power and the handle design facilitates repeated use of the knife over extended periods or time, without injuring your hands, even in harsh conditions. The end of the pommel features a very handy lanyard hole. If you are ready to spend a little more money on this knife, the heavy-duty tough "jack of all trades" knife will be a very good accompaniment to serve your survival and camping needs. The knife feels slightly heavy and a little large for jobs that need fine blade control, but it is still very useful for most survival and camping jobs.
Pros
Very efficient at splitting wood and with many other smaller tasks

The quality of the knife and its design is par-excellence

The grip on the handle feels perfect
Cons
May feel slightly heavy for some users

Sheath needs improvement

Whittling or skinning may be little difficult
Conclusion
Considering the price, features, performance, and durability; my number one choice for the Best Survival Knife under $200 is the Fallkniven A1 Survival Knife. No doubt, this trustworthy friend will certainly accompany me, to my next sojourn in the wilderness.
Don't forget to also check out some more options when it comes to picking survival or hunting knives: