A survival knife may be my only friend when I am caught in a hostile wilderness in extreme environmental conditions. I need a lot of confidence in my knife that it will not break, chip, rust or bend at a crucial moment, due to the excellent material used in its high-quality construction. Second-rate material and slip-shod construction can put me in great danger, when my knife is the only tool that I can use to extricate myself in certain situations, especially when I am caught between the rock and a hard place – so as to speak!
I need to confirm that my knife manufacturer, has a good reputation in the market and the manufacturing process and material used in making the knife, have good reviews from users who have been in survival situations.
My Top 3 Choices for the Best Survival Knife under $100
My top 3 choices would be as follows:
KA-BAR Becker 22 Campanion (~$80)

KA-BAR USMC Knife (~$72)

Gerber's Bear Grylls Ultimate Pro (~$76)
#1 – KA-BAR Becker 22 Campanion
This is my #1 choice and is a fixed blade, medium sized, drop point knife. It has a secondary bevel at a 20° angle that facilitates usual camping tasks like for example, skinning game. This carbon steel knife made of 1095 Cro-Van steel blade is extra thick and ideal for hunting and camping tasks that are common to survival in the wilderness. The knife is full tang and has a lanyard hole and a hammer shaped pommel on the Grivory handle.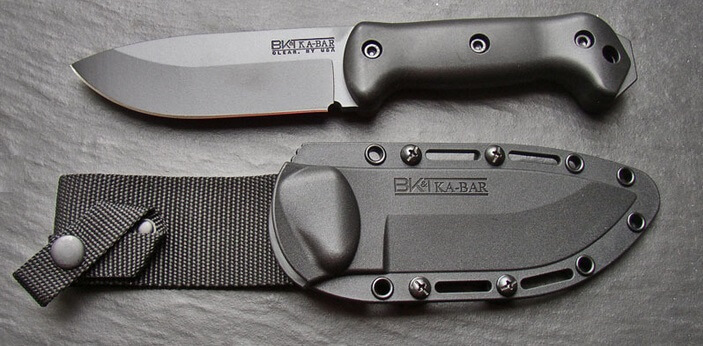 The material of the handle facilitates a smooth and contoured grip so it feels good in the user's hand. The sheath is made using fiberglass reinforced nylon material and fits the blade so perfectly that there is no sound when the sheath is shaken. The nylon loop fits the widest belts to conveniently carry the knife without obstruction. The knife measures 10.5" while the blade is 5.5" long and the tang extends full length of the knife to make it extremely durable and very powerful. This heavy-duty survival and hunting knife can efficiently chop and split wood, pry open joints and boxes, and skin game. Cutting and chopping branches or logs are easy tasks for this super survival and camping knife.
Pros
Money worth spent under $100.

Very strong construction

Heavy-duty jobs are a breeze

Very versatile, works well as a mini axe when required and pierces objects like a spear because of the drop point shape of its tip

Aesthetic looks, visually impressive and intimidating with its all-black design
Cons
This knife may be on the heavy side as it weighs nearly 1 lbs. Any survivalist who want to carry minimum weight, may prefer something lighter.

Some prefer a thinner blade to skin game and perform other slicing/cutting tasks
#2 – KA-BAR USMC Knife
My #2 choice for the best survival knife under $100 is one of the most popular and reliable fixed blade knives in the world as it was originally created to be used by US troops in World War II. This knife has certainly been around for 50+ years and still going strong.
The knife has a leather handle and a 7" straight blade and is one of a few that has the US Marine Corps stamp. Aside from the long length, the blade has a 20° angle and is created from extra strength Cro-Van steel. Built as per strict guidelines, the US Marine Corps knife is resistant to corrosion and can hold its sharpness of edge much longer, when compared to other knives.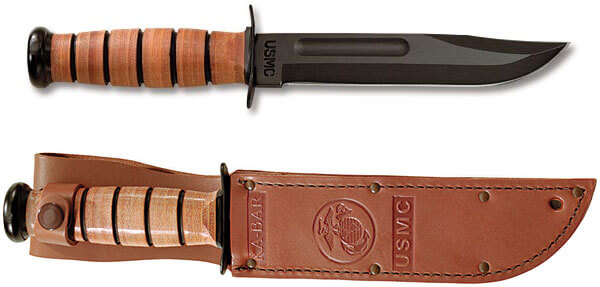 This KA-BAR knife is extremely sharp, very durable, and ready to use from day one. The blade is built for heavy duty, long term use and is very easy to sharpen in case I ever need to, which is quite rare. With a good grip on its high-quality leather handle, I should not have any issues using it regardless of the situation I find myself in.
The manufacturer is very reputed for creating outstanding knives and whether you are going to use it for survival in the wild or for everyday tasks, this knife will serve your needs and deliver.
Pros
Manufacturer is very reputed in the market

Very sharp and durable, you would never need another survival knife again

Very well constructed knife

Good for long-term use

Effortless gripping facilitated by knife handle

The knife is designed as a versatile multipurpose tool for survival, hunting, sporting, and other similar activities
Cons
The fixed blade may be bit too sharp for some users

The sheath is made in Mexico and has a shorter life than one made in the USA
#3 – Gerber Bear Grylls Ultimate Pro
This is my #3 choice and can easily be comparable with my first two choices in case my first two choices are not availability due to some reason. I am very familiar with this brand name's reputation for durability and this knife can be used in a variety of survival situations.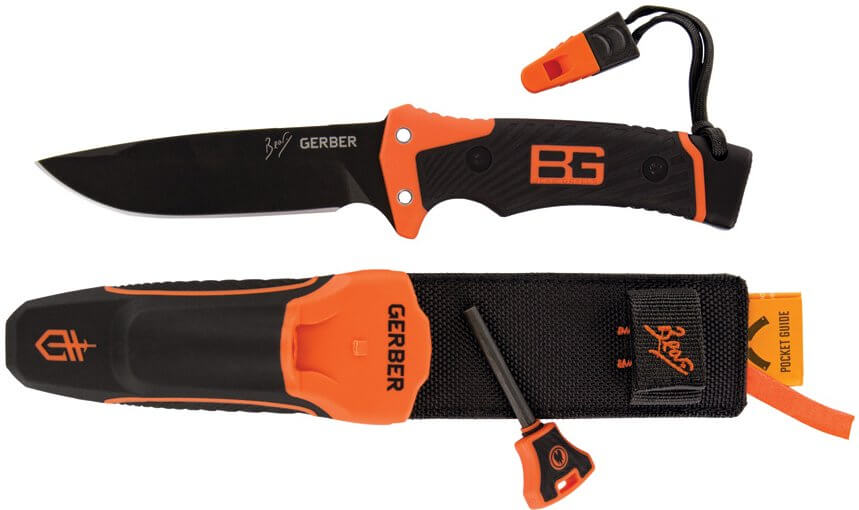 Famous for their extreme sharpness and their capability to cut and slice, the textured grip of the handle facilitates a firm grip on the knife while in use. The blade is made of stainless-steel and is 4.8" in length. The knife cuts sharply every time. The blade does not rust and is so tough that is almost impossible to bend or break. The full tang construction further ensures that the blade is strong and can withstand continuous and extreme use in chopping and cutting.
The point of the blade allows me to cut deep into the wood or game that I am cutting or slicing, and it is very easily manoeuvrable. The thumb ramp or groove position helps the user to get the required stability and leverage when cutting or peeling with the knife.
Pros
The Ultimate Pro is very durable.

It has a very sharp blade

The knife has a full bladed tang construction

A tough knife that can handle very hard work.

The design of the knife and the tip of the blade makes it very sturdy

Very lightweight and easy to hold and handle

The handle of the knife facilitates a durable grip

It is a multi-purpose tool

I can start a fire by using one side of the blade as a striker

The sheath can be used by people who are right handed as well as left
Cons
The loop used for attaching the sheath seems to wear out quite quickly and is not very durable.

The thumb groove is smooth and quite close to the blade.
Conclusion
Considering the price, features, and performance, my number one choice for the Best Survival Knife under $100 is the KA-BAR Becker 22 Campanion knife. Not only is this a great drop point blade under the 100 dollar mark, it's an extremely resilient and quality knife that will give you maximum value for money!