Best Electric Knife Sharpener under $100 – My Top 3 Choices
In my wilderness or the outdoors, one of the most important accessories to my survival and hunting gear are my knives. It is these trusty (not rusty) implements that help me carve my meat, fish, and vegetables into edible and manageable pieces, which when cooked are a delight to look at on my plate and consequently devour. Yes, I agree that my ingredients, condiments, and cooking expertise do add to the flavour, for sure but the hunting knives are the real heroes
And that's why it is a no brainer to invest in the best electric knife sharpeners in order to keep my knives in top condition for my cutting, slicing, dicing and cutting activities in the outdoors
My Top 3 Choices for best electric sharpener under $100 would be as below:
Chef's Choice 320 Diamond Hone Knife Sharpener, White
Chef's Choice 110 Professional Diamond Hone Sharpener
Presto 08800 EverSharp Electric Knife Sharpener
#1 – Chef's Choice 320 Diamond Hone Knife Sharpener, White
This ultra-efficient sharpener is my top #1 choice for the best electric knife sharpener under 100 dollars. The strength of the diamonds in the tool ensure that I get unrivalled sharpening satisfaction when I make just a few passes with the dull knife through each slot. The sharpener does even better than professional sharpening services.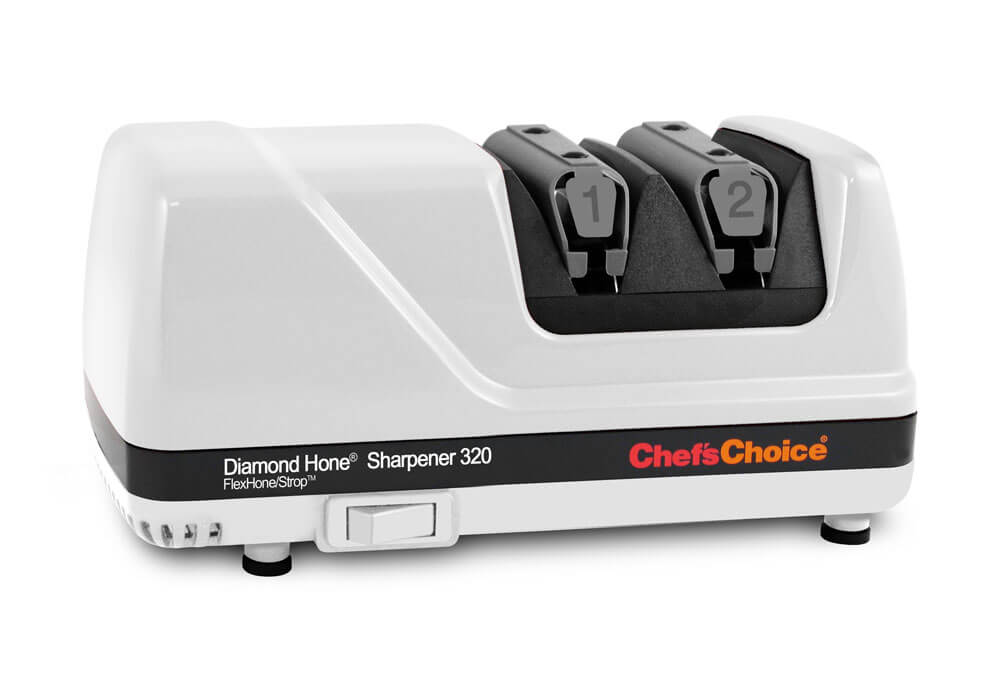 Features of this tool are:
1. Two-Stage Sharpening
I can use this professional two-stage electric sharpener to sharpen and strop both serrated and straight knives. Stage one uses a 100% diamond coated disk and stage two uses a polishing and stropping disk resulting in a sharp and durable knife edge. The biggest advantage of this tool is it sharpens by removing least amount of material from the blade during the sharpening process
2. Internal Elastomeric guides
You get a sharp, perfect edge every time as the internal elastomeric spring guides hold the knife blades in the right position and at the proper angle to the sharpening surfaces
3. 100% Diamond Honing
The extreme hardness of the 100% fine diamond honing abrasives ensure they sharpen the blades without overheating or damaging them
4. Stabilizing Feet
The non-slip stabilizing feet and specially designed base of the sharpener prevent any movement and unfortunate accidents, as the tool is kept fixed to the table or counter-top.
Pros:
Easily affordable at $94.95
3-year warranty
Reliable for use with professional knives
This sharpener is so efficient it can restore a 15° edge for Asian style blades, and a 20° edge for both European and American style blades
Very reliable and safe sharpener
Durable longer lasting edges
After sharpening, the knife blade edge is strong and long lasting while the knife cuts cleanly
Results are very sharp
A reviewer even said that this sharpener can get my knives sharper than the day I bought them!
Saves time and effort in the sharpening process
Buyer satisfaction of over 95%
Easy maintenance, can use a toothbrush or a paper towel to brush
No lubrication or wetting of any moving parts required
Cons:
Unsuitable for heavy sharpening of very dull knives as it is only a two-stage knife sharpener
Sometimes may have to spend time sharpening every use of your knife
#2 – Chef's Choice 110 Professional Diamond Hone Sharpener
In the commercial kitchen, nothing is more important than a sharp knife. Period. Check out my top# 2 choice coming from Chef's choice. If I can own a knife sharpener that can produce a patented triple bevel Trizor-Plus edge on any knife in my kitchen, in a few seconds; then this is the tool I really want to own as it promises a superior sharpening result, over a long time.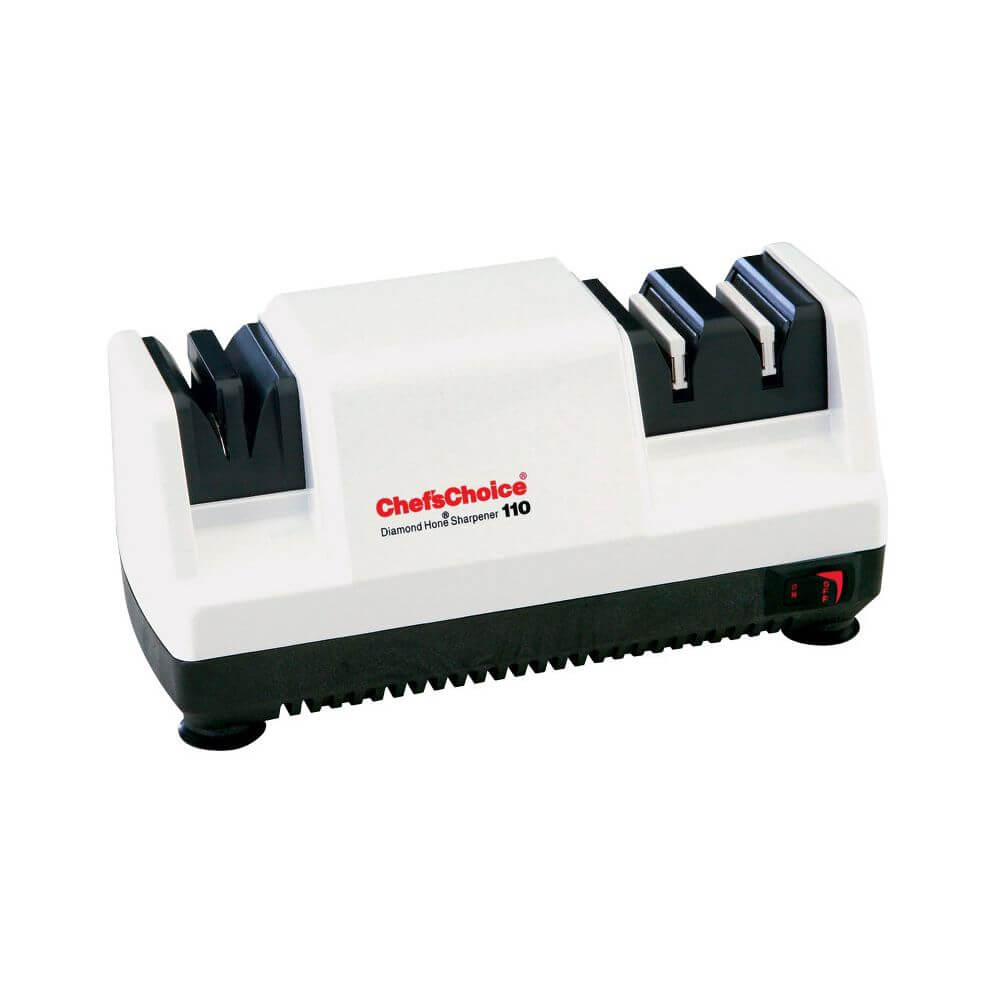 This tool is effective on every knife available in a kitchen except serrated knives, and even does Asian style, fillet, butcher, and sports knives. An additional feature of this sharpener is its patented guide system which ensures maximum sharpness on all my knives.
The 100% diamond abrasive disks or wheels can sharpen any type of alloy including carbon steel and stainless steel, effortlessly. Whether my knife is thin, medium, or thick the inbuilt magnetic guides help me apply the right sharpening pressure for optimal sharpening angles.
Pros:
Affordable as price is $79.95
This device is easy to use, safe and very effective and hones to perfection
As easy as 1-2-3. The first stage removes some of the blade's metal to create a new blade, the second stage further lightly sharpens the edge and third stage hones the edge to perfection. You may not need to use all three stages for every knife in your kitchen
Durable – This is a high-quality product that is recognised for its 100% diamond abrasives and precision guides so my knives work like new
User-friendly – I can sharpen multiple knives with this tool very quickly as compared to other tools on the market
The elastomeric angle guides help me get high precision sharpening on my knives
Comes with simple easy to follow instruction for use of the tool and a 2-year warranty
The 3-stage sharpening removes less metal from the blade surface as compared to other sharpening tools in the market
Cons:
This sharpener is not good for serrated knives
Grinding noises are heard during the process of pulling the knives through the slots
#3 – Presto 08800 EverSharp Electric Knife Sharpener
If I am looking for a very affordable knife sharpener under $100 that will do most of the jobs of my other two choices #1 and #2, then this tool would be my preference. My #3 choice is most economically priced and it's two-stage sharpener technology can sharpen all types of non-serrated knives, quite easily.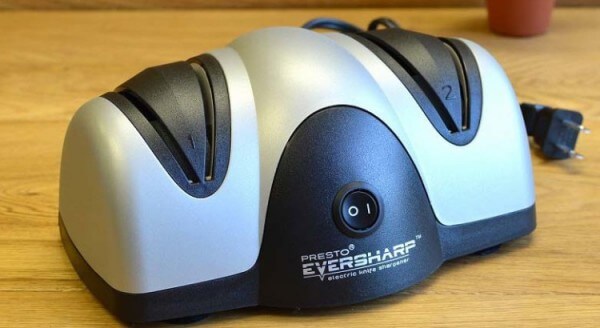 Because of the high quality Sapphirite sharpening wheels, the process of sharpening takes only a few seconds and I get a razor-sharp edge on my knives very quickly. The device works almost on autopilot avoiding any guesswork from me. The knife blade is grinded and sharpened during the first stage while during the second stage I can hone it to perfection.
Three suction cups are inbuilt into the device at the bottom to hold the knife firmly in place during the process of sharpening and a filter is provided with the device to avoid any spattering of metal shards and fillings
Pros:
1 year limited warranty
Excellent value and cheap at $20
Good for big amounts of grating and cutting jobs
Very fast and reliable sharpening results
Sharpens dull knives as well
Cons:
May require manual steeling by hand, before sharpening
Slight burr sound when honing a blade
Cannot adjust sharpening angle and cannot sharpen serrated blades
Sharpening performance on high carbon steel is excellent but not so good on stainless steel
Device motor seems to be under powered
Conclusion
Considering the price and performance, my number one choice for the best electric knife sharpener under $100 will be the Chef's Choice 320 Diamond Hone Knife Sharpener. Trust my judgement and go for this – you won't be disappointed one bit!