Best Survival Watch under $200 – My Top 3 Picks
So there you are, lost, alone and surrounded by nothing but miles of wilderness. Harsh, rugged and challenging terrain separates you from the comforts of the modern world. Your only job… to survive.
Ok, so this is not a situation that many of us will ever find ourselves in, but if you did, wouldn't you like to think that you could survive and make it out alive? What if I told you there was a tool that could help keep you sane in the face of confusion and focused on your objective and goals? Fortunately for you, this tool exists in the form of a survival or tactical watch.
Now I don't need to tell you that watches have been around for a very long time and in their simplest form, the technology of watches has not changed much. However, the same cannot be said regarding the survival watch industry. Technological advancements combined with feature-rich platforms have developed over time enabling you to control and command a ton of information with that thing strapped to your wrist.
In this article, I'm going to look at three of the best survival watches for under $200. I'll tell you what I like about them, what I don't like about them and of course, what makes them at great buy at this price range.
1. Casio Men's PRW-3500-1CR Atomic Resin Digital Watch
First up on my list of the best survival watch under $200, let's take a look at the Casio PRW-3500-1CR Atomic Resin Digital Watch. This watch combines a sturdy and functional foundation with a ton of features.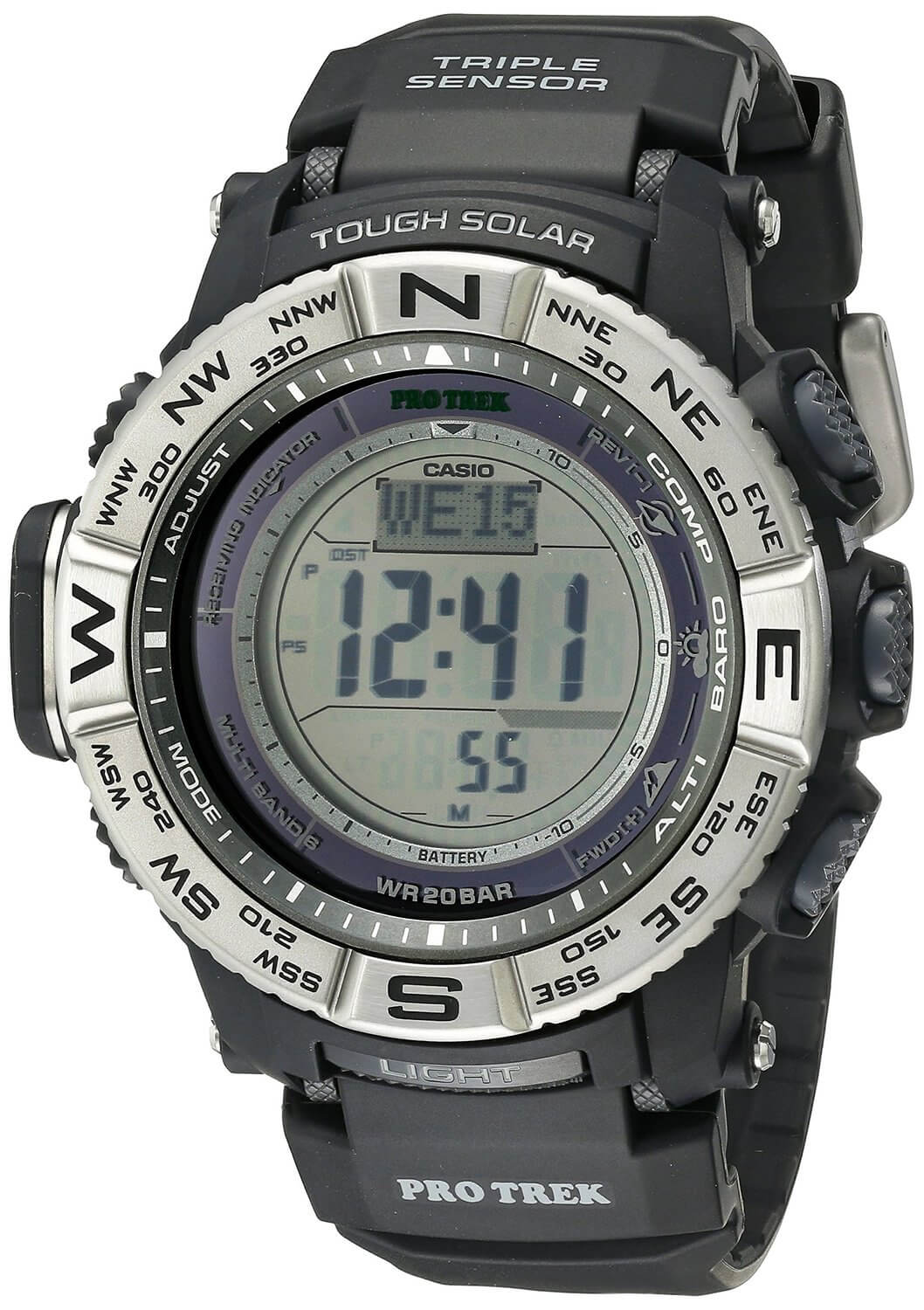 The watch is solar-powered meaning that the internal battery is charged via the sun or other light sources. This is perhaps one of the most critical elements to a survival watch. Think about it, if you're truly lost and / or cut off from the rest of the world, aka power sources, a solar powered watch will keep on ticking simply as a result of exposure to the sun. Without power and a dead battery your watch would be rendered useless. That will not be the case with a solar powered watch. Amazingly, these watches can run for months on end without any exposure to light.
The PRW-3500-1CR is equipped with all of the major features you would expect on a tactical watch. These include low-temperature resistance, digital compass with bearing memory, altimeter, barometer, thermometer, sunrise and sunset data, world time, backlight with after-glow, alarms with snooze, stopwatch and a countdown timer.
Perhaps more importantly, this watch is also water resistant up to 200-meters. As these ratings can be somewhat misleading, I'll help to clarify this one. This watch is good to go in rain or moisture-abundant environments and yes it can be submerged. Would I scuba-dive with it? No, but a quick dunk underwater should be no problem for this watch.
2. G-Shock Rangeman Master
Next up, we have another Casio watch, this time it's the G-Shock Rangeman Master. For 25-plus years, the G-Shock watch series has been one of the toughest and most durable watches available. Time has treated them well and Casio continues to innovate within the lineup.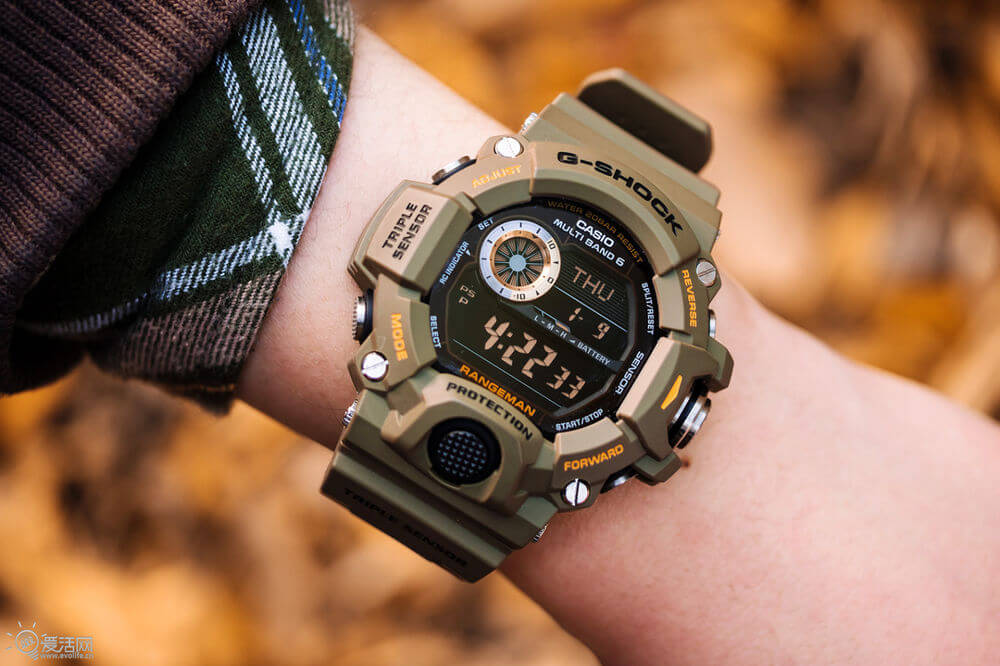 The G-Shock Rangeman is both rugged and tough, combining a shock resistant triple-sensor with altitude, barometric pressure, temperature and direction readings. The Rangemaster also utilizes cylindrical buttons and audible tones for easy operation. Again the Rangeman is powered by Casio's Tough Solar operation allowing this watch to run for months on a single charge.
With a dependable water resistant enclosure up to 200 meters, the G-Shock Rangeman is a survival watch that will not let you down when it matters most.
3. Casio PAG240-1CR Pathfinder
Last but not least, the the Casio PAG240-1CR Pathfinder rounds out the list of my top three favorite survival watches.
The Pathfinder is another solid and feature-rich beast of a watch from Casio. This watch lacks nothing in the major feature category providing you with a digital compass, altimeter, barometer, thermometer, low temperature resistance, backlight, battery power indicator, and power-saving function.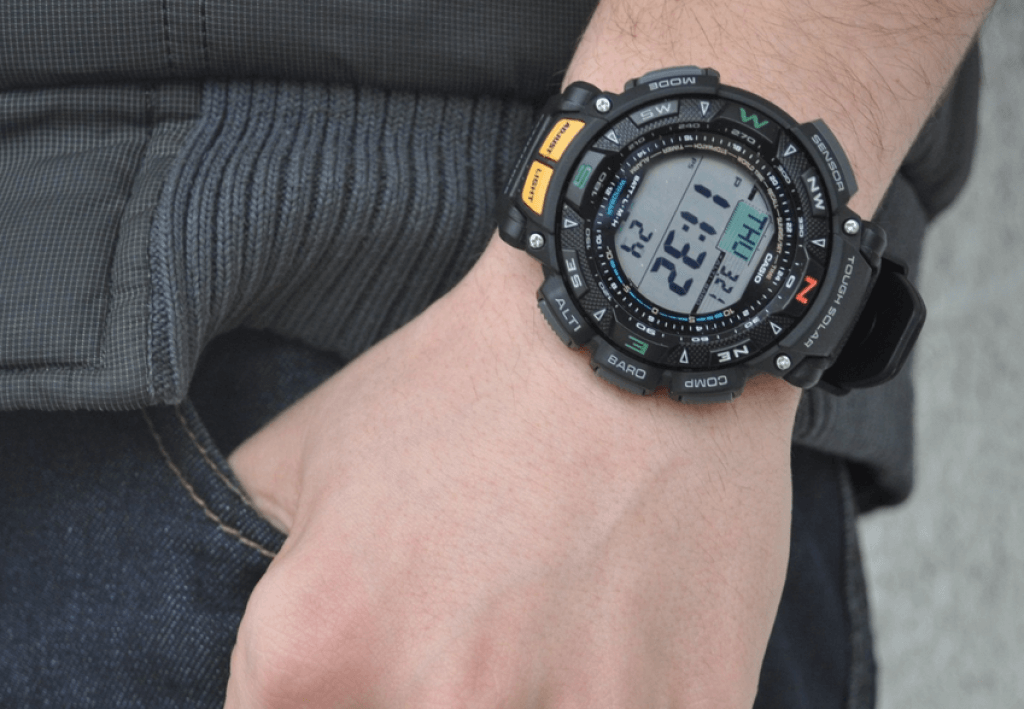 While battery life is not an issue thanks to the solar-powered operation of the Pathfinder, it is a little bit lacking in the water resistance category. With a rating of only 100-meters this watch ranks below the other two watches I mentioned above. That is really the only knock on this watch and in most cases this watch is still perfectly functional. With 100-meter rating you can still swim and snorkel with this watch so for most people there should be no problems.
The Pathfinder is another great option in the survival watch category and at under $200 it's a great value on a lot of technology.
Conclusion:
So as you can tell after reading the above reviews, Casio has a strong position in the survival watch category, especially in this price range. They have multiple product offerings each tailored to a unique type of user. They continue to innovate and progress the technology of these watches which is why they are some of my favorites.
If you're in the market for a survival or tactical watch, you can't go wrong purchasing any of the the above three watches. I'll also try my best to keep updating this list that helps you choose the best survival watch under $200.