A Guide to Choosing the Best Bushcraft Knife
It is important to have the right knife, if not the perfect, which can be used in place of different tools in different situations. If you're someone who loves the outdoors, then having a great bushcraft knife is a must for you and I'll tell you the secret to owning the best bushcraft knife.
Bushcraft Knives differ from survival knives and pocket knives and are considered as primarily a wood cutting tool which can be used effectively for notches, feathering and creating points on wooden objects. A bushcraft tool is extremely sharp with a blade of 3 to 6 inches in length.
Bushcraft is also a popular term for wilderness skills; these skills include fire-craft, tracking, hunting, fishing and shelter building. The term came into existence when it was coined by Bush Tucker Man (Les Hiddins) in the Southern Hemisphere and Mors Kochanski in the Northern Hemisphere. The knife is used mostly in Anglo Saxon countries like the US, Canada, New Zealand and Australia. The right bushcraft knife is an essential tool for the bush crafter who loves the outdoors.
There isn't a perfect bushcraft knife available as a lot depends on the right environment, conditions and likely tasks. For a beach scenario, often a stainless steel blade with a lower hardness is required while a hard carbon steel knife is used in dryer wooden areas by a camper.
There are hundreds of brands and manufacturers available for Bushcraft knives and thus, while choosing the best bushcraft knife, one may make some common mistakes which should be avoided.  The functionality, strengths and weakness of knife are dependent on material, design, features, fit and finish.
One important fact that I always share with my readers is that it is always better to avoid buying a folding bushcraft knife. Always choose a full tang bushcraft knife – where the knife steel runs through the full length of the knife. Also, many people think that the Rambo knife is the ultimate bushcraft knife as it looks attractive. But actually, this is an exception as these knives are cheap and low in quality and are of no use in real life outdoor survival situations.
The best way to truly understand your knife is to put the knife to the task and test it in the wild. For hunting purpose you should be able to track the animals and skin them for food. You can also use it for self defence purpose where you can rescue yourself when attacked by an animal.
Top Bushcraft Knives – Value for money
Below are top bushcraft knives which will help you make your best pick in regard to functionality and money.
1. Morakniv Bushcraft Carbon Fixed Blade Knife
Morakniv bushcraft knives have achieved a cult status over time. The knife is made in Swedan and is known for its state of the art quality, impeccable resilience and an extremely sharp blade.
Despite its quality and performance, Morakniv are extremely light on the wallet. It has a 3.3mm thick high carbon made blade which is anti corrosive as it is treated with DLC anti corrosive black coating. To avoid further corrosion, you should clean and wipe the knife to make it dry, plus oil the blade after each use. The blade has a flat grind and sharp point.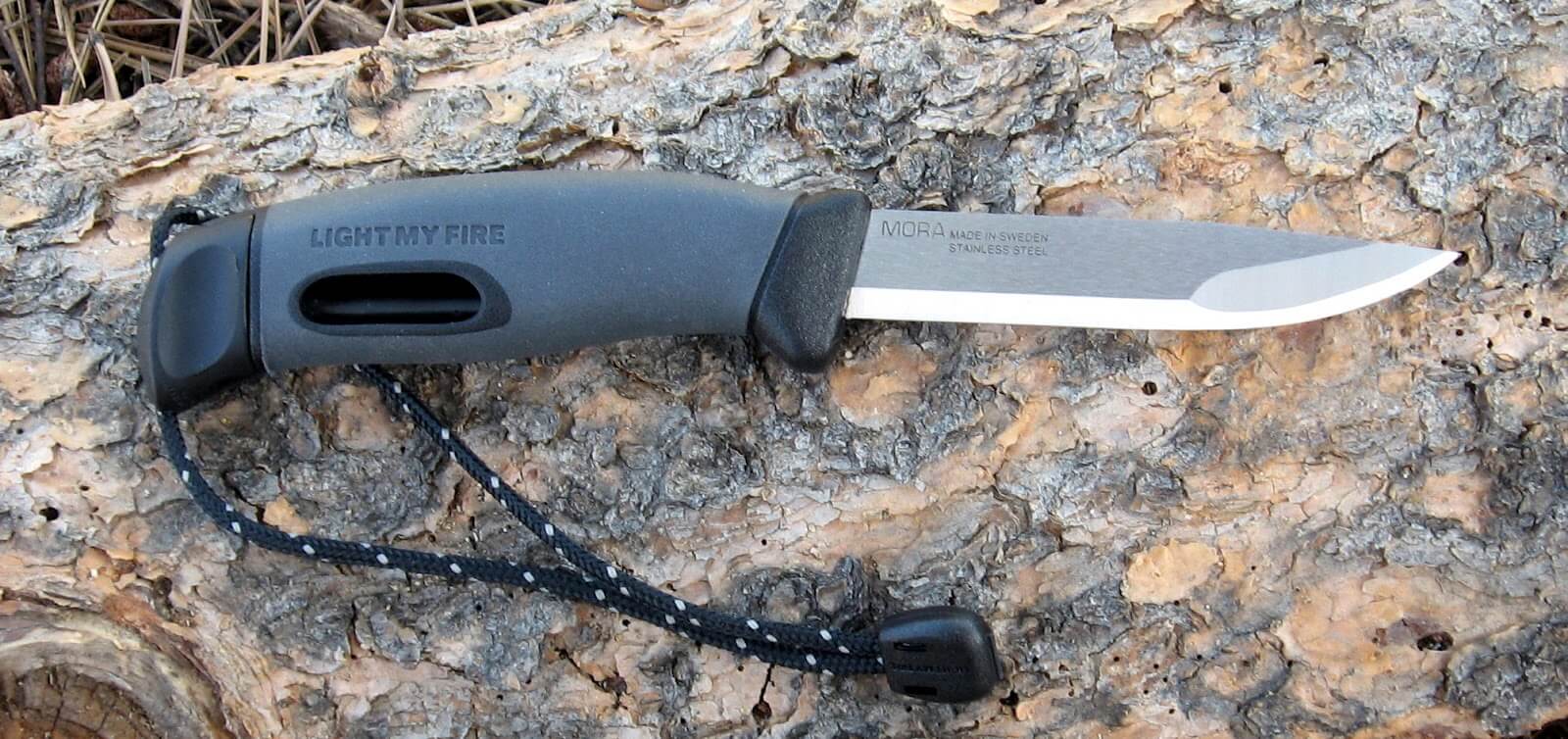 The backside of the knife can be used as a fire starter. The knife comes with ergonomic handle with high friction rubber grip and there is jimping at the top of the handle to provide greater thumb control. The sheath comes with full loop and a belt clip while the contour of the grip is extremely pleasing which takes care of the condition that knife will involve some sweat. While working with fire steel or scrapping tinder, the knife is extremely useful as the spine of the blade has a very sharp 90 degree angle.
Key Features of knife:
Blade thickness – 3.2mm
Blade length – 4.3 inches
Total length – 9.1 inches
Net weight-  5.4 ounce
2. ESEE-6 Survival Knife
The ESEE-6 is generally used on a camping trip or while fishing. The knife cuts with precision and is used to cut freshly caught fish or any other animal during a hunting trip. It is known for its quality and performance as it is manufactured by Randell's Adventure Training Company which specializes in making all purpose knives from outdoor to military to kitchen. The knives manufactured by the company are especially used by law enforcement, the military, backpackers and adventurers.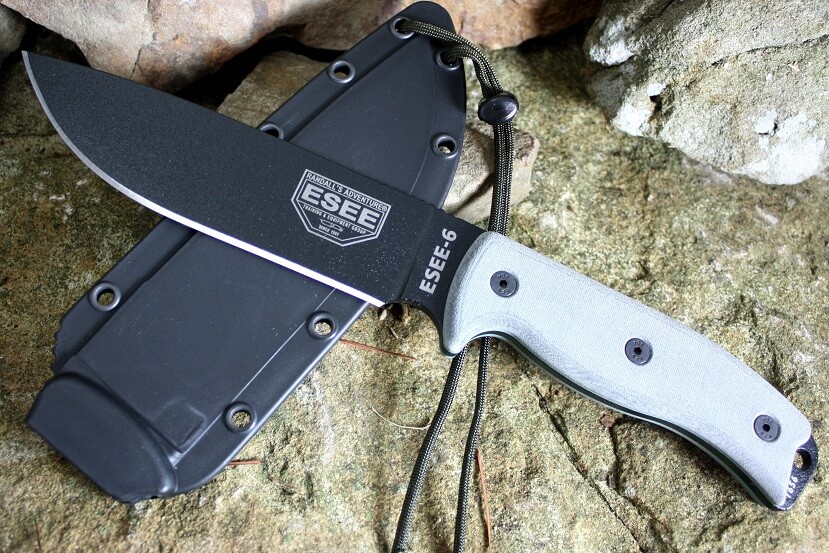 The handle is made with a comfortable linen Micarta which can be removed or replaced, if needed. The handle provides maximum gripping power and doesn't get slippery and a brown polymer sheath is also included which can be carried with convenience. There are lashing and cord storage holes and a drainage port at the end of knife which reduces water damage. Towards the end of the blade, there is a friction retention mechanism which gives it a good hold in the sheath.
Key Features of knife:
Overall length of knife – 11.75 inches
Blade length – 1.56 inches
Overall Blade length – 6.50 inches
Made – 55-57 Rc 1095 carbon steel
Handle – Linen Micarta
The ESEE- 6 is a great and handy tool but you'll have to do a few preparatory things and the flat grind takes a few passes to make the blade sharp. It has a beautiful design and comes with a lifetime warranty. ESEE knife edges are razor sharp so you have to be careful while using them. The ESEE 6 comes with a full flat grind and a drop point for piercing and general safety.
3. Cold Steel Survival Edge
The knife can be considered as an upgraded version of the old Japanese hunting knives. The Cold steel knife is razor sharp, light and is not a full tang blade in the traditional sense. However, it is not made to be used for batoning. The handle of the knife gives it a firm grip which is of great help while doing fine detail work and to be honest, it is a perfect tool to take with you while backpacking or hiking in the wood.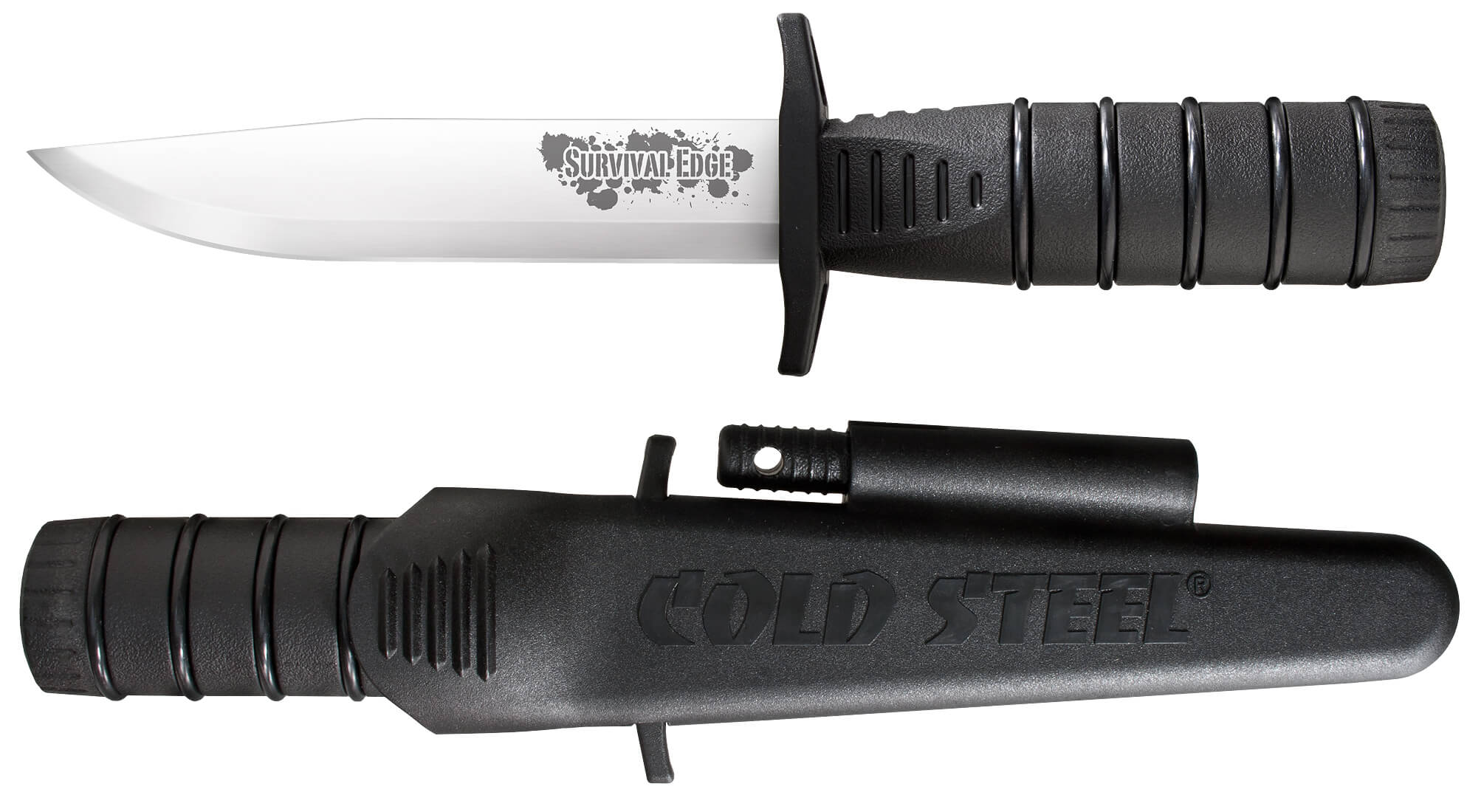 Key Features of knife:
Overall length – 9.25 inches
Weight – 3 ounces
Blade thickness- 2.5mm
Blade length – 5 inches
Made – German 4116 stainless steel
Handle material – Polypropylene with several rubber O rings
The handle of the knife is hollow with a waterproof cap at the end which allows you to use it for small storage purpose for survival aids. It is not a full tang knife and it comes with an ambidextrous secure-ex sheath and a ferro rod. The rubber 'O' rings give it a good grip even when the hand is wet. Since the knife is extremely light, you don't feel a burden carrying it around; it even floats on water because of its weight.
4. Tom Brown Tracker 2
#4 on my list of the best bushcraft knife is the Tom Brown Tracker 2 is designed by the renowned Tom Brown Jr who is an expert survivalist and tracker. The knife is specifically designed to be an outdoor survival knife and is convenient to carry for camping, hiking, fishing or hunting purposes because of its smaller size. The Handle has multiple finger grooves and traction surfaces for easy and safe handling.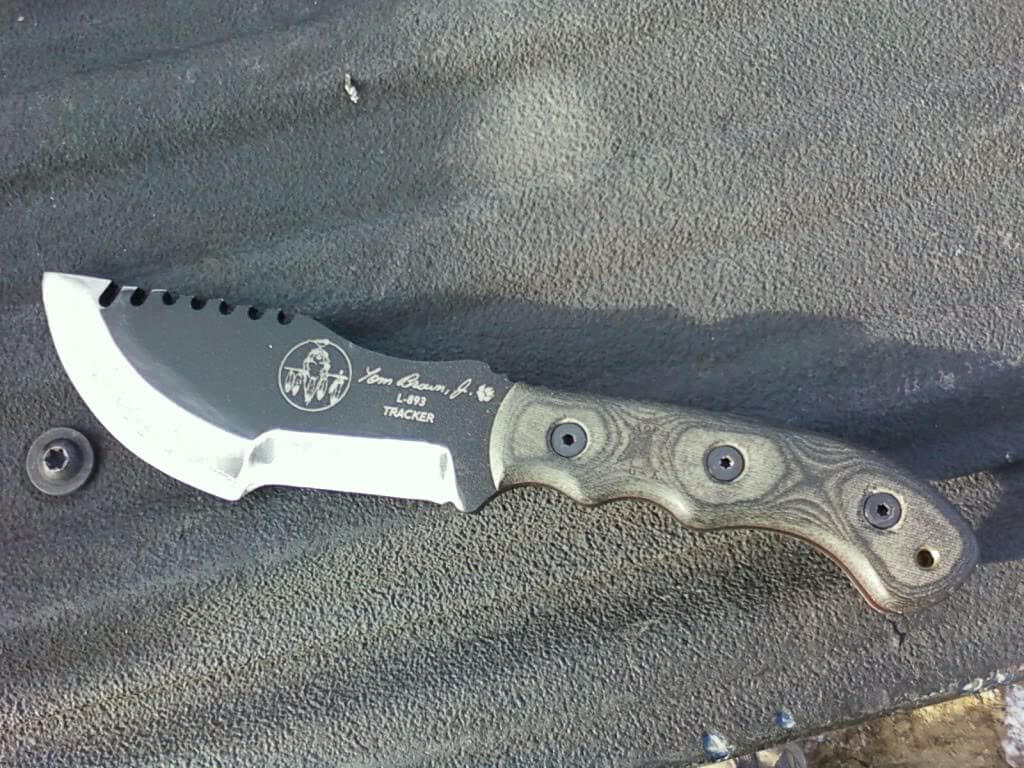 Key Features of knife:
Overall Length – 9.5 inch
Blade material – 0.25 inch thick 1095 high carbon steel
Blade Height – 2 inch
Blade length – 3.5 inch
Handle material – Black linen Micarta with Lanyard hole
Sheath – Kydex
Weight – 9.6 ounces
The knife can be used to cut through anything because of the durable high carbon steel. It is designed as a survival tool to chop, split, scrape, hammer, saw and do much more. The knife has been made famous by getting featured in movie "Hunted" as well as getting published on the cover page of BLADE magazine.
5. Spyderco Bushcraft G-10
The Spyderco bushcraft G10 knife is a threefold collaboration between Tactical bushcrafter Chris Claycome, a Bushcraft website called BushcraftUK.com and Spyderco designers. The knife has a typical 4 inch blade which is a specific characteristic of Bushcraft knives and the blade is Scandinavian and is made with O-1 tool steel.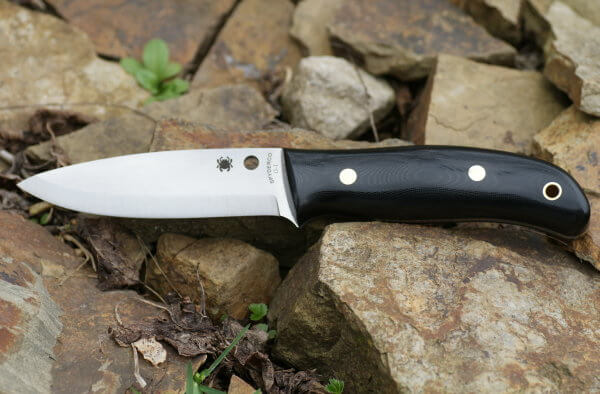 O-1's high carbon content holds a long term edge and also gets sharpened easily. The black G- 10 handle is comfortable to hold and comes with a lanyard hole while there is also a black leather sheath as well that comes along with the knife. The knife is used to perform wilderness chores such as slicing, chopping, whittling and game processing.
Key Features of knife:
Overall length – 8.75 inch
Blade – 4 inch O-1 steel blade
Blade hole – 0.23 inch
Blade thickness- 0.14 mm
Weight – 7.75 ounce
Blade material – G 10