A Detailed Review Analysis for the best hunting knives priced less than dollar 200
This article will help you to make definite decision on best hunting knife priced less than 200 dollars which will suit your needs. There are different kinds of hunting & outdoor knives available but getting into the little details will help you make the right choice. I have tried to summarise it in best possible manner taking into consideration the different needs of a hunter from a practical angle.
You will be rest assured regarding the benefits of knives as these are tried by hunting experts and the detailed reviews are there to help make your decision a little more easier. Also, wherever possible, I've tried to include an ongoing Amazon deal to get you some lucrative prices and offers.
I hope the below mentioned details will address the needs of both traditional and new age hunters. So without further ado, let's move on to our list.
1. CDS-Survival MOVA-58 Stainless Steel Outdoor, Survival, Hunting Knife
#1 on my list of the best hunting knife under $200 is the CDS-Survival MOVA-58 which is a make that you can trust even with so many competing options available around. It is a handmade knife made in Spain and is a cut above the rest.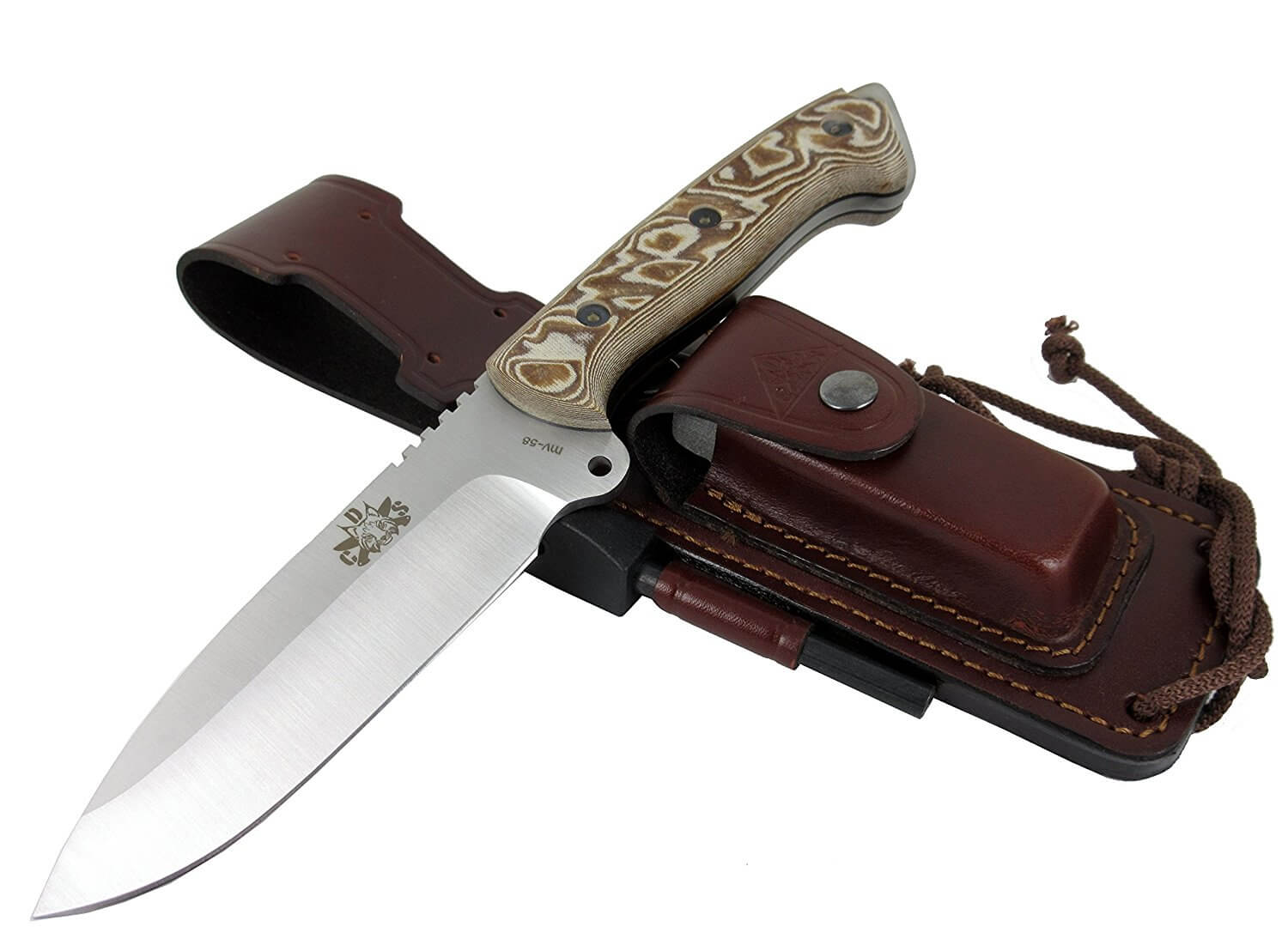 This knife is made of stainless steel and cocobolo wood handle and is a popular choice among hunters and is one of the best survival knives available today. This knife has proven to be the most preferred one when you are camping or taking part in any military endeavours. It can cut through the hardest tree branch with its razor sharp edge.
The leather work on the sheath is gorgeous and outstanding. If you feel the need to start a fire, the knife has 90 degree blade spine which will lite up wood with a lot of spark with the help of ferro rod that comes along with the tool.
Advantages
– Perfect choice for cleaning and skinning game
– Blade sharpness retention is superb
– Blade can be easily sharpen
– Sheath is high quality leather made
– Finish of knife and sheath are outstanding
– Fire starter is great
Disadvantages
– Sharpening stone is a bit short
– The leather retention strap has a button tight closure
– Knife is handmade so you may get an imperfect blade but knife can be sent back in case this happens.
Key Specs and Features:
Blade Length – 5.70 inches
Overall length – 10.82 inches
Blade thickness – 0.20 inches
Handle – Cocobolo wood; comes with Genuine leather sheath/ Sharpener stone/ Firesteel
2. Buck Knives 401 Kalinga Fixed Blade Knife
The Kalinga is one of the best Buck models and that's why it makes it to this list of the Top 10 hunting knives under 200 dollars. It has an ergonomic design with a large skinner blade and looks quite elegant and beautiful with a superb rosewood and brass guard handle.
It remains one of the top choice for hunters as a skinning tool or as a collectible because of its exclusive and elite design. The Buck standard blade material approaches the wear resistance of high carbon alloys and delivers the corrosion resistance of chromium stainless steel.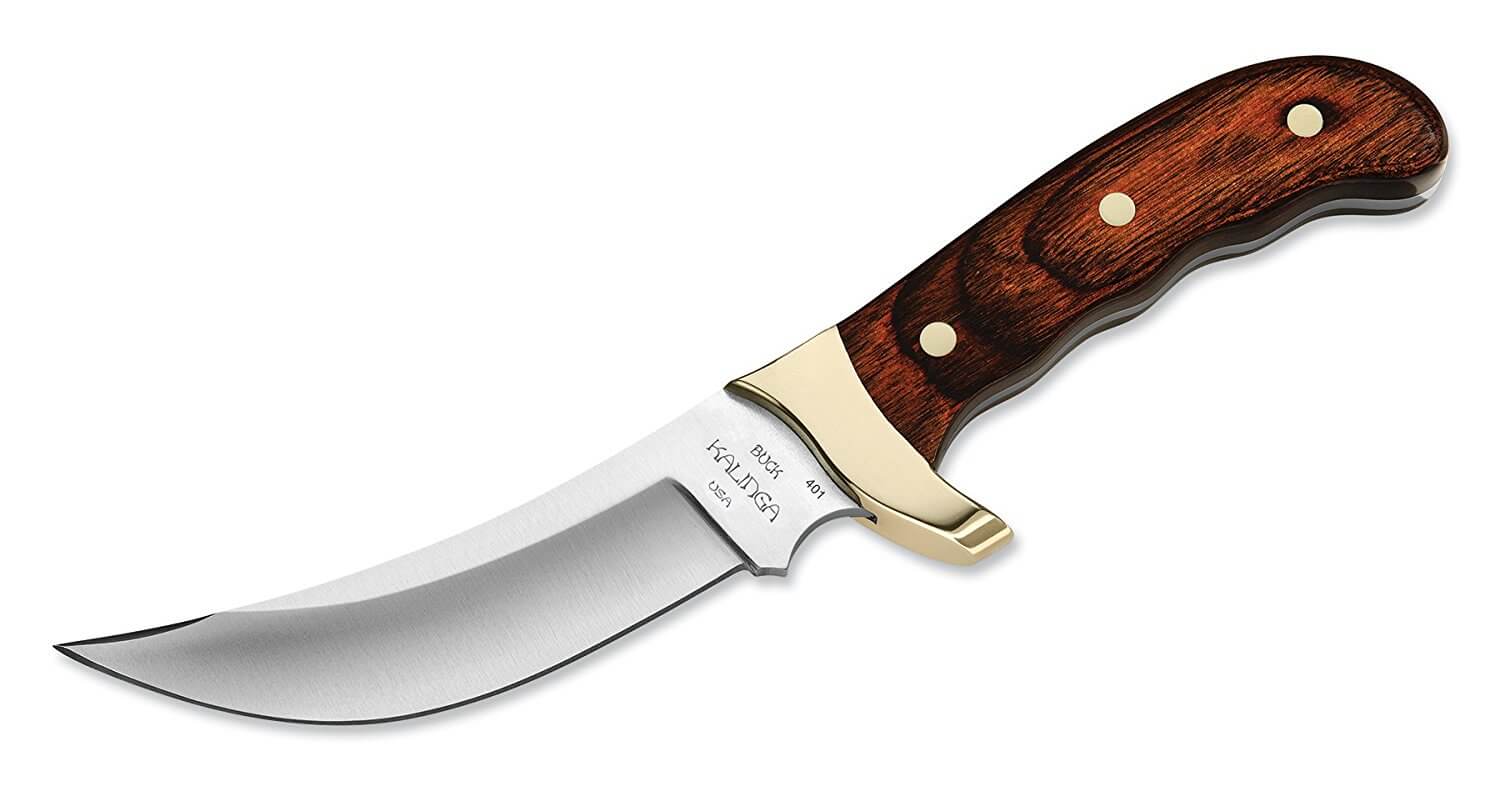 The knife is best suited for skinning game thanks to the blade design. The knife has narrow tip and wide curved belly which is used in getting through thick layers and gives a nice skinning sweep. You can't make an accidental slice with the downward angled blunt point.
While buying a skinning knife it is important to note the key features i.e. size of the knife, the design of the blade, the type of grind the blade has and the type of steel from which the blade is constructed. You can make the choice by keeping these aspects into consideration.
Disadvantage:
– Trailing point design is more purpose specific than either drop points or clip points hence it may not appeal to the large majority of hunters.
Key Specs and Features:
Blade – 4.3 inches upswept skinner, 420 HC stainless steel blade
Thickness – 0.180 inches
Length – 10 inches overall
Weight – 11.2 ounce
Sheath – Genuine Leather
Made in USA
3. Benchmade Hunt 15016 Hidden Canyon Hunter Fixed Blade
Benchmade hunting knives are made after lot of research and that's why the name has made its reputation in the marketplace over the years because of quality of its products. Benchmade products come with limited warranty period and lifetime service to ensure the sharpness of the blade.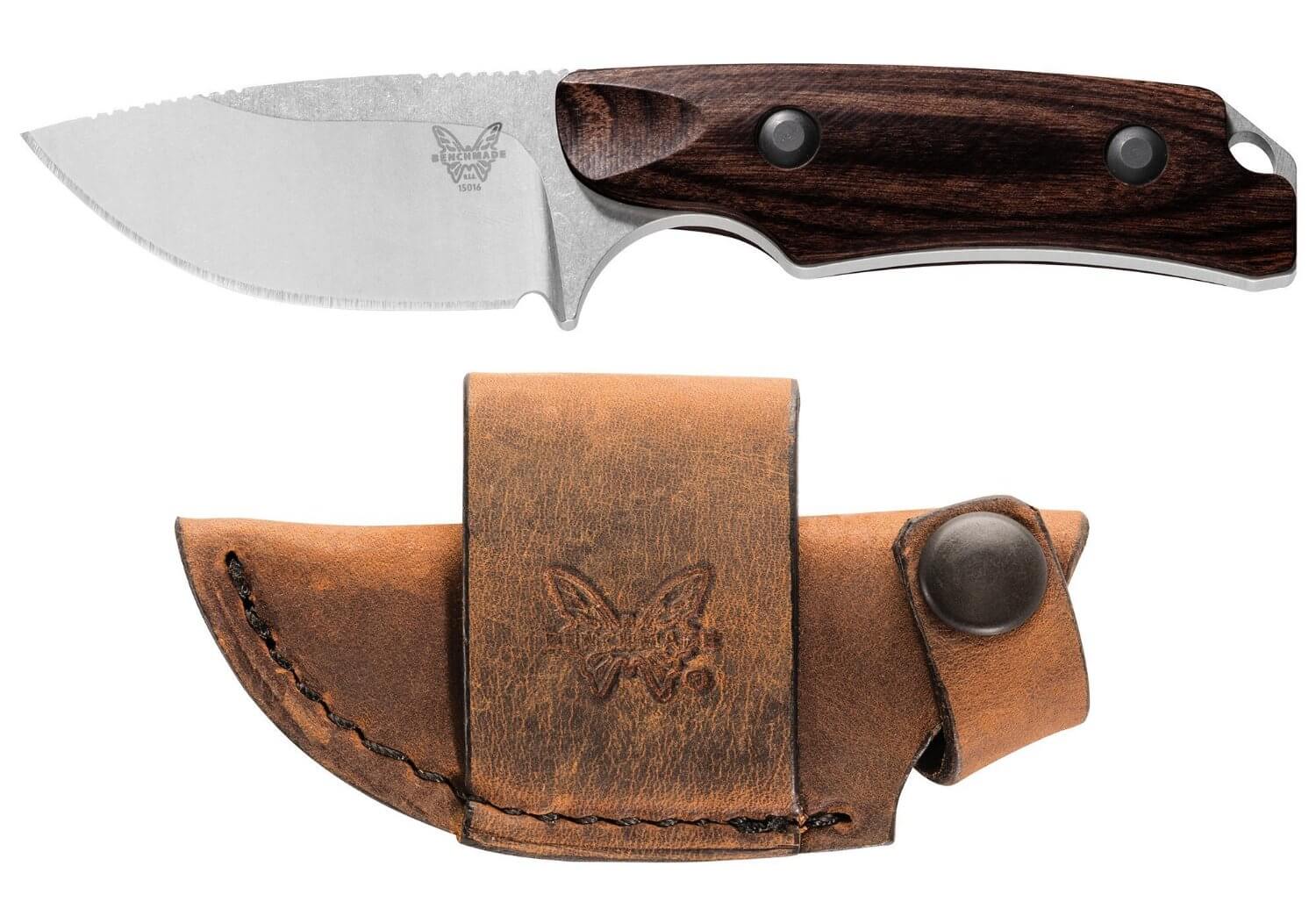 The 15016 Canyon Hunter is a technologically advanced hunting knife built from advanced materials which are usually used in surgical equipments and spaceships. It is good in performance and is durable and saves a lot of space as it is compact in size. It fits in your hand perfectly and gives you a spectacular grip.
The blade has a modified clip-point made of CPM – S30V premium stainless steel while the handle is made of Dymonwood or G10.
Key Specs & Features:
Blade length – 2.67 inches
Blade material – S30V Premium stainless steel
Blade Hardness – 58-60 HRC
Sheath – Leather with Dymonwood / Kydex for G10 handle version
Blade style – Modified clip point
Lock mechanism – Fixed
Overall length – 6.32 inches
Weight – 3.41oz
Made in USA
Advantages:
– Blade sharpness
– Length of the handle and blade are perfect
– Can be used for wide variety of applications
– Material is of premium quality
– Finish is superb
– Overall quality
– It is one of the best knives for skinners with its compact design
Disadvantage:
– The knife might be a bit small for large people
– Sheath can be a problem
Overall, the knife is a premium one that offers both style and functionality for outdoorsmen and hunting activities. The handle design of the knife gives you more flexibility and convenience.
4. Buck Knives 124 Frontiersman Fixed Blade Knife
Buck is an American manufacturer and the company has been credited in inventing the folding hunting knife. The company is known for its quality makes and for Buck, hunting is a tradition which comes with lifetime warranty. The Frontiersman is a classic knife with an overall sleek look and has a beautiful Micarta handle.
420HC steel is standard material used for making Buck knives as the material increases the wear resistance due to high carbon alloys while delivering corrosion resistance thanks to chromium stainless steel.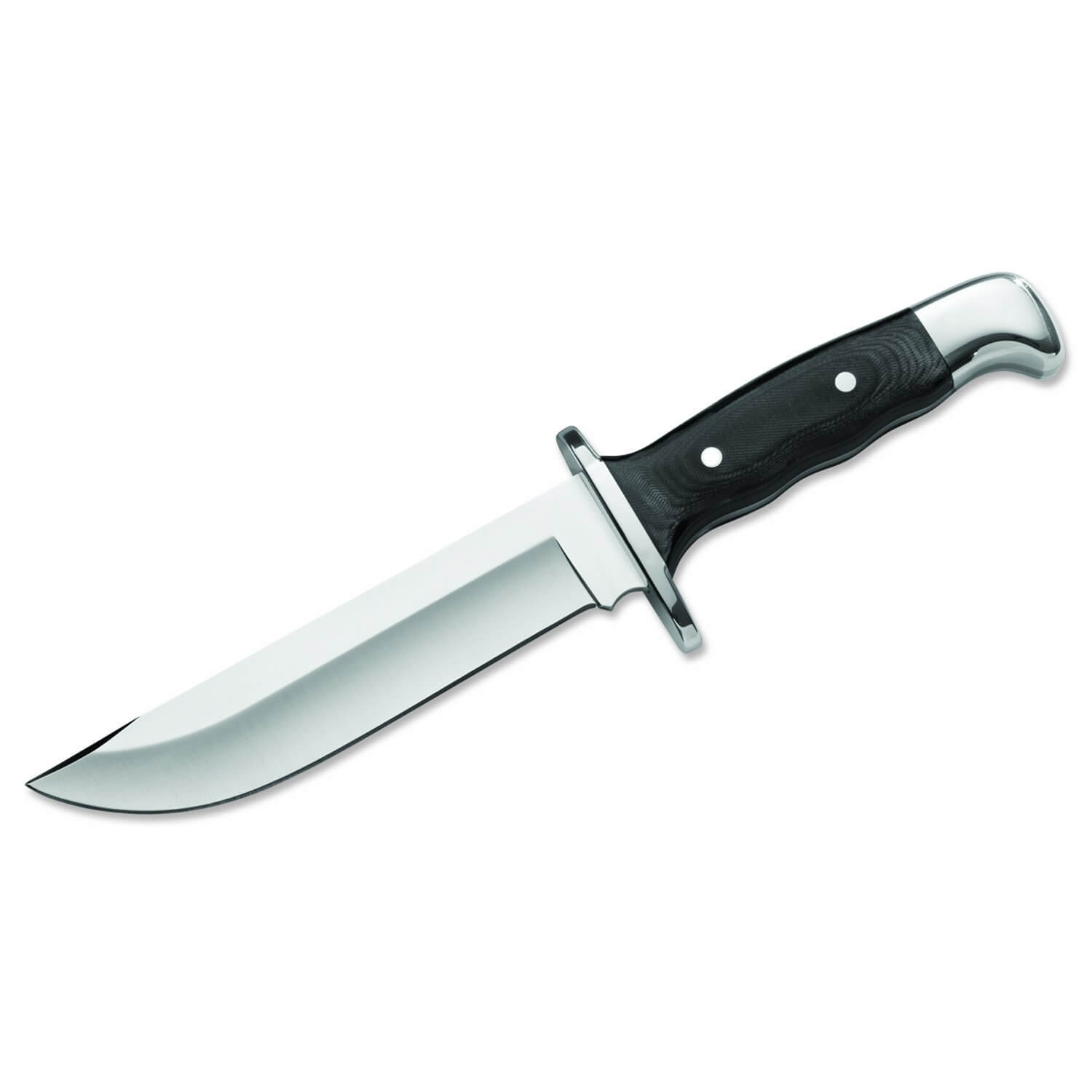 Advantages:
– It comes with an elite design, Black Mirata handle and genuine leather sheath
– It is durable and can be easily sharpened
– It can be used for various applications
– The blade can be used for heavy duty tasks because of its sharpness
– Comes with a lifetime Buck warranty
Disadvantages:
– Not an excellent one when it comes to chopping related task
– It has a slippery handle as the grip is not rubberised
Key Specs and features:
– Blade length – 6.25 inches
– Overall length – 11.75 inches
– Blade Steel – 420 HC stainless steel
– Weight-  13.3 ounce
– Handle material – Black micarta handle
– Sheath material – Genuine leather
– Made in USA knife
Overall, the knife has a combination of superior corrosion resistance along with durability and strong wear resistance. It is a reliable hunting knife and can be used for diverse applications. With its ergonomic design and sharp blade, the knife is definitely value for money.
5. ISAK-Black Survival, Hunting, Tactical, SWAT, Commando Israeli Army
Well, we're almost half way through this list that features the Top 10 hunting knives under 200 dollars and what we have here is one of the best military survival knives in the market.
The ISAK survival hunting knife is made by veterans of the Israeli Army Special Forces and is great for use in the working outdoors. It is the ultimate military knife and was primarily designed by the forces for the use of commando, SWAT teams and infantry units. The handle of the knife has a perfect grip as the surface is made rough by seemingly scratching it.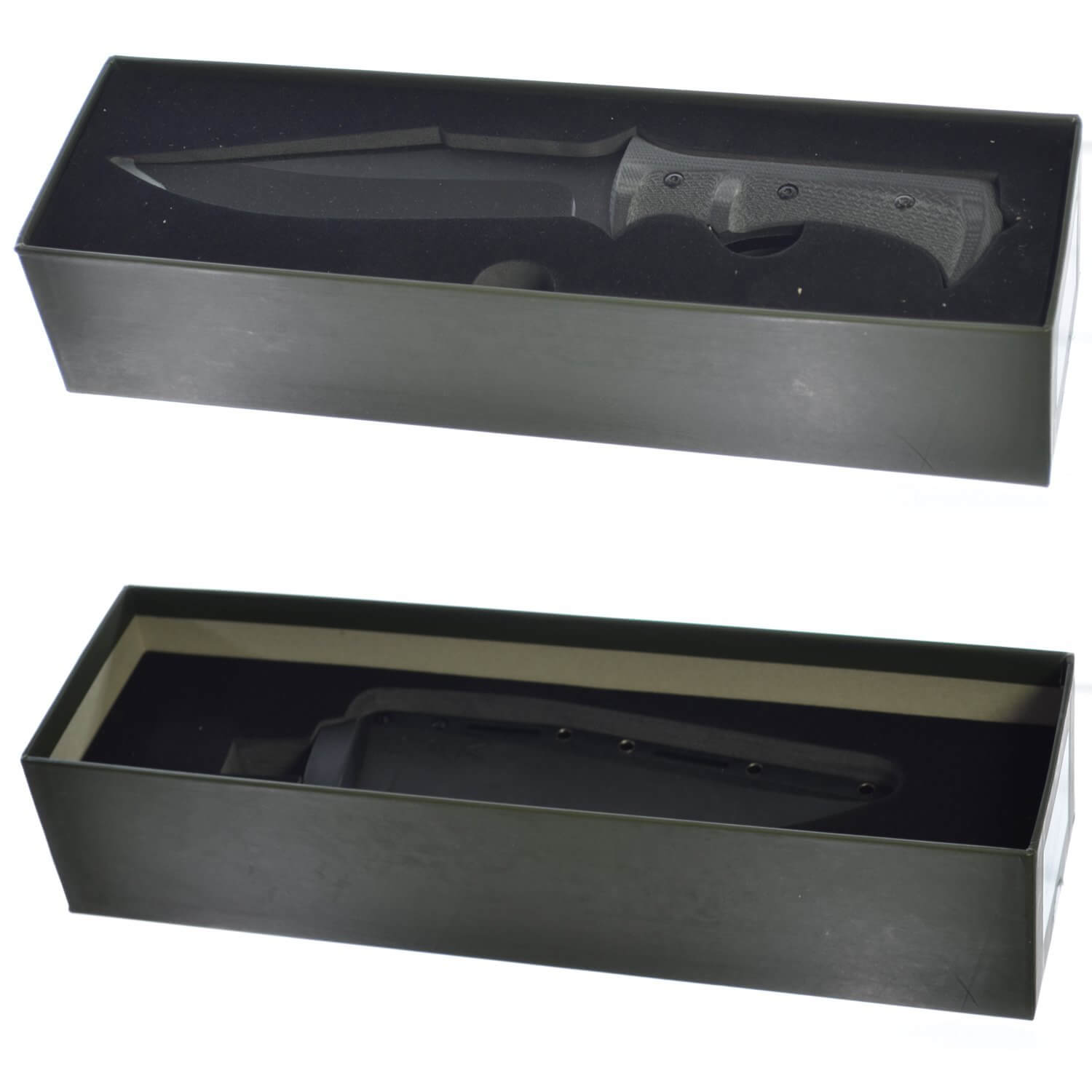 Advantages:
– Brand name – ISAK is state of the art army knives manufacturer
– Manufacturing is based on decades of experience which ensures the quality of the
– knife
Disadvantage:
– the Sheath might be a concern to some as it is made of plastic
Key Specs & Features:
– Overall length – 11.7 inches
– Blade length – 6.7 inches
– Blade thickness – 0.21 inches
– Blade type – plain edge, clip point
– Blade Finish – Titanium
– Blade material – stainless steel  grade 440C
– Handle length – 5 inches
– Handle material – G10 fiberglass based laminate
– Sheath- Made of plastic black in colour
– Knife weight – 1 ounce
The ISAK Black survival knife is reasonably priced and almost all the people I know who have bought it, seem extremely happy with the performance so far.
6. Spyderco Nilakka G-10 Plain Edge Knife
The Spyderco Nilakka has been designed by Pekka Tuominen, who is an award winning Finnish knife-maker. He is a Finnish Ministry of Education certified "master bladesmith" who takes immense pride in personally crafting knife details and sheaths. The Nilakka is the result of translating traditional Finnish Puukko to a contemporary folding knife.
The Nilakka G-10 uses high quality materials and is tested for its durability and quality. The handle of knife is built on a framework of full length stainless steel liners which also provide structure for its Walker Liner Lock mechanism. The Stainless steel back spacer is used to join the liners which are then covered with machined G10 scales that create a cross section which is the hallmark of a traditional puukkoo design. There is also a deep pocket clip support on the right side which makes Nilakka a true pocket puukko that is convenient for you to carry.

The knife blade is made from CPM S30V stainless steel which features full flat ground bevels that flow smoothly into zero – ground cutting edge. It creates a unique Scandia grind which offers exceptional cutting performance along with superb edge geometry.
Advantage:
– The unique design of the knife which is suited for hunting purposes
Disadvantage:
– There might be a slight concern regarding durability which can be addressed by applying a secondary edge bevel and just grinding until the edge thickens enough to prevent damage.
Key Specs & Features:
– Overall length – 8.13 inches
– Closed length – 4.62 inches
– Blade Thickness – 0.177 inches
– Blade length – 3.51 inches
– Edge length – 3.34 inches
– Blade Material – CPM S30 V Stainless steel
– Weight – 5 ounce
– Walker liner lock mechanism
– Deep ride pocket clip
Overall, the Nilakka G 10 is a truly extraordinary outdoor knife that is a combination of function, design and age old Finnish tradition turned into a contemporary cutting knife that is priced at less than 200 dollars.
7. Cold Steel XL Recon 1 Tanto Point Plain Edge
#7 on my list of the best hunting knife under $200 is a tactical folding knife. The Cold steel Recon 1 series is known for its high performance folding knives that are hard to beat.
They are known for their strength and reliability since many years and is popular among US Military, Law enforcement personnel, Fire and Rescue crews who prefer and appreciate this hardworking dependable tool for any task.
The Recon series is available in 4 different blade lengths of 2, 3, 4 and 5.5 inches and every facet of their construction has been designed to make them as strong and durable as possible. The series has different sets of knives which can be used for different purpose as per your need.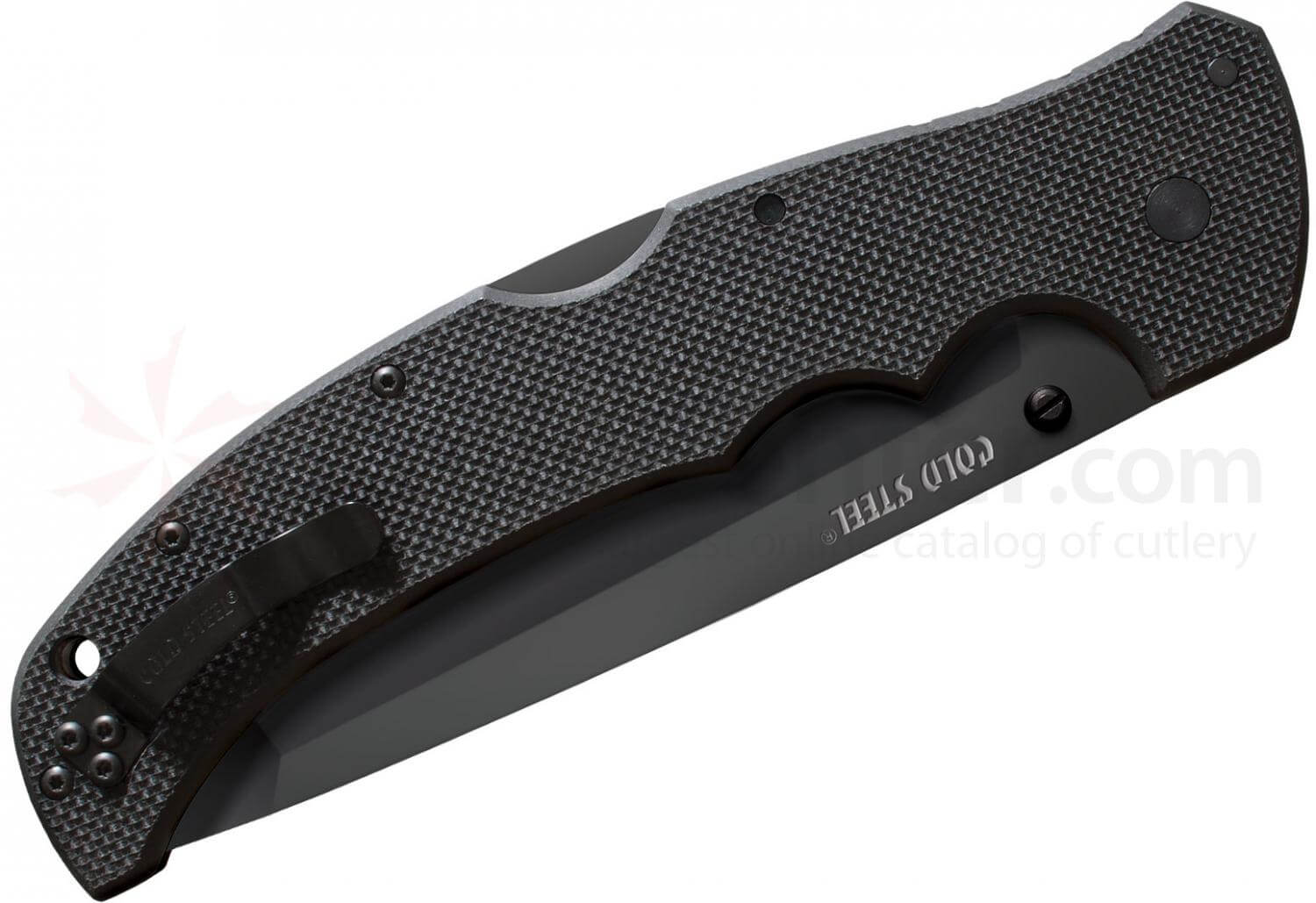 Advantages:
– The Carpenter CTS alloy steel has very impressive edge holding abilities.
– The Blade has extra fine uniform grain structure which outperforms its other counterparts.
Key Specs & Features:
– XL Recon 1 TANTO Point plain edge
– Blade materials – U.S. made carpenter CTS XHP alloy steel with DLC coating
– Overall length – 31.1 cms approx
– Blade length – 14cms
– Blade thickness – 4mm
– Handle – 17.1 cm, G 10 grip
– Ambidextrous pocket/belt clip
– Weight – 263gm
The Recon 1 series continues to set the standard for tactical folding knives and these utility blades have earned a reputation of strength and reliability over a period of time. The knife is thin, light and has a razor like sharpness. It is also equipped with a world renowned tri-ad lock which makes it impervious to shock and keeps you safe. The XL Recon is a beastly cutting powerful knife which will surely not disappoint you with its performance.
8. Buck Knives 65 Hood Punk Fixed Blade Survival Knife
The Buck 65 Hood punk is an extremely light knife used for camping or adventure and within its own category, it is the lightest of all used for camping, survival and hiking. The knife is handy and is one of the best utility tools for any kind of outdoor adventure.
The blade of the knife is made with 5160 power coated steel which is significantly harder, more durable and tougher as compared to normal steel. However, the blade is vulnerable to rust in humid climatic conditions or if used in water. The blade has a classic tip design and is wide at belly area which makes it an ideal knife for slicing, whittling, preparing food and feathering.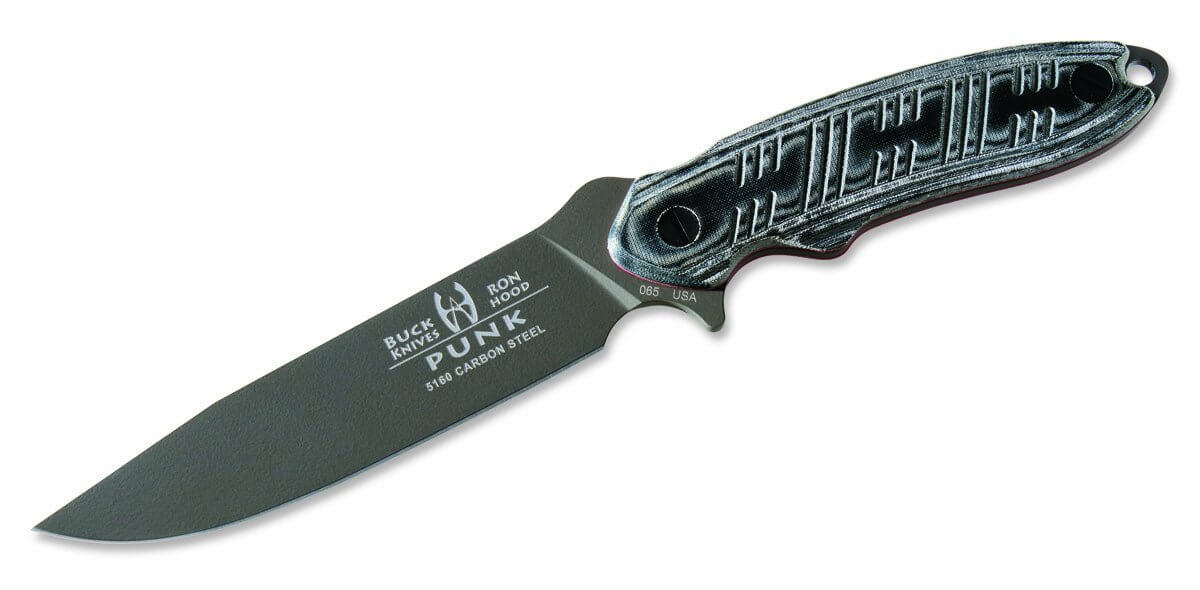 The handle of the knife is hollow layered with Micarta scales. It has a shock mitigation system which allows effortless heavy use along with comfortable grip. The finger coil and thumb ramp gives a snug hold.
The sheath comes with a big external front pocket for the fire starter, sharpening stone and mini survival kit. Also, it is MOLLE compatible and sturdy made of nylon. Blade can be put in two ways – it can either be fastened around the leg or it can be used along with a Velcro system to affix it to the belt.
Advantages
– Very light
– Ultra sharp
– Excellent edge holding
– Durable
– Balanced weight
– Great grip
Disadvantage
– Price is little on higher side
Key Specs and Features:
– Dimensions- 2.8 x 2.2 x 13.2 inches
– 6.4 oz of weight
– Made in USA
– Overall length – 11 inch
– Blade length – 5.62 inch
– Blade coating – 5160 steel with powdery finish
– Lifetime warranty
Overall the knife is ultra light, high in quality and precision. It is also used as a multi function tool which can be used for different outdoor uses. The edge retention and toughness of blade makes it an unbeatable survival and hunting knife.
9. SOG Specialty Knives & Tools AG01-L Agency Knife
Making its' way in at #9 on my list of the best hunting knife under 200 dollars is the SOG Specialty Knives & Tools AG01-L Agency Knife. SOG is known for its tradition of recreating and modernising historic designs and for this particular hunting blade, the original was made in secrecy by CIA operatives in the early days of the Vietnam war. It was designed keeping in mind clandestine and counters insurgency teams and is a true reproduction of the weapon which was used in that era.
The SOG agency knife comes with a sheath to protect the blade and a sharpening stone which is used to restore the sharpness of the blade when used over a period of time. The knife is light weight and is convenient to use and can be used to cut multiple things at home & the outdoors as the knife comes with a sharp edge. Apart from that, it can be used during camping trips to perform small tasks.

The knife is made of AUS – 8 steel with an attractive satin finish. The 7.5 inch straight edge, fixed blade comes with a clip point shape which can be sharpened easily and makes quick work of any task. The handle of the knife is ergonomically designed; it is brown in colour and is made of epoxy filled leather washers which give it a natural look.
Advantages
– Blade sharpness
– Great Design
– Overall high quality
– Certificate of limited run of 1000 pieces – a collector's knife
Disadvantage
– Sheath might not appeal to some
Key Specs and features:
– Blade type – clip point which is used for wide range of applications
– Dimensions –  18 x 3 x 3 inches
– Overall length – 12.68 inches
– Blade thickness – 0.15 inches
– Weight – 9.6 ounces
– Blade length – 7.5 inch
– Handle Finish – Satin
SOG knives are created under the supervision of company founder and chief engineer and the knives are known for their innovation, dependability, unique futuristic design and uncompromising style. The SOG designs have been acknowledged awarded worldwide and that's one of the reasons why these knives perform flawlessly in the toughest and most adverse conditions which have also won them favour among law enforcement, industrial consumers and military.
10. Benchmade Knife 15031-2 North Fork Folder Wood
The Benchmade 15031-2 North Fork hunting knife is a compact AXIS folding knife with a lock mechanism that is very secure and positive. It has a recurved blade to assist with processing duties and because the design is result of R&D lab tests and research projects, the knife is made with advanced technology material which is used in spaceships and surgical equipments.
The Benchmade 15031 North Fork is perfect for everyday carry because of its great size. It has a short blade which is more popular nowadays in comparison to traditional knives. and offers a lot of advantages especially when you are working blind inside a cavity.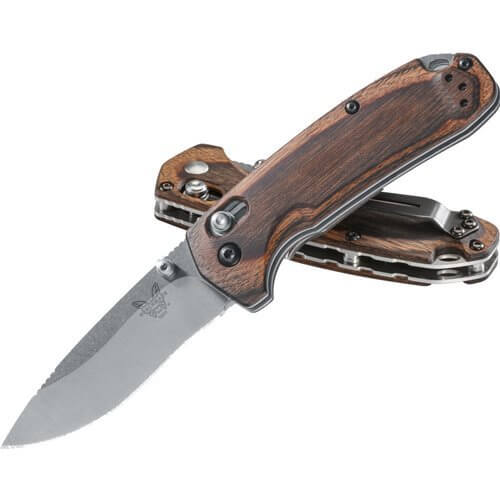 The Handle is made from dymonwood material which is moisture resistant and it won't swell. What I really liked about the design is that it has a nicely curved, hand fitting form with a deep finger cutout below the lock and a front flare which provides good grip and control and prevents hand slipping down to blade.
The Blade is made of full stainless steel to protect against wear & tear and has a drop point shape which is ideal for hunting.  The cutting edge of the North fork is as long as it is possible to fit on blade. The edge of the blade is wide, almost flat grind and has a slight recurve before it arcs up to the point.
Advantages
– Blade material is one of the best in the industry
– Ease of use
– Blade sharpness
– Perfect for everyday carry
Disadvantage
– Blade thickness near the tip might disappoint some but that's mainly because it's a drop point blade which has greater strength
– the short length of blade thumb studs might not be preferred but this can be ignored as it does not hamper the knife performance in any way
Key Specs and features
– Blade length – 2.7 inch
– Blade thickness – 0.114 inch
– Handle thickness- 0.530 inch
– Handle material – Dymonwood
– Blade material – S30 V premium stainless steel
– Blade Hardness – 58-60 HRC
– Blade style – Modified drop point
– Pocket clip – stainless steel
– Lock mechanism – AXIS
– Overall length – 6.87 inch
– Closed length- 3.90 inch
– Weight – 3.4 ounce
– Made in USA
More Hunting Knives Under $200?
It is extremely important to get yourself a good survival knife, as it can often be the difference between life and death in the wild outdoors. I'm pretty sure the above list will help you narrow down your search for the best hunting knife under the 200 dollar price range.
However, because of the various options available in the market, I might have missed out a few. If that's the case, please do let me know and I'll try and update this list from time to time.