Best Camping Tents under $300 – My Top 3 Choices
Every outdoor enthusiast who loves spending quality time in nature exploring the beauty and ruggedness of God's green earth will own certain gear to facilitate this lifestyle.
One of these pieces of equipment is a tent for camping. As an avid outdoors trekker and a wilderness lover, this is one among many other relevant pieces of equipment that I already own but now I am in search of a slightly bigger camping tent as the family is expanding.
My Top 3 Choices for best camping tents under $300
My top 3 choices for best camping tents would be as follows:
Coleman 6-Person Instant Cabin 

Coleman Echo Lake 6 Person Fast Pitch Cabin with Cabinet 

Coleman Tenaya Lake 6 Person Fast Pitch Cabin with Cabinets
All three of my choices are packed with fantastic features and are easy to setup and any one of the three will be an excellent long-term choice for my camping needs during hiking and trekking activity. The brand Coleman is without doubt the best I could find in my research for camping tents.
#1 – Coleman 6-Person Instant Cabin
Usually on my camping trips my wife is always with me but when my 3 adult kids decide to join us (which sometimes they do!) I need to look for tents that can easily accommodate all 5 of us and this 6-person instant cabin is the winner as my #1 choice for best camping tents under $300.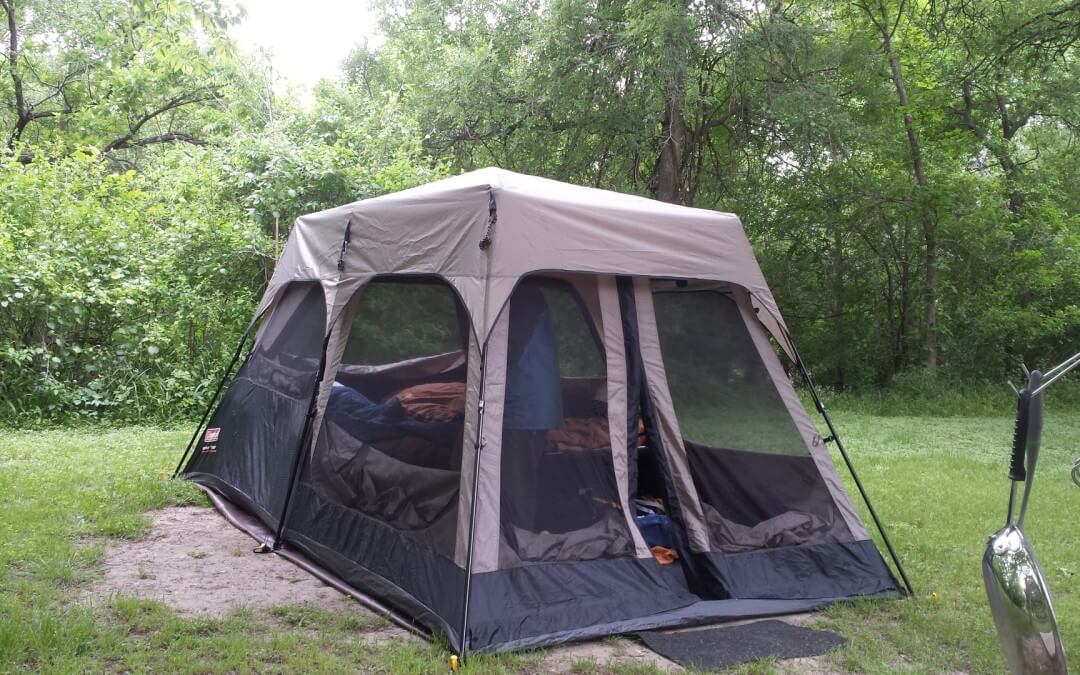 Guaranteed the family crowd will be happy with the streamlined and spacious interior of this tent. Though it can fit in two queen-sized airbeds and can sleep five adults inside comfortably, it probably will be a squeeze for six and somebody may voice their objections, loudly. In saying so however, two adults and 4 kids should fit in perfectly with extra space for equipment to be stowed away.
The biggest advantage of this tent is a no-hassle setup as the poles are pre-assembled and require the minimal of effort to set it up. The illuminated and reflective guy lines prevent somebody from tripping over them and upsetting the whole tent structure at night, so somebody can safely step out in the dark. In adverse stormy conditions, the occupants of the tent are safe inside, as the built-in rainfly offers protection from the wet conditions outside.
With the one-piece design of the tent, it will probably take me about a minute to either set it up or take it down. The tent is made of high quality material as the steel poles provide excellent strength and stability even in inclement weather and strong winds.
An adult can stand very comfortably inside the tent as it has been designed with plenty of both horizontal and vertical space in it. You will love the beautiful views of God's great earth from inside the tent and when it is time to pack and leave, you can take it down very quickly and stow it away in its big-size carry bag provided.
I will always wonder how I managed to use other tents all this time, when this one is so easy to handle, setup and take down.
Pros
Easily affordable 

Setup only takes a quick minute

All-in-one construction

Very spacious design, 10' x 9' x 6'

Fabric is weatherproof and moisture resistant

Guy lines are illuminated for safety at night

Weight 24.9 pounds
Cons
Inside the tent, the window coverings flap down

May be stuffy for occupants as air flow isn't very good inside
#2 – Coleman Echo Lake 6 Person Fast Pitch Cabin with Cabinet
My sleek looking, well-designed choice #2 camping tent is an all-weather tent that is made from flexible, yet durable material.
The design incorporates a peaked roof and an exclusive WeatherTec system which provides superior protection against the elements. The fast pitch system incorporates pre-attached poles and quick setting feet that facilitate setting up of this tent very quickly. Lightweight steel poles with pre-attached fiberglass poles ensure flexibility and durability.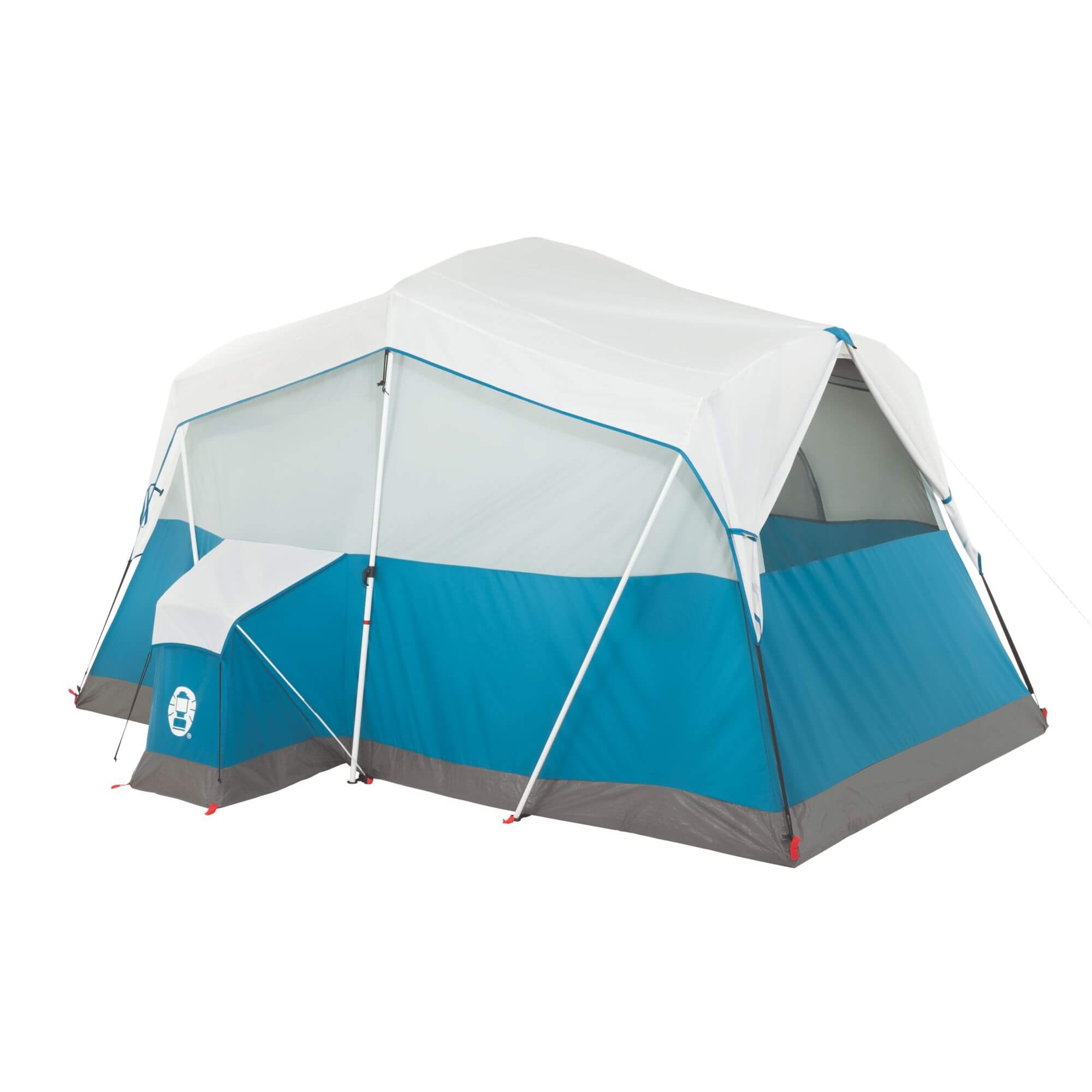 A built-in cabinet allows you to conveniently store extra gear inside the tent. This tent is ideal for six occupants because this tent also has spacious (6.33' x 9' x 12') design, like my choice #1.
Pros
Affordable and value for money

Setup for this tent is quite quick

Flexible and lightweight poles are suitable for windy weather conditions

Tent is waterproof as the rainfly is made from polyguard

Spacious enough for a adult to stand and move around the tent

Weight 25.35 pounds
Cons
Has only one door

Setup could be a bit complicated for some
#3 – Coleman Tenaya Lake 6 Person Fast Pitch Cabin with Cabinets
My choice #3 for the best camping tents under $300 is an excellent value for money and comes with built-in cabinets minus the extra weight that other tents, having cabinets do.
The USP or unique selling point for this tent is its light weight at 16.5 pounds with extra storage capacity. The tent has enough room for my whole family and all my equipment as its dimensions are 6.58' x 7' x 13', probably the largest among my three top choices. Set up is very easy using the durable fiberglass pre-attached poles and the polyester mesh coupled with the polyguard 800mm rainfly keeps the tent occupants dry while facilitating air circulation.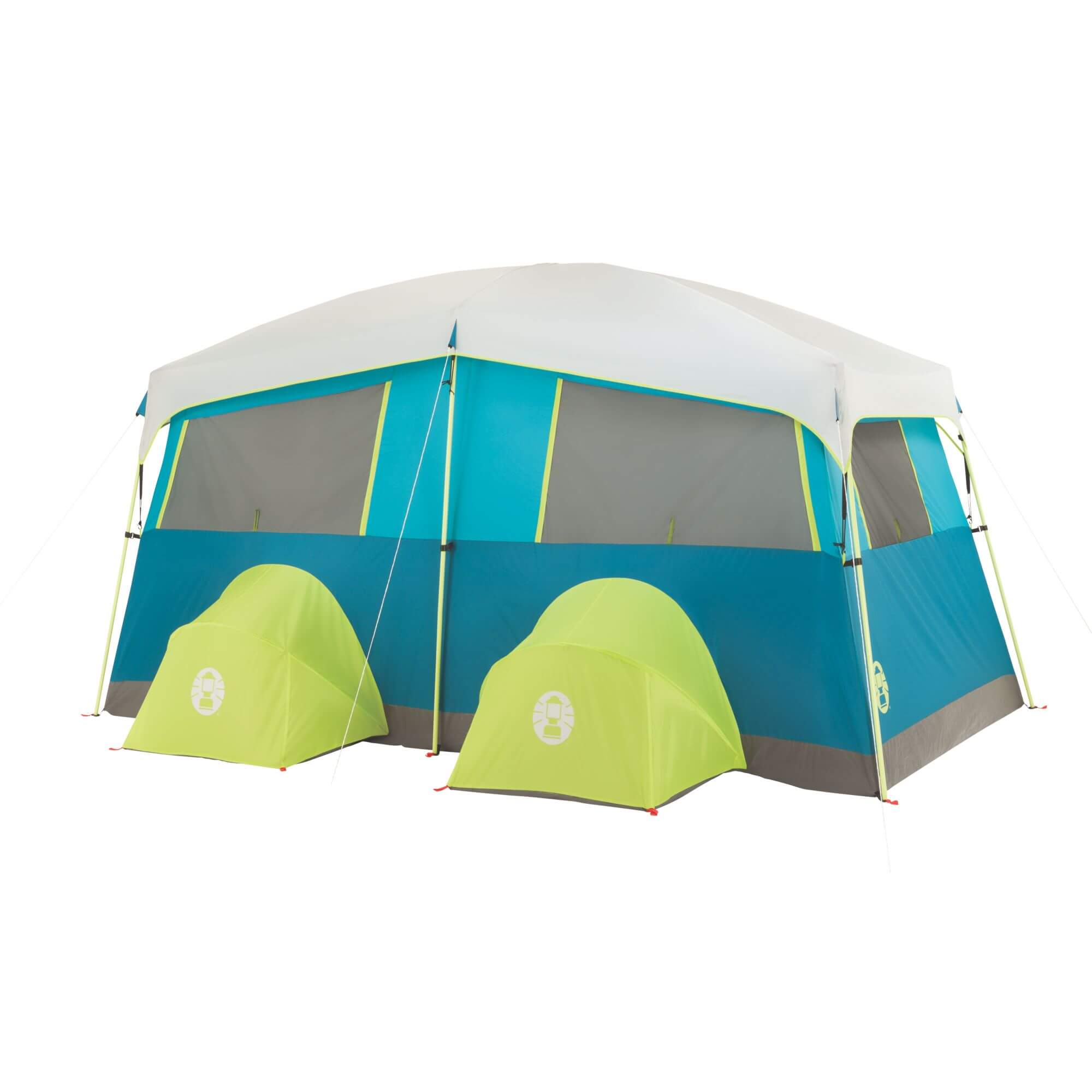 Pros
Very good buy for the price

Setup is very easy. Even children can set this up

Good visibility at night since guy lines are reflective

Excellent WeatherTec system provides protection in inclement weather

Double zipper is a big advantage

Lightweight at 16.5 pounds

Spacious, lots of room to stand up and move around
Cons
Has only one door

Some people find the pre-attached poles difficult to work with

Manual instructions are difficult to understand
Conclusion
After having examined the prices and features offered by all three of my top choices for the best camping tent available under $300, my winner is clearly my #1 choice for the best camping tent under 300 dollars – the  Coleman 6-Person Instant Cabin , though the other two of my choices are equally good in most of their features that they offer, at varying prices within a small range of about $42.