My Top 3 Choices for the Best Field Dressing Knife – Introduction
When asked the question, what is the most important part of the hunt? Most people will likely respond with the actual killing or taking of game. An argument could be made however, that the most important part of the hunt is the step that immediately follows the taking of game. That step is field-dressing.
As a hunter all my life, I have come to know the importance of field dressing and how critical it is to the process of taking game from the field and putting it on your table. When it comes to field dressing, there is one tool a hunter or survivalist simply cannot do without and that tool is a great knife.
In this article I'm going to look at three of my top choices for a field dressing knife. The three knives selected were chosen for a combination of factors including, price, blade, grip and functionality.
Not only will these knives help you make quick work of downed game, they will also provide you with a solid and sturdy blade for a variety of other uses. I'm sure I don't need to explain the importance of a having a good knife or two in a survival situation. For the purpose of this article, you can be confident than any of these knives will serve you well.
What To Look For:
Briefly, I'd like to mention a few things to look for when purchasing a field dressing knife.
First, a good knife needs to be quality-built and durable. Mainly, I'm looking for a knife that uses high quality and corrosion-resistant materials. Rust on a blade does us no good when cleaning game and it also destroys the structural integrity of the blade.
Secondly, a good knife should have an excellent grip. Field dressing an animal can get messy and it's likely your knife will be covered with blood, hair and moisture from the process. A sure grip helps you to make better cuts and makes sure you do not cut yourself.
Lastly, I look for functionality in a knife. Most knives don't have a lot of bells and whistles, however there are a few. Things like folding blades, a gut hook and a god sheath can all add considerable value to any particular blade.
Top 3 Field Dressing Knives for the Money:
1. Gerber Moment Fixed Blade Knife
First up, I've chosen the Gerber Moment Fixed Blade Knife. As the name suggests, this is a fixed blade knife and it comes with a sheath. Gerber has been in the knife-making business for a long time, and they know how to produce a quality product.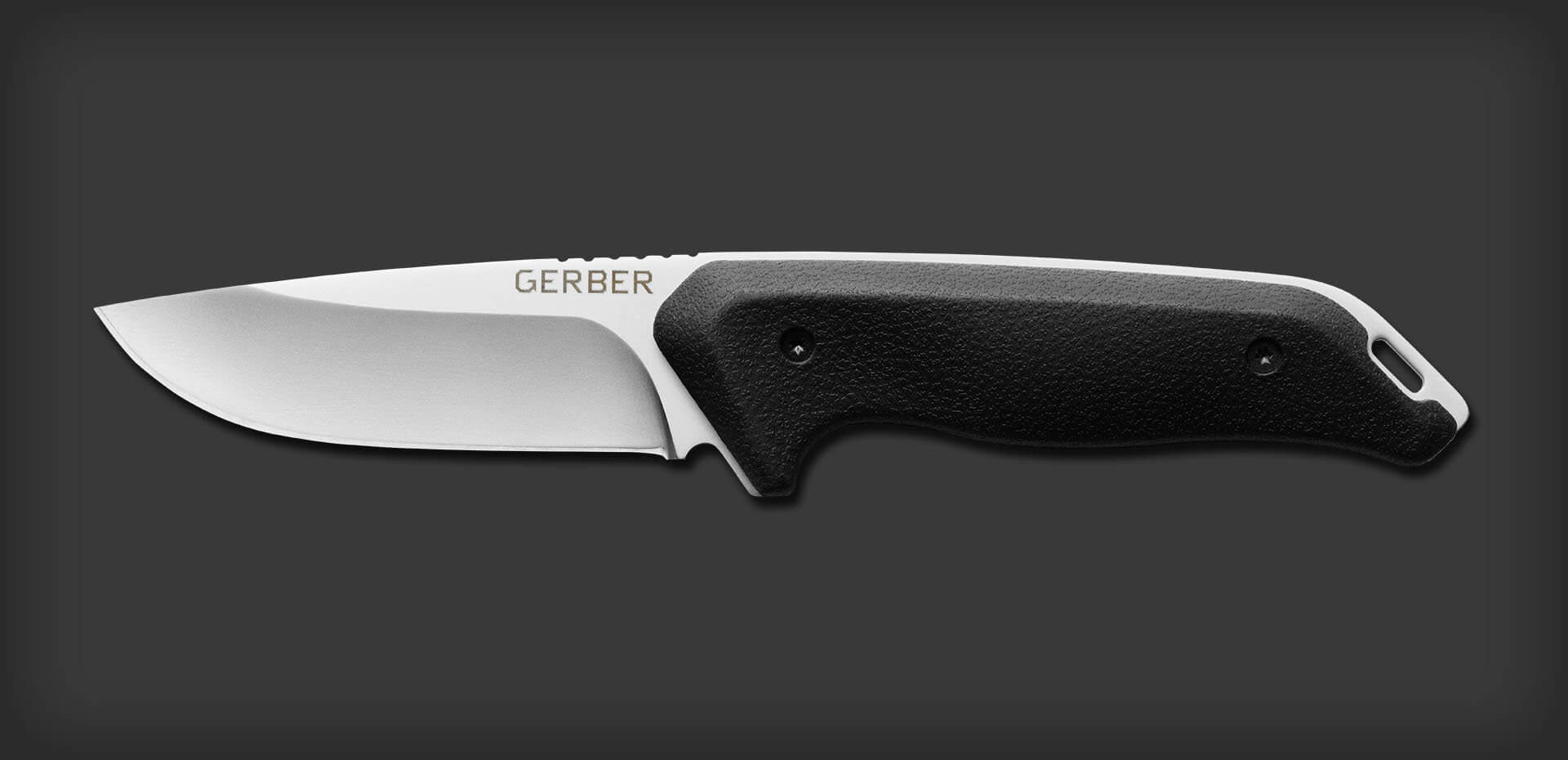 The Moment Knife delivers a simplistic design that flat out functions. For the simplicity, you will pay a lower price and at less than $30, this knife is a great value.
The Moment utilizes a full tang construction which simply means that the blade travels all the way through the handle. This puts one solid piece of metal in your hands and allows for greater feel and strength of blade.
The textured rubber handle provides excellent grip and the glass bead finished blade will take and hold an sharp edge through repeated use.
Again, the Moment knife from Gerber is a simple tool, but it is one that does its job and does it well.
2. Buck Knives 0863BRS Selkirk Survival Knife
Next up, I've chosen the Selkirk Survival Knife from Buck Knives. This knife is also manufactured by a company that has been in the business for a long time. The Selkirk serves as an excellent field-dressing knife with it's drop point blade, but it doubles as an essential survival tool with the included ignitor and whistle.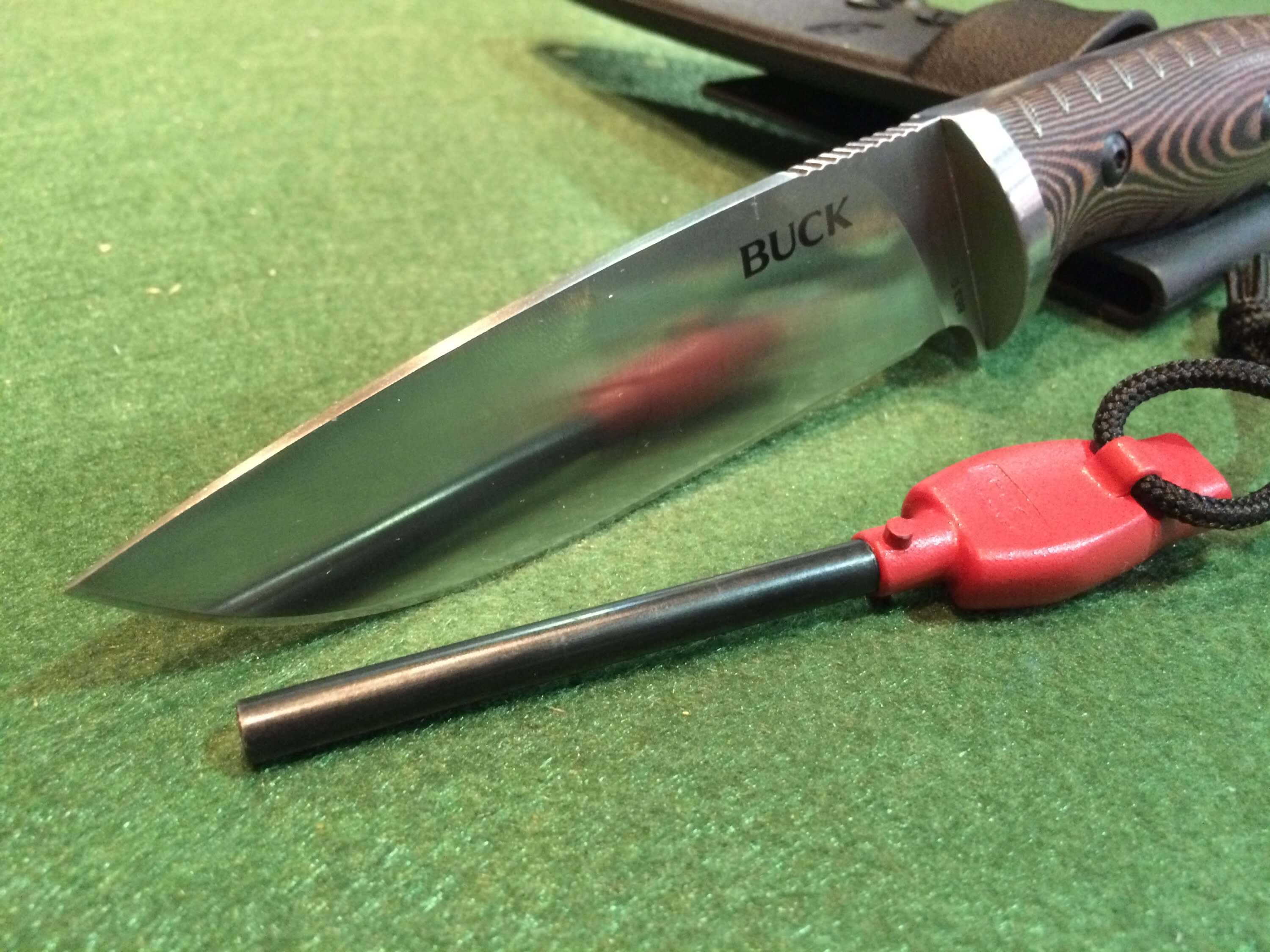 A custom designed, injection molded nylon sheath secures your knife and allows for horizontal or vertical carry. Also included and attached to the sheath is a Ferrocerium striker for starting fires and a whistle integrated into the grip. A textured and contoured grip combined with a full tang construction ensures smooth handling and excellent feel with the Selkirk knife. Last but not least, the rear bolster, or butt-end of the knife has been flattened and strengthened to allow for use as an improvised hammer.
The added features and functionality of the Selkirk knife make this an excellent survival tool. You can rest-assured this knife will field dress game and in a pinch, it might even save your life.
3. Outdoor Edge FZB-20 Flip n' Blaze Knife
Lastly, I have chosen the Flip n' Blaze Knife brought to you by Outdoor Edge. Outdoor Edge is a company that has made a name for itself in the butchering and game processing industry. They have a reputation for designing unique and functional knives that do the job well and always come with a razor sharp edge, right out of the box.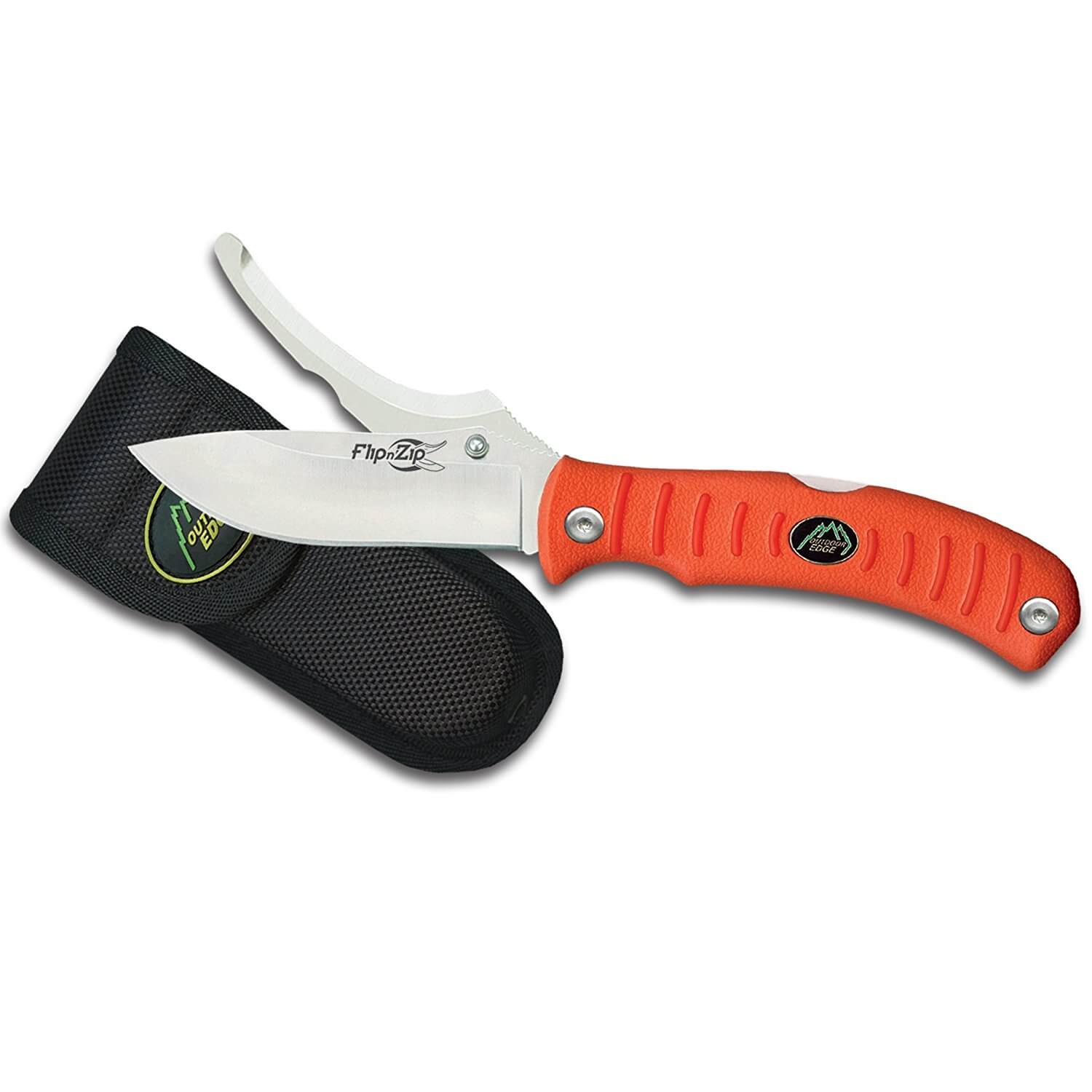 The Flip n' Blaze knife delivers on Outdoor Edge's promise and even comes with two separate blades. What makes this knife you unique is the folding two-blade system. The traditional drop-point blade is excellent for field dressing game, skinning and butchering. The secondary gutting blade allows you to use a separate blade for opening up the hide and gutting animals.
During the gutting process, the knife normally comes into contact with lots of fur which can be dulling to the blade. With the Flip n' Blaze, after the animal has been opened, up you can switch to the standard blade in order to finish the job with a sharp edge.
Also, the Flip n' Blaze combines a unique folding design to save you space in your hunting or survival pack. The reinforced and fully enclosed sheath protects your knife from the elements, while the air vent keeps it dry and rust-free.
If you're looking for a solid and sturdy knife that you can take anywhere and do just about anything with, the Flip n' Blaze will serve you well.