Everyone should own a sleeping bag. They're essential if you want to go camping, but they can also be helpful in other situations. If you ever have so many visitors over that you can't fit them on your furniture; then you can set them up in a comfortable sleeping bag. They can also help you out when you're the person looking to comfortably crash on a floor. There really is no good excuse for going without a sleeping bag thanks to the affordable and high-quality sleeping bags on the market.
To help you find the best budget sleeping bag under $100 in 2018 we looked at the options on the market and chose the best. These sleeping bags combine affordability, comfort, and portability to help you get a good night sleep no matter where you are.
Coleman Palmetto Cool Weather Sleeping Bag
Anyone looking for a more traditional sleeping bag will find what they're looking for with the Palmetto from Coleman which is why it's my first choice for the best budget sleeping bag under $100. This rectangular sleeping bag is 33 inches wide and 75 inches long. This makes it a great fit for anyone who is 6 feet tall or shorter. It's a relatively light 3.5 pounds so fit hikers will have no problem carrying this bag with them as they trek through the wilderness.
This camping bag will serve campers well from spring to fall. It received a temperature rating of 30 degrees Fahrenheit. This is the lowest temperature the bag is created for. So, while you can use this bag in freezing temperatures, it's worth remembering that this is a cool weather bag, it's not built for the depths of winter. But that goes for most budget sleeping bags, and when you compare the Palmetto to other bags in its price range, you'll find this bag does quite well.
This is a comfortable bag. It has a polyester outer layer, a wool liner, and three pounds of insulation to keep you nice and toasty when the sun goes down. It's not a heavy-duty bag by any means, but it will get the job done in most situations. Simply put, it's all you could ask for from a budget sleeping bag.
Ohuhu Double Sleeping Bag
Most sleeping bags are made for one person. This might suit the single camper, but it can be disappointing to couples that want a romantic getaway in nature. That's why this sleeping bag from Ohuhu was created. Now couples can share one sleeping bag.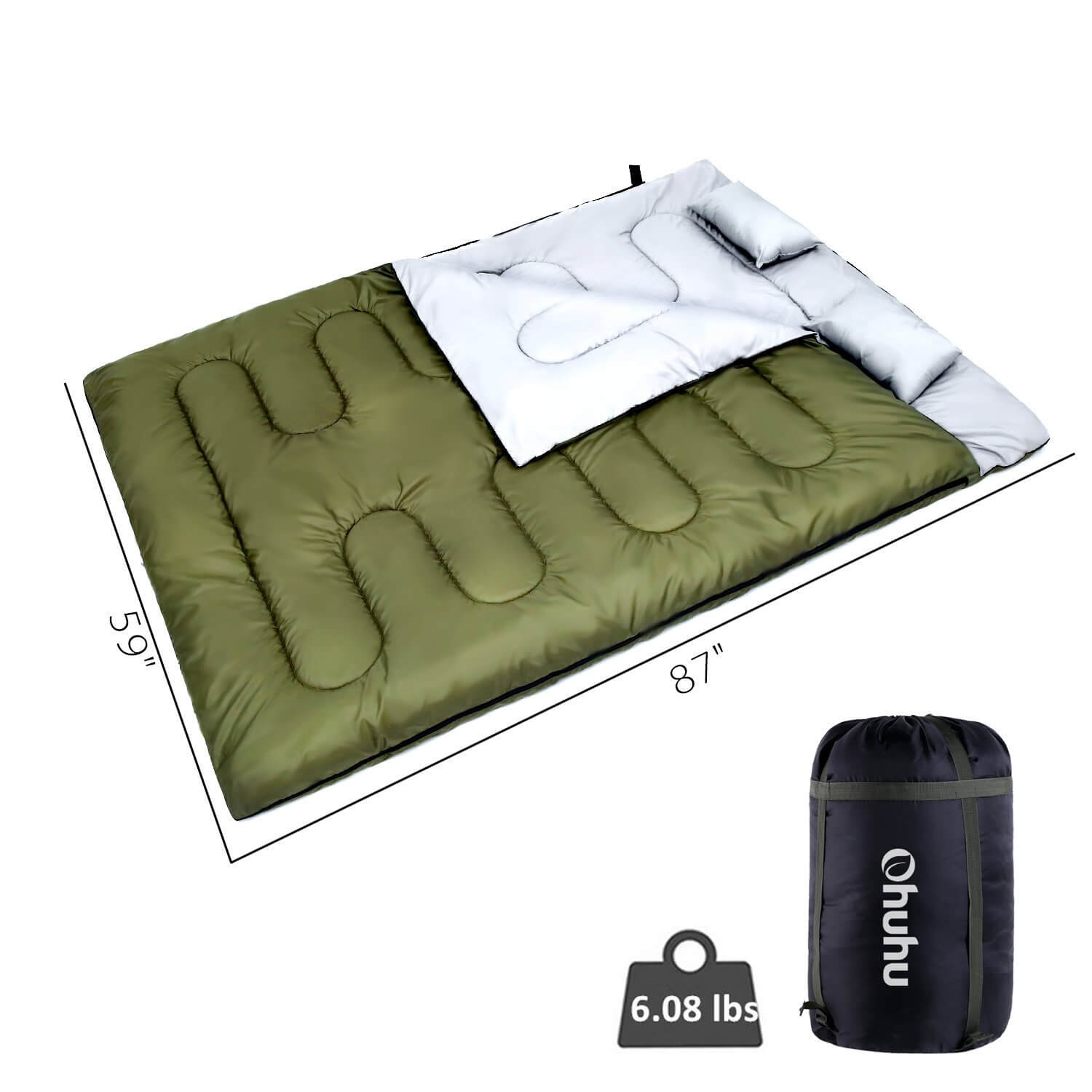 If that wasn't enough this design has another twist, the bag can be separated into two different bags. When the two halves are combined bag is At 6 pounds this bag is heavier than most bags but that's to be expected, this bag is twice the size of most competitors. If no one in your group wants to carry a six-pound bag, you can separate into two different 3-pound bags and spread the effort equally. This ingenious design means that parents can confidently buy the bag to sleep with their young child. When the child grows up they can get their own bag without the cost of purchasing a new one. It's a highly flexible design that is great for a wide range of circumstances.
This bag has a temperature rating of 23 degrees Fahrenheit. Once again, you'll still be cold in temperatures that low, but you'll be a warmer than you would without this bag protecting you. To be warm, you should only use it when the temperature isn't likely to drop below 40 degrees Fahrenheit. The exterior of the bag is made of water-resistant polyester. It's built to keep you as warm and dry as possible. Please note that water-resistant is different from water-proof. Don't sleep under the rain in this bag or try and float down the river on it unless you want to get soaking wet.
The bag comes with two pillows and a carrying bag that is designed to fit the sleeping bag and its pillows. The pillows are a nice addition, but you should note that they are a little on the small side. If you want more support and comfort, you should bring your own pillows, but you can't argue with free. The pillows and the bag itself are all designed to fit into the included carrying bag, which is designed to make transporting the bag as easy as possible. If you pack the bag properly and fully compress it, you'll find that it all fits in a 13-inch long cylinder of space.
Suisse Sport Everest Sleeping Bag
The traditional rectangular design is the most popular shape for sleeping bags, but it isn't the only option available. There is also the mummy design, so named because you look a little like a mummy when you're sleeping inside this contoured bag. The design allows minimal room for heat to escape, trapping your body heat and getting it to circulate as efficiently as possible. If you ever want to sleep out under the stars without a tent above you, then a sleeping bag like this is a good choice.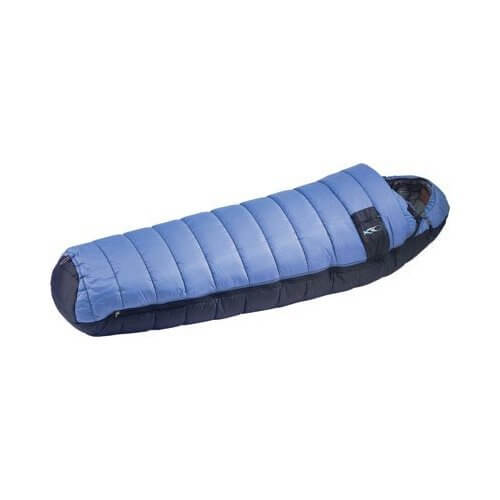 At just 4.9 pounds it's a little heavier than the average single person bag, but it's still relatively light. Remember, everything about this bag is designed to keep you warm when the sun goes down. Over 70 percent of this bag's bodyweight goes to the Hollowblend MicroTekk Z1 synthetic fill that makes this bag so warm and cozy. This bag is the warmest on our list, with a temperature rating of 0 degrees Fahrenheit!
The Everest is 82 inches long and 33 inches wide. This means that the bag is almost 7 feet long, so it can comfortably hold anyone who's around 6 feet tall. Given the size and weight, this bag is a little bit on the bulky side. This isn't the sort of bag you try and jam into an already crowded backpack. It's not an all-purpose bag, but that's only because Suisse clearly wanted to create a bag to suit the needs budget-minded shoppers who are interested in cold-weather camping. With that in mind, this bag is one of the most effective on the market and a great choice if you're looking for the best budget sleeping bag under $100!
Choosing the Right Budget Sleeping Bag
When shopping for a sleeping bag, you need to find the right model for your needs. A bag that might be perfect for someone else could fall short of your needs. If you want a basic, rectangular bag then the Coleman Palmetto is a great purchase. The Ohuhu Double Sleeping Bag is for couples who want to enjoy an intimate camping experience.
Finally, the Suisse Sport Everest Sleeping Bag is for campers who want to stay seriously warm without spending a ton of money. If you want the best camping experience possible, you need to take the time to find the bag that is designed for your needs, not someone else's.