Review of the Top 5 Skinning Knives in the Market
If you're a dedicated hunter, then you need a quality skinning knife. Bagging the perfect quarry can take hours or even days of careful planning, stalking, and waiting. After going through all of that work, the last thing you want to do is ruin the pelt you've bagged with a poor quality skinning knife. Every knife manufacturer would like you to think that their product is the best on the market, but they can't all be right which is why I wrote this detailed post on choosing the best skinning knife for the money in 2018!
To begin with, there is no such thing as one knife that will perfectly suit the needs of every hunter. Some hunters will be looking for a knife that is built for skinning and skinning alone while others will be looking for a more general purpose knife that can handle all sorts of jobs. Shoppers also need to consider things like blade material, configuration options, and durability. It can all be a lot to keep in mind at once.
To cut through the hype we've dug deep into the top blades available to come up with a list of the top five skinning knives available to hunters today. Each of these knives has something unique to offer hunters. One of these blades is sure to be the skinning knife that you've been looking for.
1. Buck Knives 110 Famous Folding Hunter Knife
#1 on my list of the best skinning knife is the Buck 110. Skinning a kill might be messy work, but the 110 Folding Hunter Knife has a look that is as clean as they come. It's a truly classic design from a company that has become so synonymous with their product that the term "buck knife" is commonly used as a generic term for any folding hunting knife. But this knife is much more than a nostalgia piece.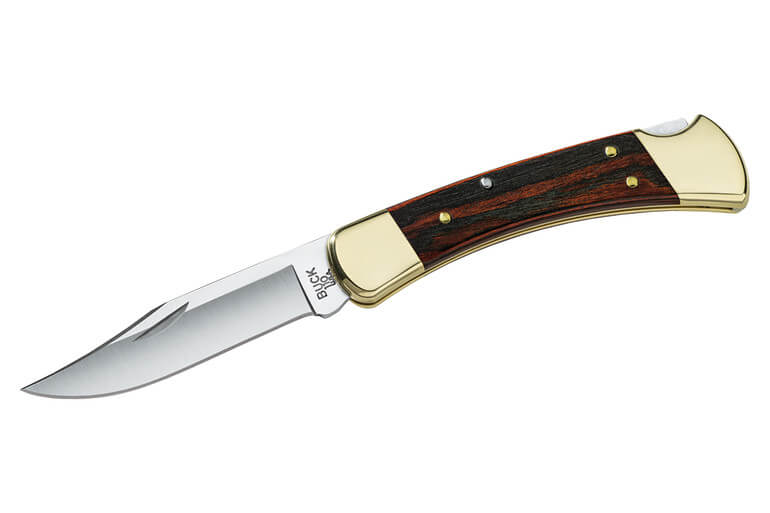 The 3.75-inch blade is made of 420HC stainless steel, combining form and function into one sharp package. The blade folds up into a gorgeous dymondwood handle. It's got real wood in the middle and gleaming medal caps at both ends. All together, the 110 is a very attractive knife. But this knife isn't just designed to look good; it's built to get the job done.
The only real downside of the 110 is that it is designed to be an all-around hunting knife and isn't designed to specifically be a skinning knife. This means that while it can do a decent job with most tasks, it doesn't excel at any of them. If you've already got other hunting knives and you're looking for one that's built for skinning and skinning only then you might want to look elsewhere.
Still, the 110 is a classic for a reason, offering a balanced overall package that is attractive to newcomers and experienced hunters alike. Along with the knife itself, buyers also get a black leather sheath that fits this knife like a glove. Buck Knives is so confident in their product that they offer a lifetime warranty for their knives, so as long as you purchase a new 110, you can trust that your knife will be free of defects.
Just note that the warranty doesn't cover misuse, but Buck Knives also offers affordable repair and sharpening services. This is the sort of knife you buy if you want a blade that is sure to satisfy for years to come.
875 inches long while closed
75 blade length
2-ounce weight
Folding blade
Made of 420HC stainless steel
Lifetime Warranty
2. Havalon Piranta Z Folding Blade Skinning Knife 2 3/4″ Blade
The Piranta Z is a folding blade from Havalon. When unfolded the knife is 7.25 inches long, but once the 2.75-inch blade is folded back down the knife is less than 4 inches long. Add in a weight of just 3 ounces, and you get a blade that is lightweight, compact, and highly portable.
It's an ideal blade for hunters who want to pack light. The handle is made of sturdy ABS plastic and comes in both black and orange. If you want to make sure you never lose your knife while out on the trail, then the orange option is a perfect choice. While some knives are designed with blades that are made to last a lifetime but the Piranta Z is built so that its blade can be switched out quickly and easily when it starts to get dull.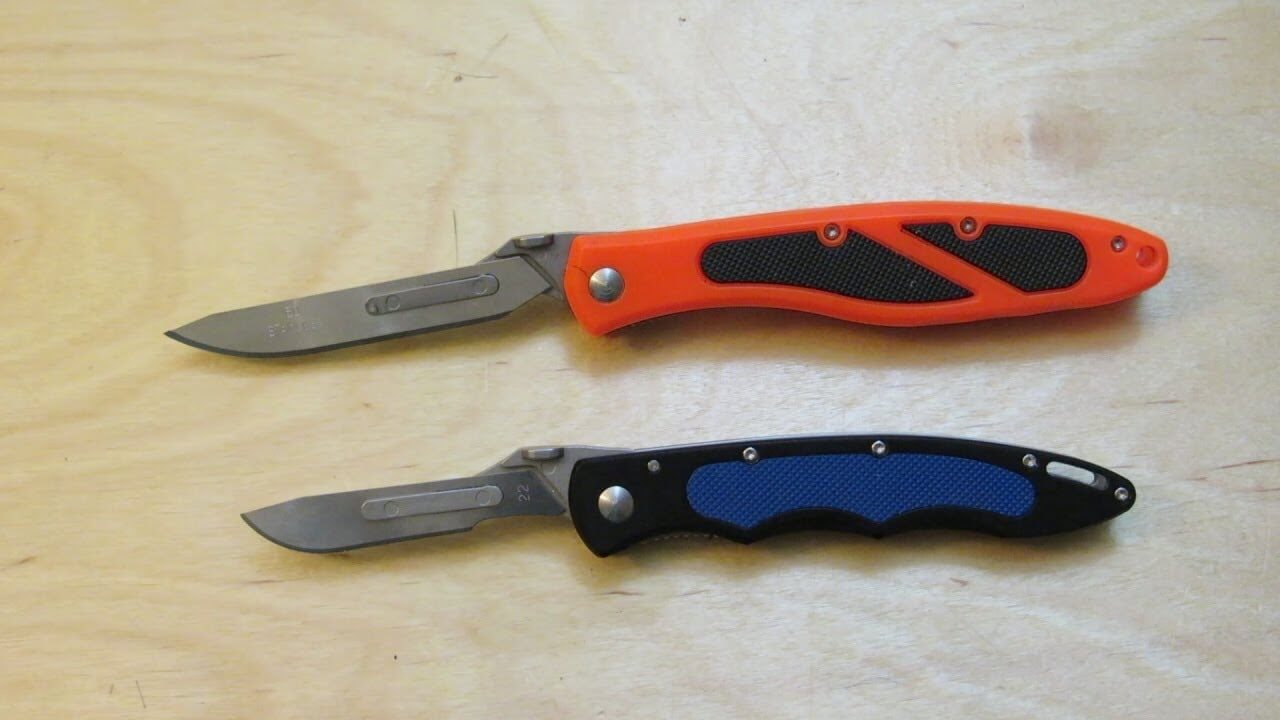 When you buy this knife, you get twelve stainless steel blades, so whenever one seems like it's losing its edge, you can simply pop it out and put another into place. Of course, this design choice isn't for everyone. The replacement blades aren't as sturdy as those you'll find in most fixed-blade knives. If you're planning on doing some heavy duty cutting, you might want a heavier blade.
Others will find that the time it takes to properly switch out blades means that you don't save all that much effort in the long run. Still, this option is great for people who don't enjoy regularly sharpening their blade. And don't worry, once you've gone through the twelve pre-packaged blades you can find additional replacements at very reasonable prices. It's also worth noting that the blades are positively razor sharp right out of the packaging, so you can get right to work skinning with surgical precision.
This knife isn't for everyone, but if you hate the blade sharpening process, then the Piranta Z offers a convenient alternative. To sweeten the deal Havalon offers a 100% satisfaction guarantee for Piranta-Z blades that are purchased new, so anyone who decides to buy one of these babies can do so with complete confidence.
25 inches long when open
75-inch blade length
3-ounce weight
Folding blade
Made of stainless steel
Replaceable blade
Comes with 12 extra blades
100% satisfaction guarantee
3. Old Timer 152OT Sharpfinger 7.1in Stainless Steel Full Tang Fixed Blade Knife
While there are plenty of all-purpose knives on the market that can do a decent job skinning animals sometimes, you need a knife that is specifically designed with skinning in mind. The 152OT Sharpfinger from Old Timer is one of these. One glance is all most hunters need to spot a Sharpfinger and that's why
It's got a sleek and attractive design that has often been imitated but never truly duplicated. The first Sharpfinger was released onto the market in 1974 and more than four decades later it's still going strong. The full tang approach to design means that the metal of the blade runs the entire 7.1-inch length of the design, but the actual cutting edge is 3.3 inches long.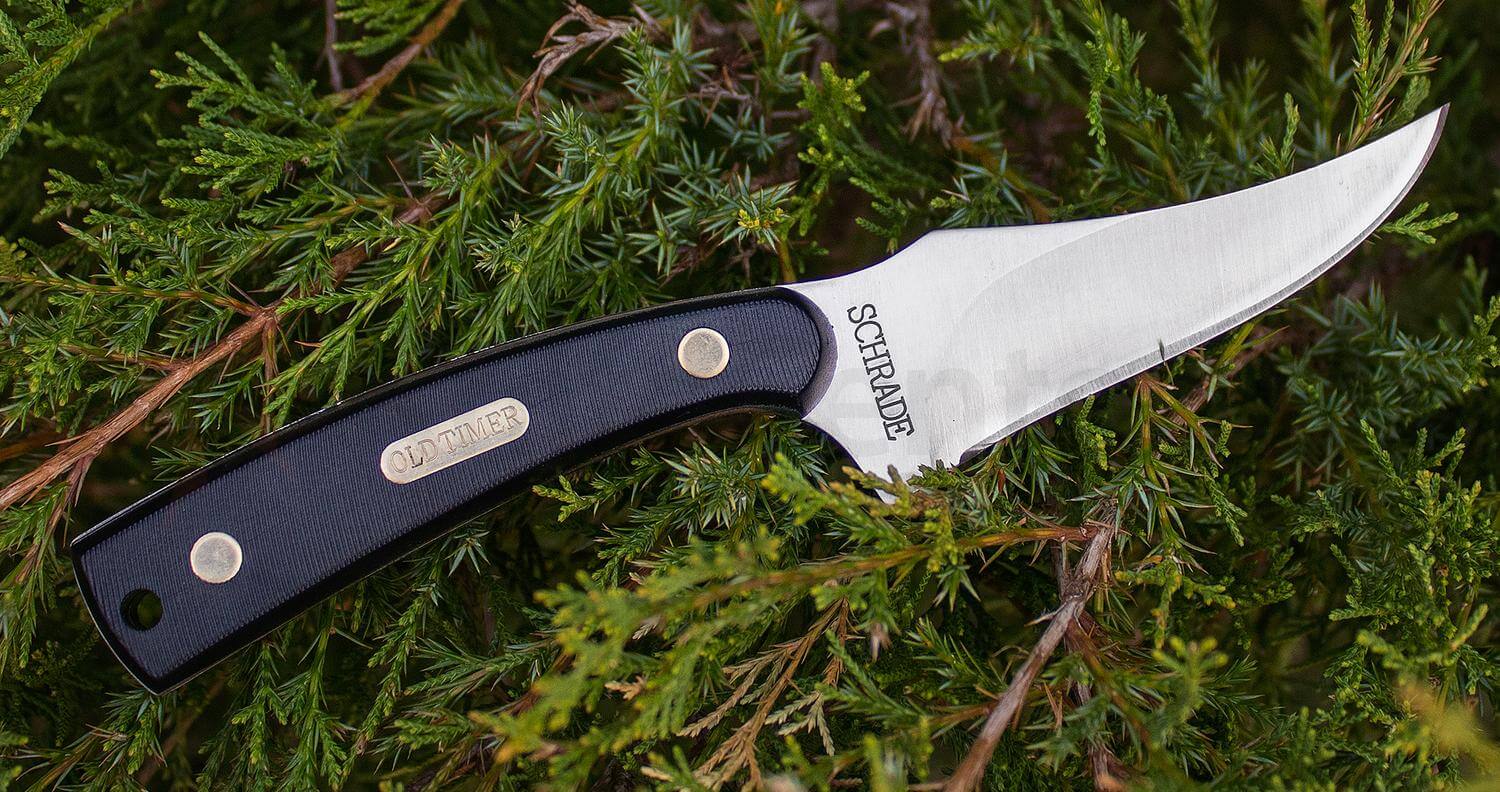 This knife has a fixed blade design, which means that it's already ready to start cutting with no pulling or flipping required. The downside of this design is that this knife isn't as portable as some of its competitors, but it's still a sleek and lightweight blade. The only other factor holding this knife back is the handle, which is definitely a weak point. It's slicker than it should be so it can be difficult to get a good grip. It's not that the handle is terrible, it just isn't as good as the rest of the knife.
Overall, it's still a good package. This is especially true when you consider that it comes with a custom-case. This leather sheath will snap onto your belt so you can always keep your blade close at hand. Just keep in mind that you get what you pay for and the free sheath isn't the best quality, eventually you'll probably want to buy an upgrade. The handle also has a lanyard hole built in so you can secure it anywhere you find convenient with ease.
Finally, it's worth noting that this is one of the most affordable skinning markets on the job today that can still make a high-quality cut. If you want a full package without paying top dollar, then the Old Timer 152OT Sharpfinger is a smart purchase to make.
1 inches long
3-inch blade length
1-ounce weight
Fixed blade
Made with 440HC stainless steel
Comes with a leather sheath
4. Case Medium Skinner Leather Hunter Knife
If you're looking for a blade that looks and feels substantial, then the 9-inch case medium skinner is worth a look. Over half the length of the knife is made up of the blade, with a sharp edge that stretches five inches. This makes it the longest knife on our list of the best skinning knife for the money, with the largest blade.
This makes it a fantastic knife for anyone looking to skin larger animals, though people who hunt small game might want to look for a shorter knife. Also, since this is a fixed blade knife it can't be folded into a compact travel size, so make sure you'll have space for this bad boy before making a purchase.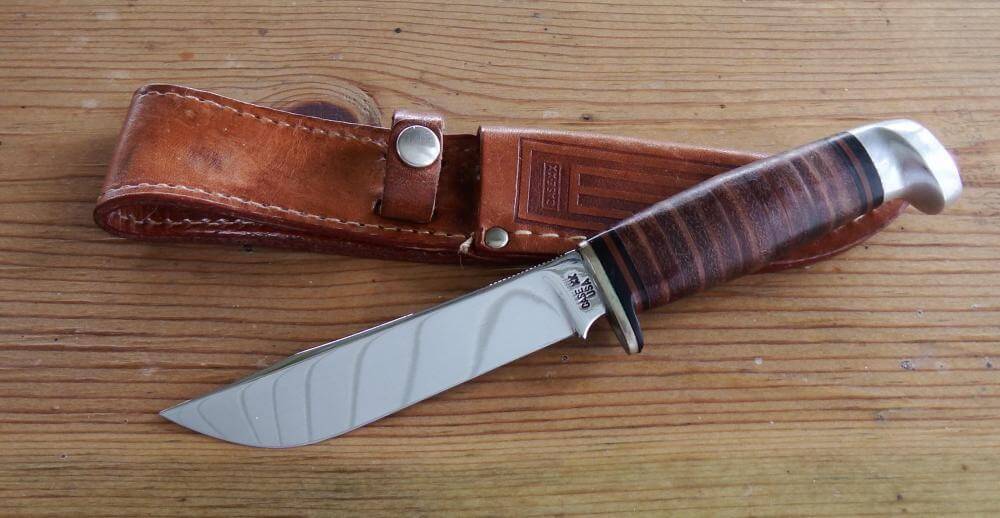 The skinner blade design makes it perfect for cleanly and easily skinning animals of any size. If you decide that you like the feel of this knife you can also check out the range of different designs, including drop point, gut hook, and clip blades that can round out the perfect knife collection for any hunter. While most knives on the market today are made overseas, Case still makes knives in America. This allows for a greater level of quality control, allowing Case to offer a limited lifetime warranty which covers any workmanship and material defects that buyers might encounter.
The knife also includes a genuine leather case that makes it extremely easy to carry and access this knife. It's a well-made case considering it's a free add-on, but it should be noted that the loop is a little small so it can't be hung from wider belts. It's not the perfect package for everyone, but most of the criticisms are minor in the grand scheme of things. The main things to consider are size and price point.
Knives from Case might not be the cheapest on the market, but buyers can rest assured that the money invested goes into a knife that is built to last.
9 inches long
5-inch blade length
5-ounce weight
Fixed blade
Made with Tru-Sharp Surgical Steel
Comes with a leather sheath
Limited lifetime guarantee
5. Outdoor Edge Swingblade SB-10N Rotating Blade Skinning/Gutting Knife
At first glance, the Swingblade from Outdoor Edge looks like most other folding blades, but a closer examination reveals a truly unique design. This is a knife with not one, but two blades! With this knife on your belt you'll have exactly what you need to gut and skin your kills with one tool.
This saves time and space since you don't need to carry two different knives and switch between them. The downside of the two blade design is that you lose the usual advantage of a folding-blade knife, portability. This knife is around 8 inches long no matter which blade is in place. Fortunately, the knife is packaged with a nylon sheath that makes transportation and access a breeze.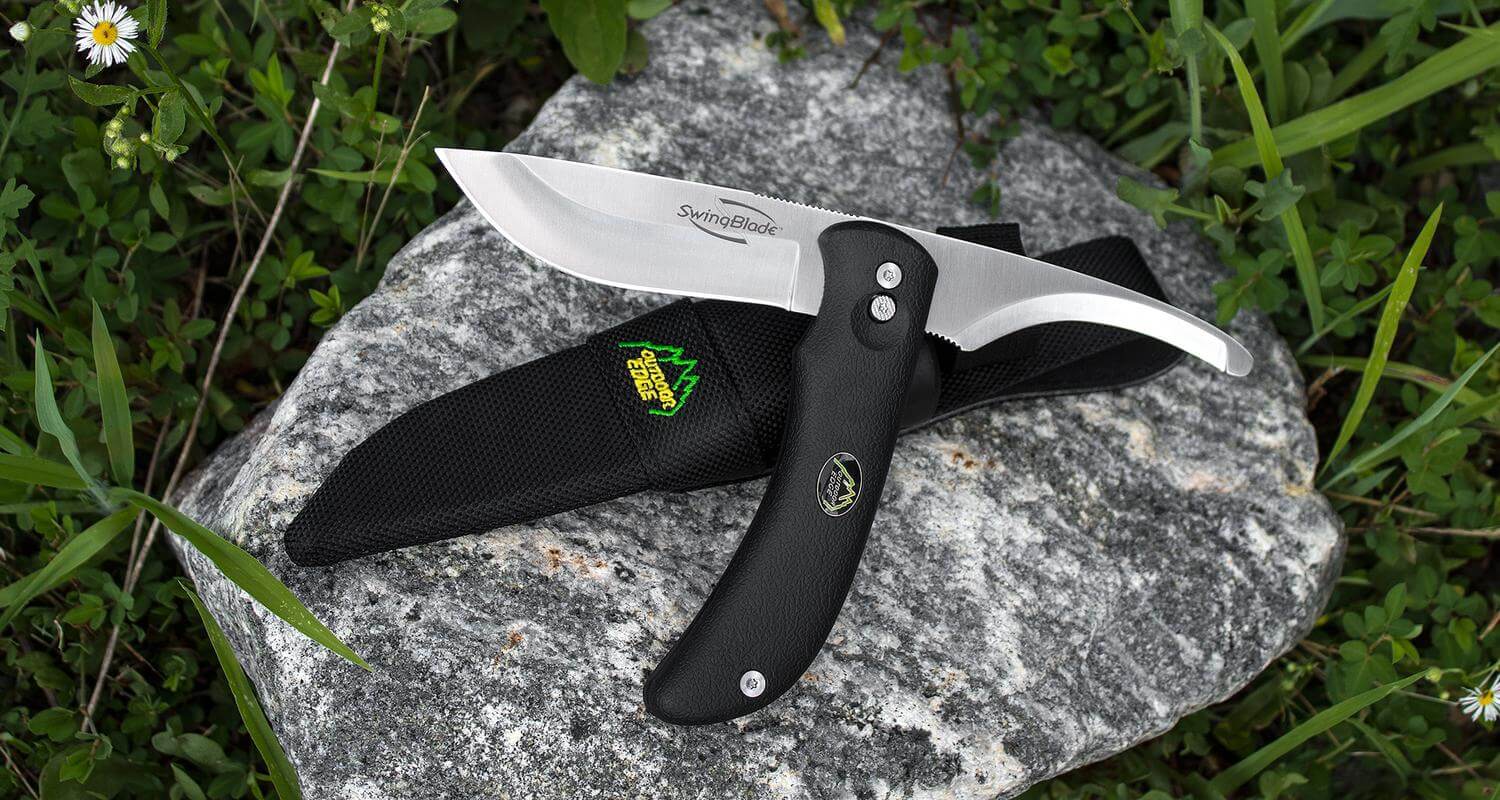 Unfortunately, the holster isn't as tough as it might be and if you aren't careful, the razor-sharp knife can damage the material designed to hold it. Still, it's hard to complain about a knife being too sharp. With the Swingblade you can start slicing right out of the box with no problems.
This is a workhorse of a knife that can instantly prepare you for any sort of cutting a hunt might call for. It's the only knife that offers a two-in-one package deal.
6-inch skinning blade
2-inch gutting blade
3-inch total length
2-ounce weight
Dual blades
Made of AUS8 stainless steel
Comes with a nylon sheath
Picking the Best Skinning Knife for the Money
If you've looked through all of these knives, then it should be clear that each design offers a different take on the skinning knife. Separating them are size, style, and price point.
If you're having a difficult time deciding between these five options, then it's worth taking the time to figure out just what sort of knife you want. Think about how you want to carry your knife, what you plan on skinning with it, and what you'd like your knife to look like.
Once you can answer these questions, you'll have a much easier time deciding on the best skinning knife for your needs. Good hunting!