There's nothing like getting out of the house and heading out into the wild. Camping should be a part of everyone's year; we weren't built to spend all of our time in cities. But just because you're headed out into nature it doesn't mean that you can't take some creature comforts with you.
Thanks to modern camping stoves you can eat better in the woods than you might at most of your local restaurants. And thanks to advances in manufacturing camping stoves are cheaper than ever. To help you pick from the wide selection available we'll look at the three best options on the market today.
1. Coleman Classic Propane Stove
This is a product that lives up to its name; stoves don't get any more classic than these. Every year millions of campers turn to their Coleman propane stove for delicious food in the great outdoors. This portable green stove has a simple and elegant design. To start cooking you simply place the stove on a flat surface and unfold it. The design has Wind Block™ panels that run along the back and sides to keep the wind from causing you issues with your cooking. The side panels are adjustable, so you can even use oversized pans that couldn't fit inside the constraints of other stoves.
This stove might be sold at a low price, but it packs quite a punch. The stove has not one, but two 10,000 BTU burners. With a burner turned on high you can get water boiling in less than five minutes. The two burners operate independently, so you can set one on high for cooking and the next on low to keep food warm. Or you can cook on one while you leave the other off to save on propane. The stove is 23 1/4 inches wide and 14 3/4 inches deep. It can fit two 11 inch pans or one 10 inch pan and another 1-inch pan.
Coleman has been making camping supplies for over 100 years now, and they've survived thanks to the dependability of their products. This stove is a true classic, tried and true even years after its first release. It should be noted that the stove lacks some extras like a built-in lighter or propane bottle storage compartment. Still, given the price, power, and dependability of the Coleman Classic Propane Stove, it is still our number one recommendation.
2. Etekcity Ultralight Portable Outdoor Backpacking Camping Stove with Piezo Ignition
There are plenty of large and fancy store that will let you cook just about any dish in the middle of the woods. But in some cases, this can be overkill. For example, we love the Coleman Classic Propane Stove, but it isn't a stove you want to load up into your backpack for a hiking trip. If you want to pack as lightly as possible an option like the Etekcity Ultralight Mini Outdoor Backpacking Camping Stove is the way to go. These aluminum stoves are just over half a pound each.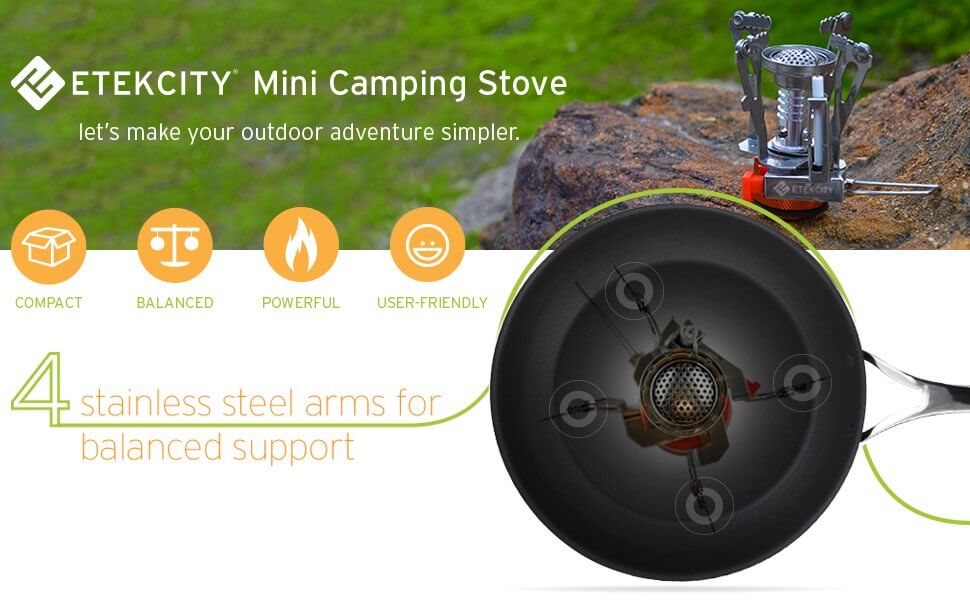 The stove has a built in lighter to ensure that the flame lights quickly every time, no need to bring along matches or a lighter. It might be small, but it can give you over 6,600 BTU of heat. Whether you need all that power or not this stove has you covered, the built-in flame control allows you to adjust the flame to achieve the perfect temperature for whatever task might be at hand. Elekcity is confident in their products ability, which is why they cover it with a 1-year warranty.
One thing to remember is that while the stove itself is absolutely tiny, it's just one of the things you will need to cook properly. You will also need to pack a bottle of butane to power the flame. You'll also likely need a pan or dish to cook in, though some people put cans directly above the stove to cook the contents in their container.
If you want the ultimate portable stove, this is the option for you. It isn't just small; it collapses to save as much space as possible. To ensure that you can transport it safely it comes with a carrying case. And the great thing about this particular deal is that you get two stoves for the price of one! Keep one as a backup or give one to your camping partner, so you don't have to share the same stove.
3. Coleman Butane Stove
We've looked at one relatively large stove and one of the smallest stoves possible, so let's end with a look at something in the middle. This from Coleman is reminiscent of their Classic Propane Stove, but it's less than half the stove. It only has one burner, which is perfect for camping by yourself or with one other person. No need to carry around excess burners when you've only got so much room in your packs.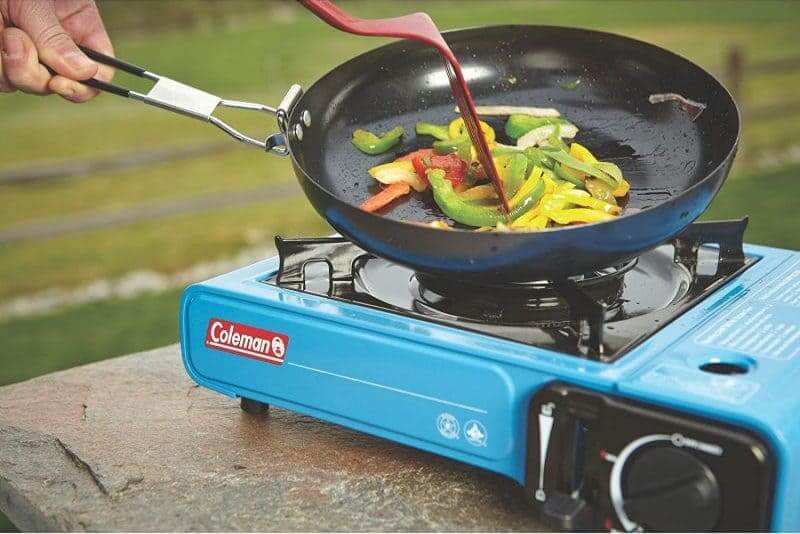 The stove is 20 inches long, 12 inches wide, 4 inches deep, and weighs in at 4.7 pounds. The stove can heat up an entire 10-inch pan. Larger dishes will fit on top of it, but they won't be heated as evenly. The burner can provide up to 7,650 BTU of heat, which is less than the Coleman Classic but more than the Etekcity Ultralight. One advantage this stove has over the Coleman Classic is its Instastart automatic ignition system; you don't need to provide your own flame to start cooking with this stove.
The stove comes with a carrying case for safe and convenient transportation. At Setting this little machine up, putting it to use, and packing it away is as easy as possible. Once it's working, you can cook a sausage breakfast or brew coffee in 20 minutes or less. It's a great balance of power, portability, and durability that is perfect for single campers.
Conclusion – The Best Camping Stove under $500
Each of these three stoves are designed to serve campers with specific needs. If you're camping with a large group and plan on cooking up to two dishes at once, then the Coleman Classic is the way to go. If you are camping on your own, but you're not planning on hiking far from your car, then the Coleman Butane Stove is everything you need and nothing you don't. Finally, hikers who want to pack as light as possible will find that the Etekcity Ultralight Portable Outdoor Backpacking Camping Stove offers the most power per pound on the market. Take a moment to think about what you need your stove for. If you know what sort of trip you'll use your new stove on then, it's simple to choose the right model.