There's nothing like cooking over a real gas grill. You can try to cook the same recipe up over an ordinary stovetop but it just won't be the same. The heat from a good grill works magic, transforming ordinary food into something infinitely more delicious. But you can't trust your cooking with just any grill, you ned the right one for the job. Whether you're looking for a grill you can take with you on camping trips or something to use around the home there are too many grills to choose from. We're here to help.
To write this guide, we looked at the best gas grills under $500 on the market. We examined each option and picked out the best options for experienced grill-masters and aspiring chefs alike. Any of these grills would make a great addition to your cooking arsenal but to help you find the perfect one for your particular needs we'll look at the three top options and their particular strengths and weaknesses.
1. Char-Broil Professional TRU Infrared 3-Burner Cabinet Gas Grill
This grill has the word Professional in its name, and its design lives up to the title. The sleek silver and black exterior looks like something straight out of a highly modern kitchen.
Getting this is like grabbing the Perfect Grill. The stainless-steel grill is fully equipped with three main burners, a side burner, and an enclosed cabinet. The grill lights up with the push of a button. You can trust every fire to light the right way the first time thanks to Sure-fire Electronic Ignition technology.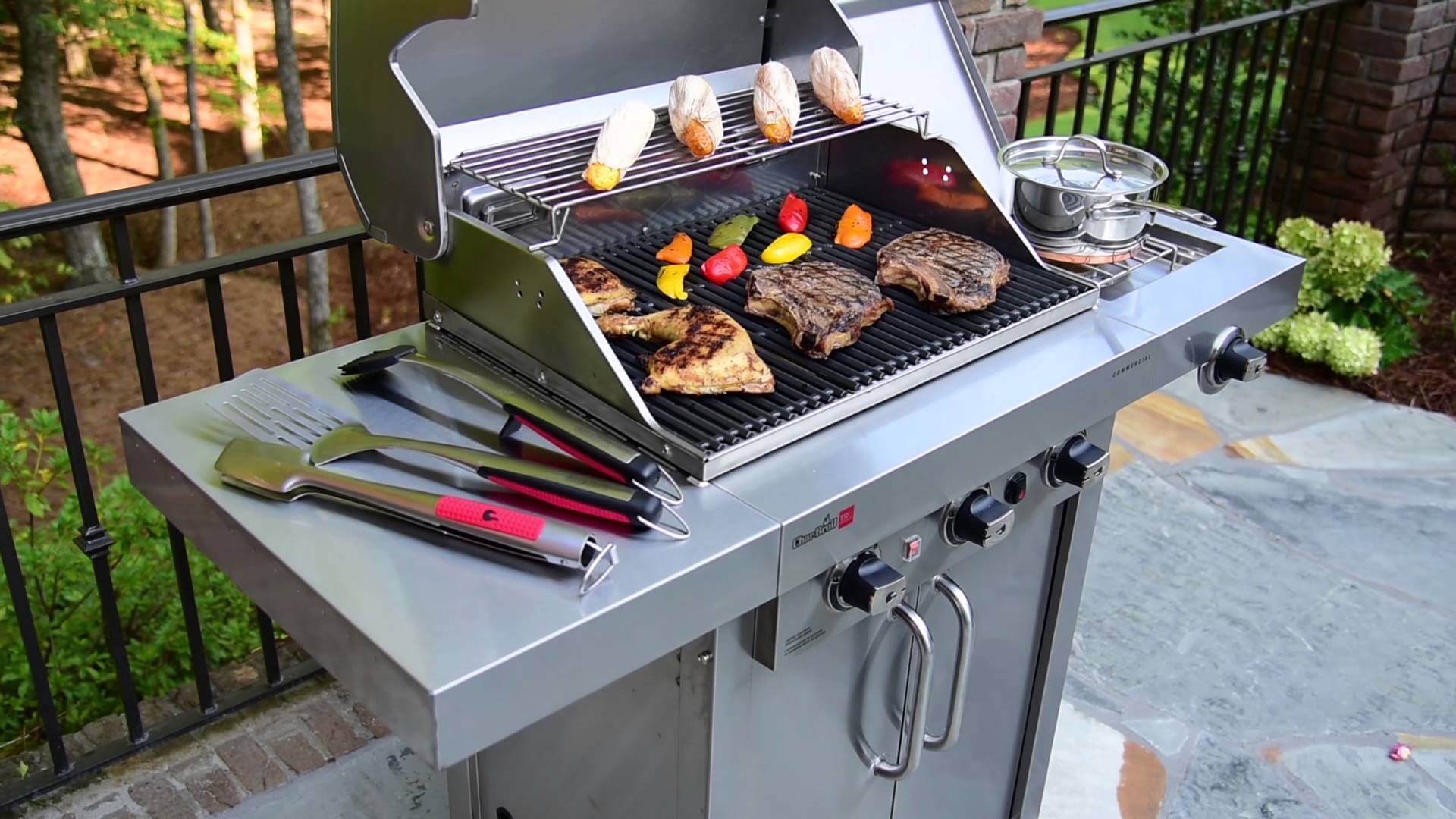 Anyone who has this grill is cooking with the latest in grill technology. It includes the TRU Infrared Cooking System. This tool is designed to achieve an optimal spread of heat while putting two layers of protection between the mean and the flames. This prevents burning and uneven cooking, ensuring that everything you cook on this grill is done to perfection.
In addition to the three main burners, there is also a lidded side burner. This allows you to prepare side dishes while you're making the entrée on the main dishes. The covering can also remain in place, so you get double the prep space. We're recommending the 3-burner model, which comes in well under our $500 budget. But if you're looking to save even more money you can try their 2-burner option. Just remember that with fewer grills it will take you longer to complete a whole meal.
2. Weber 46110001 Spirit E210 Liquid Propane Gas Grill
Looks can be deceiving. At first glance, this two-burner grill looks like it might not be able to cook much at one time but Weber has packed it with so much power and so many features that you can grill up a whole meal at once. The enclosure is big enough for 20 pounds of meat to fit in at once with room to spare. There's also a secondary shelf grate that rises above the main burner so you can bake your potatoes while you grill your steak. All in all, this grill packs 450 square inches of cooking potential into one compact, stainless steel package.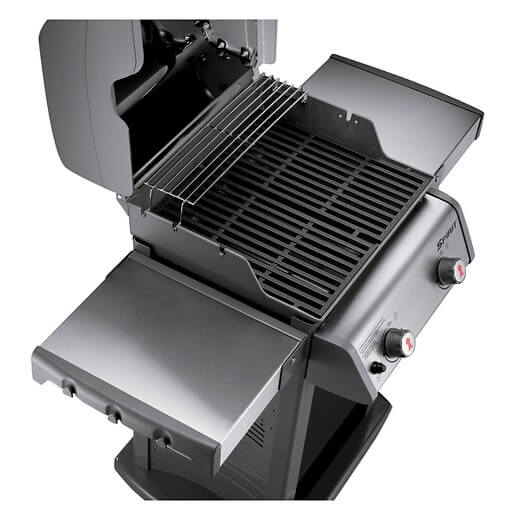 The Spirit E210 is designed to help cooks get the most of any meat they cook on this grill. This is shown in the grills unique Favorizer bars and grill management system. As any chef knows it's all too easy to lose precious flavor from your meat. It drips off when the heat turns up and can be lost between the bars of some grills. Weber noticed this and resigned its bars to grab onto drippings and allow them to cook up and waft back into the meat. Anything left is carefully siphoned off into the grease tray and catch pan where they are safely held. This makes cooking and cleaning as safe and easy as possible.
On top of this, all the grill looks fantastic. The stainless-steel exterior and cast-iron grill are all clearly top of the line. The color scheme is a classic silver and black that would fit in out in your backyard or the kitchen of a five-star restaurant. Standing in front of this monument to the art of grilling will make you feel like a chef even when it isn't turned on and that's why this features on my list of the best gas grills under $500!
3. Coleman Road Trip Propane Portable Grill LXE
When shopping for a grill the main thing to consider is how it performs, but it's also worth getting a grill that looks the part. This is one of the first things you're bound to notice when looking at Coleman's Road Trip Grill; it looks like the sort of grill you picture in your head when you hear the word. Its throwback design will bring many cooks back to their childhood. This compact and stylish grill comes in blue, silver, maroon, orange, green, purple, black, and the classic red.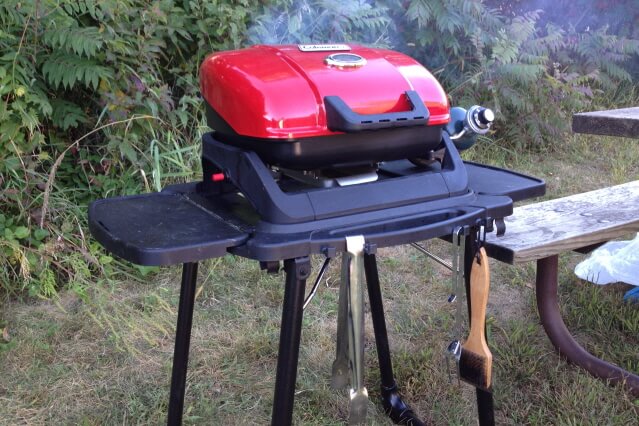 This grills unique selling point is its portable design. This is a collapsible grill that can be set up and broken down in just four quick steps. It weighs just 44 pounds without propane tank, and with its big wheels and handle it's easy to roll around. Perfect for camping or any other outdoor cooking you might want to do.
Shoppers first notice the Coleman Road Trip line for its portability and style, but the grill itself is more than powerful enough to get the job done. This grill is perfect for cooking for parties of four people. It has two 10,000 BTU burners for a total of 20,000 BTUS of grilling potential. This power is unleashed every time you hit the Instastart ignition and provides an even cook no matter the temperature outside thanks to Perfect Flow technology. It packs 285 square inches of grill into its compact design. Alongside the grill, you can slide out two side tables for cooking prep.
Coleman has been in the business of making stoves for campers for over 100 years, and this expertise shows in models like the LXE. This grill is the culmination of 100 years of research and design. If you want an affordable, trustworthy, and highly portable grill, then this is a smart choice to make.
Choosing the Perfect Grill:
Every cook is different and deserves a grill that will fit their needs. To choose the perfect grill, there are a few questions you need to ask. The first is how many things you'll need to cook at one time. If you plan on regularly cooking for a large family or parties, then a bigger grill like the Professional TRU Infrared 3-Burner Cabinet Gas Grill from Char-Broil is the way to go. Style is another thing to think about, if you want a more old-school, nostalgic look, then the Coleman Road Trip Propane Portable Grill LXE is a sure bet. To get every drop of flavor from your meat, the Spirit E-210 LP Gas Grill from Weber is one delicious design.
What sort of cook do you want to be? What sort of grill do you want in your backyard or at your camping site? All of these grills have something different to offer and that's why I've included them in my list of the best gas grills under $500. Once you know what you want you can choose the perfect grill to make your dreams come true.