My KA BAR BK-22 Campanion Fixed Blade Knife Review
The KA-BAR BK-22 Campanion Fixed Blade Knife is the upgraded version of the BK-2 model fixed blade knife from KA-BAR. It comes with a polyester sheath that replaced the previous glass-reinforced nylon sheath and is made with 1095 Cro-Van Steel. It is a heavy-duty blade that is excellent for the weightier jobs that a knife can handle such as chopping, batoning, prying and hashing. It is also good for
skinning wild game and field dressing
. The knife is praised for its high-quality design and durability all for good reason.
You can definitely carry it with trust and confidence and here is why.
Key Specifications
The parts make the whole. And the BK-22 is made with some of the best parts around. Along with a considerable amount of craftsmanship that KA-BAR puts into their products you can tell that this blade was meant to last.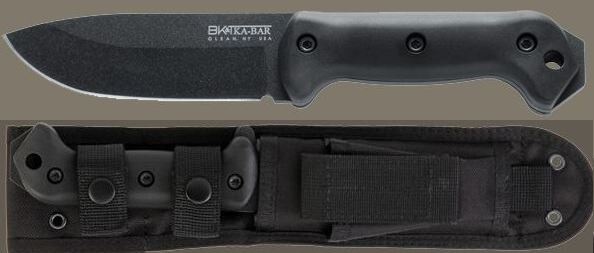 So let's get into the specs:
The length of the whole knife is 10 ½ inches long
The weight is approximately 14.6 oz
It has a drop point blade that measures 5.25 inches long and ¼ of an inch thick, straight edge
The blade is made from 1095 Cro-Van Steel, flat ground
The blade is covered in black epoxy powder coating
The handle is full-tang and made of Grivory which is a glass-reinforced nylon Swiss material
It comes with a sheath and front pocket that is perfect for holding firestarters
The Blade
To start, we know that the BK-22 comes from a good home. KA-BAR has a tradition of quality blade making which can be seen in their world-renowned USMC Kabar fighting and utility knife. That blade has a remarkable history of its own, which would be another entire article to ramble on about. So even if these guys are short in some areas, they will deliver a razor sharp blade out of the box every time.
The BK-22 blade is basically one solid piece of steel as per the manufacturer's production methods where the blade is popped out one full piece at a time. It is also made with 1095 Cro-Van Steel which is a popular choice in KA-BAR knife making. It is a plain carbon steel that you will find simple to sharpen and is an improvement of plain old 1095 as well as the original Sharon 170-06 that came from another company the Sharon Steel Company.
This type of blade is also described as flat ground which means that it is a type of annealed steel that has been grounded. It is also designed with a typical drop point blade for this model. Drop point blades are perfect for hunting, easy to control and have a strong hefty tip that delivers when needed. It is also strong enough to endure heavy jobs and won't break on you. An all-around campanion for sure.
Next, we can mention the knife's powder coating. Powder coating is common with all forms of metal and gives the product a hard finish along with a thicker shell. This just adds to our previous discussion on toughness and durability.
The Handle
The handle is another story. It has received a few poor marks because it doesn't offer a whole lot of grip straight out of the box. This is mainly when wet though and feels pretty comfortable otherwise. It is also a full-tang design which lends to its ability to provide leverage with hefty, weighty jobs.
But if you are concerned about the grip issue it can be countered with a small piece of bike tubing over the handle or just by purchasing another grip or handle. The product is very customizable and easy to personal or add your own flare to it.
It is also made from Grivory material which is actually just a brand name for a Swiss-made plastic. The plastic is quite strong though and has been used by other companies to make plastic knives that are actually able to puncture well.
Other features of the handle include a wrist lanyard hole. Lanyard holes usually do not provide too much use outside of having easy access to the knife but some may find it a nice addition. Others just may prefer to attach the knife to something using the sheath such as a backpack or belt strap.
The Sheath
The last feature that will be expanded on here is the MOLLE compatible heavy-duty polyester sheath. The polyester here is important to note as the previous model came with a glass-reinforced nylon sheath. This old sheath caused some problems as it would dull out the blade. But the new polyester one however, rectifies this.
The BK-22 sheath is a great piece of construction and has received lots of rave reviews. From the compartments to the material and special features, everyone loves an awesome sheath. Especially for survivalists, sometimes a great sheath is half the buy.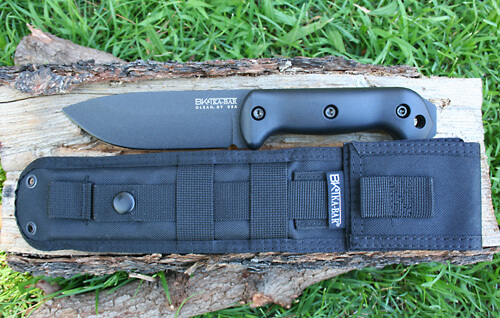 This one comes with plenty things to help you feel secure. It has a plastic insert to keep the knife in place along with a front cargo pocket, snaps, Velcro straps, riveted leg lashing holes and a metal snap for extra security.
Price
The price of the BK-22 seems to range quite a bit depending on where you purchase it. The official KA-BAR company website offers it for around $120. You can also find it from third-party vendors for about $20-$40 less factoring in some discounts and promotions especially on Amazon. Many would consider it to be an affordable knife and sheath overall. Other blades can definitely run much higher so this is a good value knife for its construction and ability.
Testimonials
The general reviews of this product are pretty positive with it receiving 4.7 out of 5 stars. People are pleased with the fact it that it is well-made with 1095 Cro-Van Steel, has great handle to it and movement when it comes to chopping, skinning and the hard work of hunters and campers. They are also happy about the weight in some cases. Though some have stated that it would be hard to fight with or do finer tasks because of the weight. But it does provide confidence and zeal for harder jobs.
So to recap we can review some of the Pros and Cons of this tool and campanion:
Pros
The BK-22 is well-made and very impressive at first glance
It is perfect for hunters and can serve multiple purposes to campers
It has good edge retention
The Grivory handle is very comfortable and controllable
The sheath is polyester and comes with many attractive features
Cons
The knife is heavy which makes it difficult for some jobs
The handle gets slick and slippery when wet
Summary – KA BAR 22 BK2 Review
Overall the BK-22 from KA-BAR is a durable fixed-blade knife that should please any moderate spender that is into hunting, hiking, or camping. The few cons that it does have really don't do much to deter prospective buyers. It is well-constructed with Cro-Van Steel in a full-tang drop point design that is perfect for skinning game. You can also play survivalist with all the sheath has to offer and should be well-quipped for whatever adventure you have ahead. Lastly, the cost won't break the bank so it is a good buy and nice addition to any knife collection.