If you are a hunting enthusiast, then the Buck 192BR Vanguard is the perfect hunting knife for you. It is usually difficult to find high quality hunting knives in the market these days but the Vanguard is an exception to this rule. Always remember that one should use a high quality hunting knife when it comes to outdoor activities like camping or hunting.
In order to have long lasting user experience, you should use knives with good quality. This knife is perfect right from the aesthetics to the functional sharpness and is great even for a beginner. However, intermediate and expert hunters will also find great use of it.
Buck 192BR Vanguard Quick Facts
Blade Length (in): 4.125 inches
Steel Type: 420HC Stainless Steel
Handle Material: Woodgrain and polished brass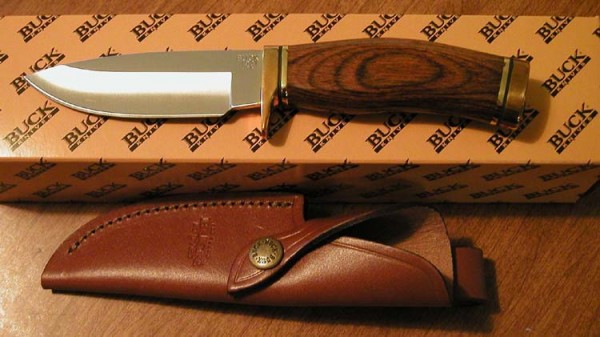 Sharpness of the knife
For great experience, sharpness while using is extremely vital and cannot be ignored. To address any kind of cutting need of a hunter or camper, the Vanguard Fixed Blade knife is made extremely sharp. It is an all purpose knife for hunting because of its sharpness. It is made up of quality material which makes it versatile and contributes to its longevity from normal to heavy use and prevents it from wear and tear. The Owner would not regret buying and owing this amazing stainless steel knife with its 4.125 inches drop point blade.
Edge retention of knife
The Buck 192 BR Vanguard has superb edge retention and for a hunter to cut meat with this knife, it becomes extremely easy and simple because of the length of blade which gives a productive outcome.  Because of the sturdiness in blade of the knife, it can be used to cut through the hard skin of any wild animal.
In comparison to other hunting knives this one does not dull so quickly.  Irrespective of the usage, whether heavy or light, the edge of the knife retains its sharpness and will impress you with its results. The knife will become extremely addictive if one starts using it and I'm pretty sure, you will always remember to carry it along with you while hunting.
Buck 192 BR Vanguard sharpen ability
The Sharpness of of knife is a pivotal attribute for any hunter. A hunter's preference is always towards a knife with good sharpness and longevity. It is simple and easy to sharpen the blade of this knife because of which it can be used for long.
Considering its sharpness and longevity, this knife is definitely value for money in comparison to dull knife which is of no use to a hunter. A smart hunter would not let go of this versatile and useful knife.
Durability of Tip
The Knife's blade tip is made of stainless steel which enhances the performance of the knife and does the job in the best possible manner to give a satisfactory outcome. To add more to the Vanguard's user convenience, the tip of knife is extremely sharp and strong for any hunter to use it.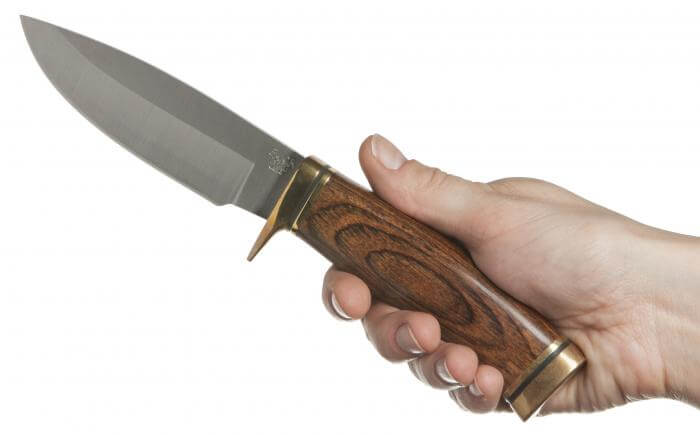 Design of the knife
The knife is aesthetically designed so that it is comfortable to use. A User can hold it for long irrespective of the purpose of use as it has wood grain handles, finger guard and its end is polished in brass for better user experience.
The Design of the knife ensures safety of the user using the knife. Apart from its superb make, the overall look is extremely pleasing and sophisticated which makes any hunter proud to have it. In comparison to other similar knives, the Vanguard is preferred because of its functional experience and aesthetics.
Ease of Use of knife
Hunters possessing the Vanguard not only experience the functional benefit and aesthetics but also find it convenient to use. It is convenient to carry the knife comfortably because of its fitted brown leather sheath.
It comes with a knife box to ensure the storage and safety of knife when not in use. Regardless of its age, the Vanguard is easy to use and will help anyone to be a better hunter. If you are a savvy camper, then also it will enhance your experience and will make you rely on it.
All in all, it's a great knife for hunting and for use in the outdoors.