Review of the Top 5 Hunting Backpacks in the Market
When most people first hear about hunting as a child, they imagine a hunter alone in the woods with nothing but their wits and their weapon. In reality, it takes a lot more than that to safely and comfortably go on a hunt. You need water for hydration; extra ammunition in case your first shots miss, and the tools necessary to start cleaning and dressing your kills.
This is too much for a hunter to carry in their bare hands, which is where one needs the best hunting backpack for the money. A backpack allows you to keep your supplies on you at all times while still keeping your hands free.
Not just any backpack will do when it comes to hunting. A hunting backpack needs to be a little more durable than the average bag you'll find in most stores. You never know what the weather might do while you're on a hunt, so a hunting backpack should be made from water-repellent materials. It should also have enough room to hold all of the supplies you'll need on hand when you're hunting. Just how much storage space is needed varies from hunter to hunter, so will be looking at backpacks that come in a variety of different sizes.
Each of the five backpacks we'll look at has different strengths, so look out for the pack that best fits your hunting style.
5.11 Tactical RUSH72 Backpack
Available in 7 color schemes
Made from nylon
23 inches high, 13.5 inches wide long, and 8.5 inches deep
66-liter total storage capacity
8-pound empty weight
Limited warranty when purchased from an authorized dealer
The RUSH72 backpack from 5.11 Tactical is a workhorse of a bag, built to get the job done with no muss or fuss. The look isn't flashy, but 5.11 has fit a surprising number of features into this nylon backpack. As soon as you start opening up compartments and you'll find a wide variety of small pockets tucked away inside, allowing hunters to keep their backpack nicely organized.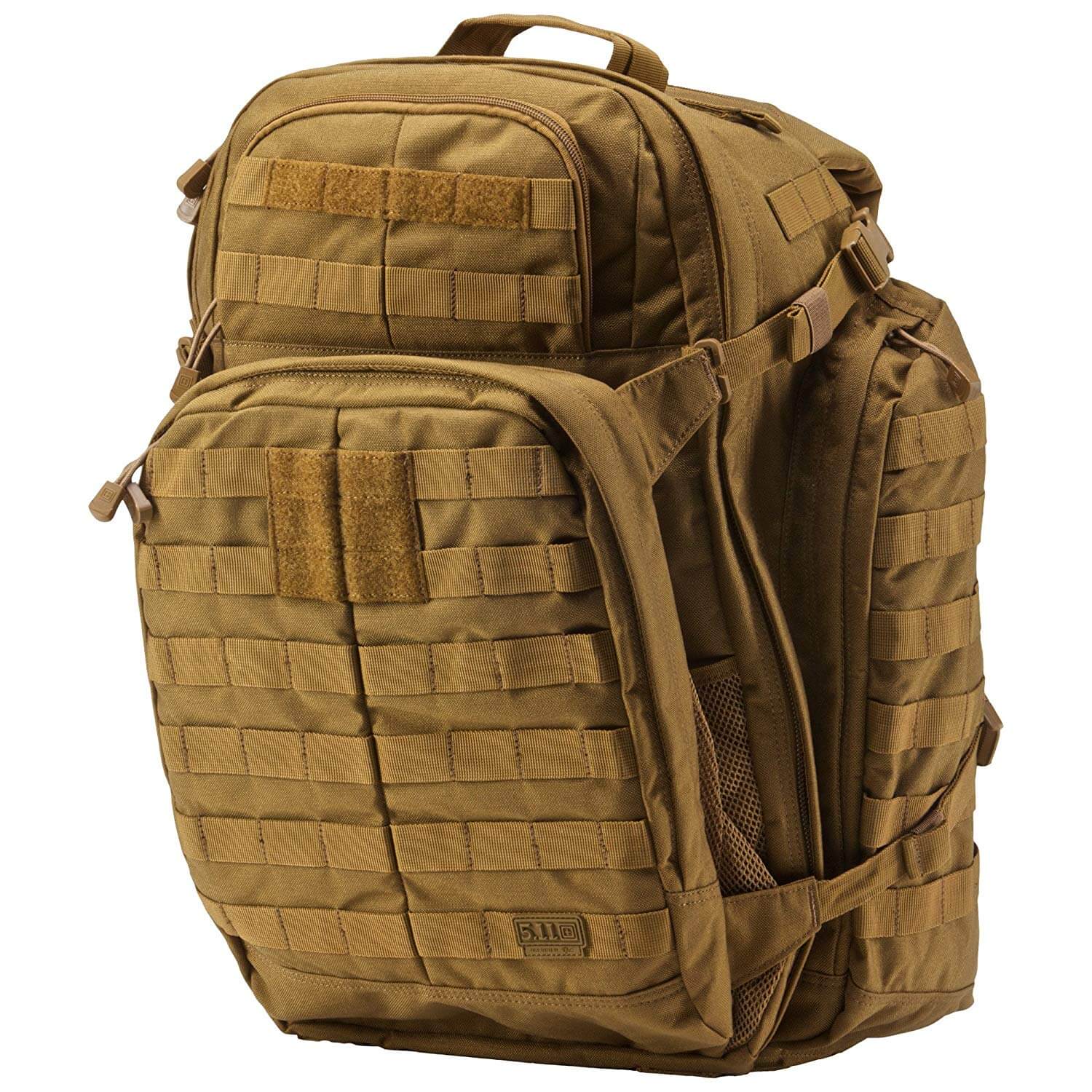 The bag has a large main compartment and three smaller compartments on the front of the bag and on its sides. When the rain starts coming down the water-repellent nylon used to make this bag will help to keep its contents safe and dry. Please note that water-repellant is different from water-proof, the bag should still be kept as dry as possible. The foam used in the shoulder straps strikes a nice balance between softness and firmness, making it possible to comfortably carry this backpack for hours on end.
If you're looking for a backpack that fits your style, then you should know that this bag comes in 7 different color schemes. The colors are the sort you'd expect from a hunting backpack. They include black, olive green, and an iconic camouflage pattern. The name of the bag comes from the fact that it's large enough that you call store everything you need for three days or 72 hours. That should tell you something about the size of this bag; it is not a small accessory.
Some will love the fact that this bag can hold everything you need for a long weekend worth of hunting, but others will find that the bag is overkill. The RUSH72 isn't a bag built for children or for afternoon hikes. Fortunately, 5.11 Tactical makes variations on the design that come in different sizes. Anyone looking for a hunting bag that gets the fundamentals right should give the RUSH72 a serious look.
SOG Ninja Tactical Day Pack, 24.2-Liter Storage
Available in 6 color schemes
Made from polyester
18 inches high, 13.5 inches wide long, and 8.5 inches deep
2-liter total storage capacity
9-pound empty weight
Lifetime manufacturer's warranty
The Ninja Tactical Day Pack from SOG is one of the best hunting backpacks for the money and is a dependable bag that has everything you need and nothing that you don't. The easiest thing to notice is how compact it is. There are only two sizable compartments, larger main compartment and a smaller secondary compartment.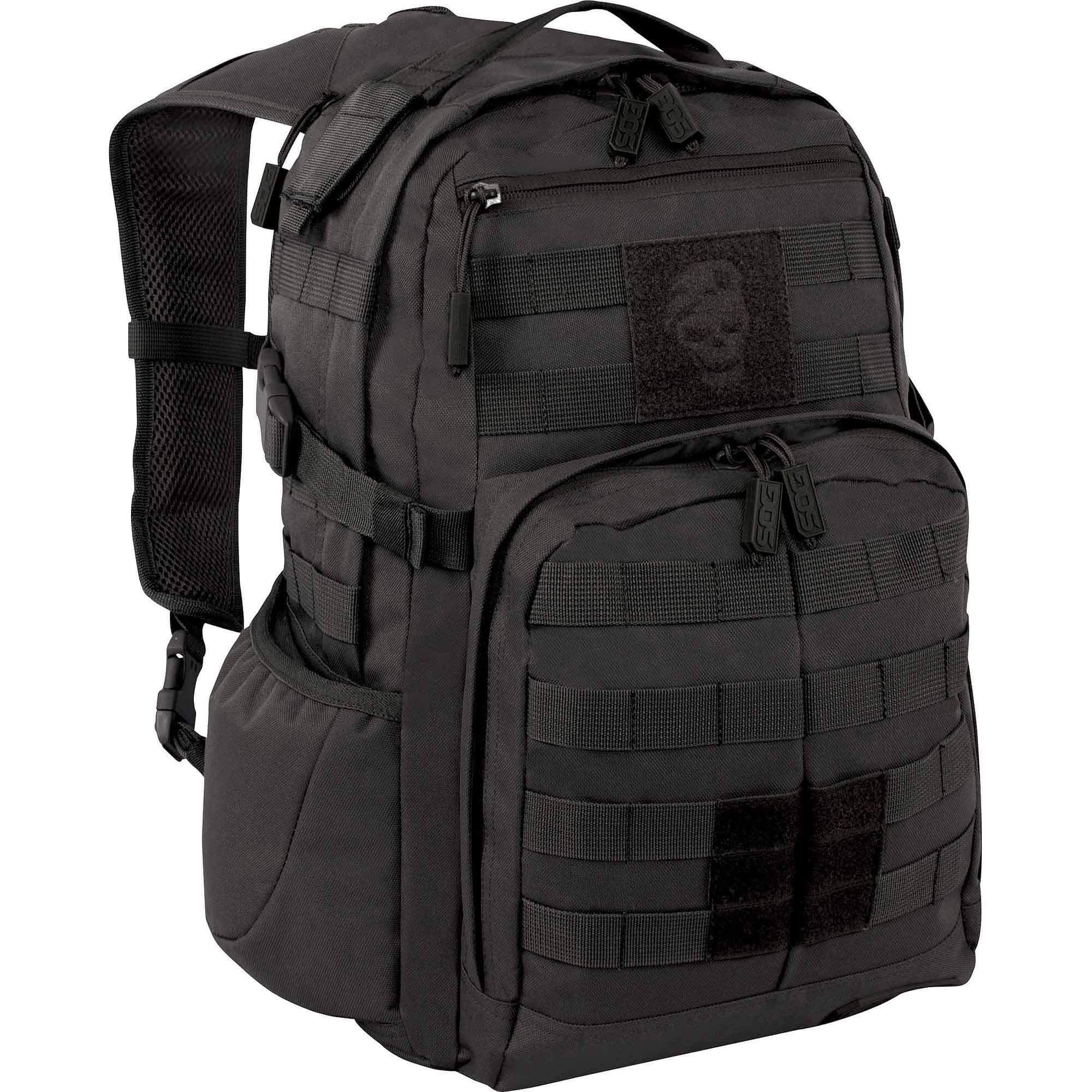 But if you open these up, you'll find that there are also zipped pockets for further organization. If that's not enough for you, then the MOLLE webbing weaved into the design allows owners to expand the bag's capabilities. Another nice addition is the pouch on the side that is built to hold just about any sort of bottle you might want to bring along to help you stay hydrated. The backpack doesn't come with a bladder, but it does have space where you can put one for the easy access to your water when you're on the trail.
The look of the bag is nice, and it comes in six different color schemes, so you're sure to find something that you like. The one real drawback design-wise is the strange looking velcro skull patch. Some will enjoy it, but most will be better off looking for a more personal patch to cover it up with. This backpack is a medium-sized design, so it's perfect if you're planning an overnight trip, but it might be a little restricting if you want to go hunting for more than one day.
The smaller backpack size also makes it a great choice for the younger hunters out there. For day trips and overnight expeditions, this bag will be able to hold everything you need to hunt safely. Finally, SOG offers a lifetime warranty that covers manufacturing defects so that you can buy a new Ninja Tactical Day Pack with confidence.
Badlands 2200 Camouflage Hunting Backpack
Available in 1 color schemes
Made from KXO-32 fabric
26 inches high, 16 inches wide long, and 10 inches deep
22.5-liter total storage capacity
5.9-pound empty weight
Unconditional warranty
The 2200 model hunting backpack from Badlands is designed to withstand whatever nature throws its way. It's a bag built to shepherd its contents through the harshest of elements and come away without so much as a tear or a scratch. It's also a true hunting backpack, as seen in the fact that it has a built-in rifle boot, pistol holster, and meat shelf.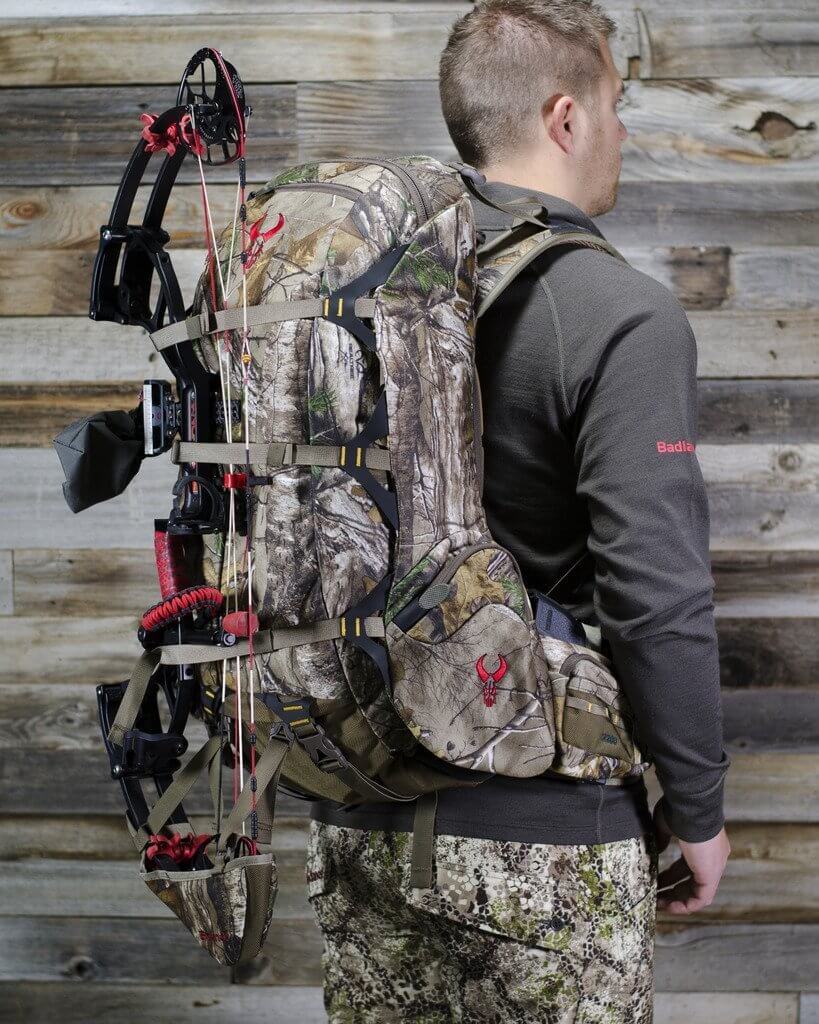 You can wear this backpack while hiking, but only hunters will be able to use all of its features. The backpack is covered with a very neutral approach camouflage that will work in a wide range of settings. With that being said, it is a bit disappointing that Badlands only offers one color scheme. If you're set on a black backpack, then you'll need to look elsewhere. Still, this backpack has in iconic will satisfy most hunters.
What sets this bag apart isn't what it looks like, it's what it's made of. SOG uses a proprietary material known as KXO-32 fabric that is specifically designed for hunters. It's built to be durable, waterproof, and completely quiet. No more worrying about the sound of your backpack's fabric alerting any nearby game. The main downside of this bag is that it weighs a significant amount, especially when you look at its storage capacity.
The bag weighs almost 6 pounds unpacked, so if you want to travel light, you might want to look elsewhere. With a capacity of 22.5 liters this bag is great for single day hunts, but if you're looking to pack up everything you need for a weekend in the forest, it might not be enough. None of these factors are necessarily faults in the design; they simply speak to the target market that this backpack is aimed at.
This bag isn't the lightest or the biggest, but every piece of this backpack was crafted with hunters in mind. This is the backpack that hunters have been dreaming about.
TETON Sports Explorer 4000 Internal Frame Backpack
Available in 3 color schemes
Made from ripstop fabric
32 inches high, 18 inches wide long, and 12 inches deep
64-liter total storage capacity
5-pound empty weight
Limited lifetime warranty
While some bags are designed for short hikes, the Sports Explorer 4000 from TETON is built for the long haul. This is a bag for someone who wants to pack days worth of supplies into a single bag so they can trek through nature for days without anything but the items on their back.
All together this bag has 65 liters worth of storage capacity! This bag's biggest selling point can also be seen as its biggest drawback. Many will see this bag as simply too big at two and a half feet tall. One surprising thing about this bag is that it is relatively light for its size, weighing just five pounds empty.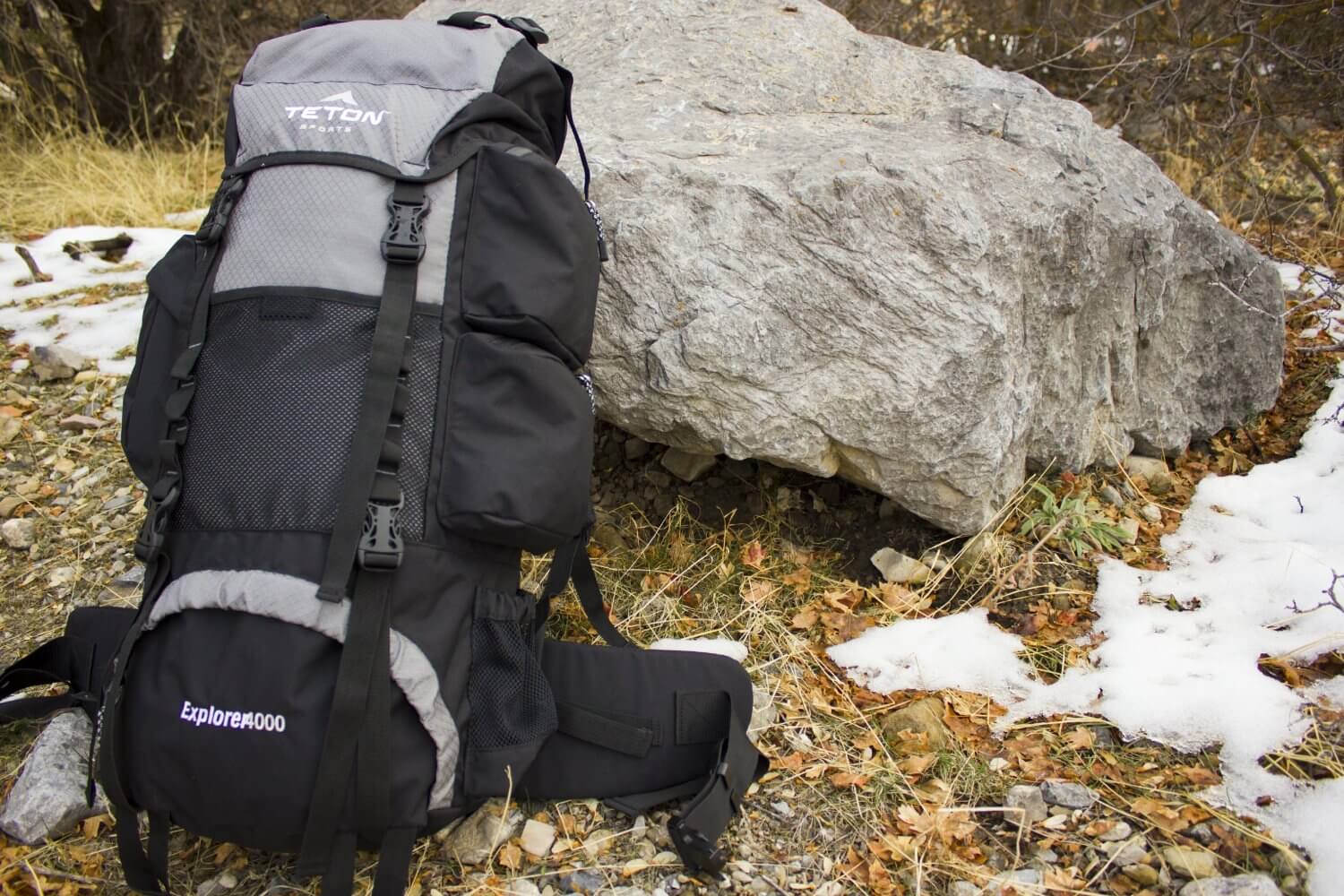 After looking at so many bags that only come in green, grey and camouflage, it's a pleasant surprise to find that this bag comes in a relatively cheery light blue. Another nice bonus is the fact that this bag comes with a built-in 3-liter bladder that you can use to stay hydrated on the go. With the Sports Explorer 4000, you can drink and carry your supplies completely hands-free. The bag is made of a durable and water-resistant ripstop material, but it also offers an extra level of protection when the rain starts falling. Inside the bag you'll find a built-in rainfly to help keep your supplies as dry as possible.
TETON offers additional protection in the form of a limited lifetime warranty covering new backpacks. This bag is the biggest on our list, but it's more than just a big bag. If you're the type of hunter that also enjoys long hikes, then this bag will give you everything you need to pack for the most epic hunt of your life.
ALPS OutdoorZ Pursuit Hunting Back Pack
Available in 2 color schemes
Made from ripstop fabric
32 inches high, 18 inches wide long, and 12 inches deep
44-liter total storage capacity
6-pound empty weight
Limited lifetime warranty
If it wasn't for the camo color scheme, this backpack might look not look like a hunting bag at first glance, but looks can be deceiving. This deceptively simple looking bag is packed with features that hunters will love. Bow hunters should give this bag special attention.
Not only is there a pocket that can securely hold a bow or a gun, but there are also quiver holders built into the bag. No need to fumble with your arrows as you carry them along, this bag makes sure they're securely stored and easy to access at a moments notice. To build on this theme, the bag has a fold out shelf so that its contents can be as organized and easy to reach as possible when you're deep in the hunt.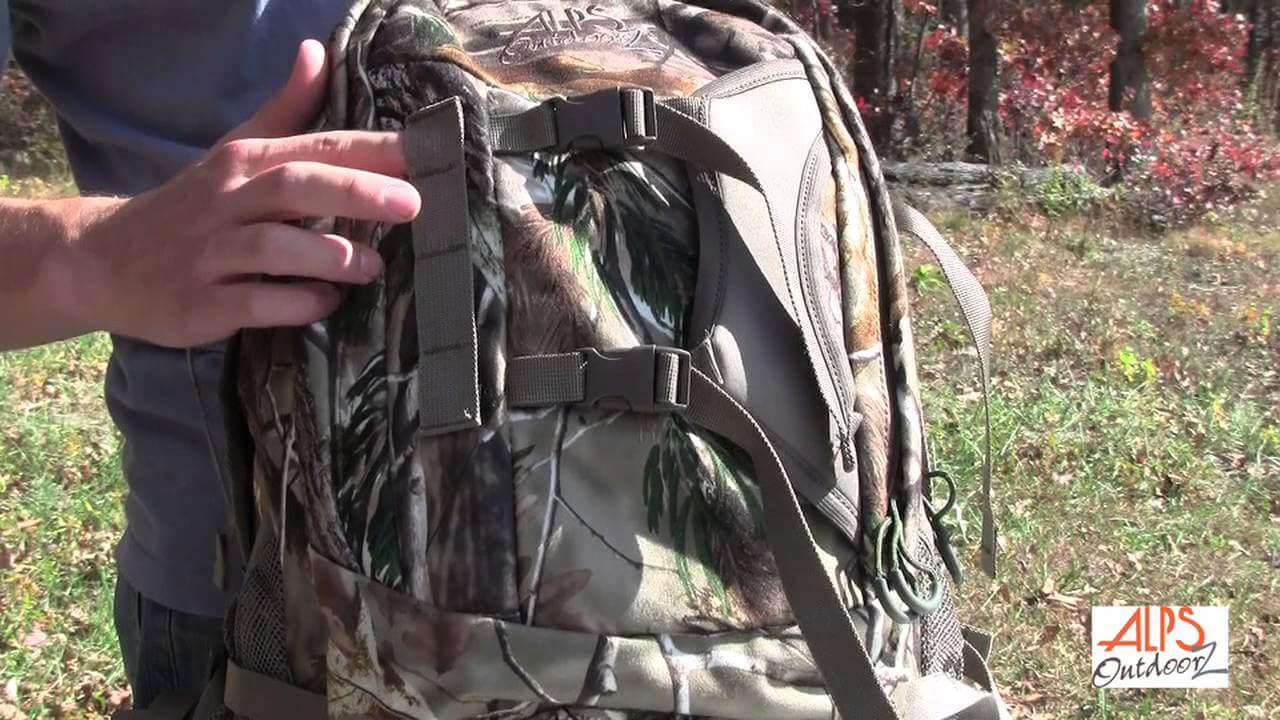 One minor disappointment is the color options. Both of the choices offer a traditional woodland-camouflage look. They're nice enough, but it would have been better if the themes were more visually distinct. This is a minor nitpick in the grand scheme of things. If you do want to stand out or stay dry, then you can pull out the bright orange rain cover that comes with the bag.
This last feature is important to remember because the bag itself isn't waterproof. When you add together the classic look, special features, and 44 liters worth of storage you get something special. Overall the OutdoorZ Pursuit Hunting Backpack is an exceptional product that has everything a hunter could want.
Picking the Best Hunting Backpack for the Money for Your Hunting Needs
Each of the five backpacks that we examined brings something different to the table and are definitely prime contenders for the title of the best hunting backpack for the money. Any of them could help you carry your supplies out on your next hunt, but if you want the best experience possible you need to pick the pack that is designed to match your unique needs.
So take some time to think about whether you want a bag that is large and heavy duty or small and highly portable. If you think about what you want in terms of storage capacity, features, and color, then you'll have an easy time picking the backpack that will help your next hunting trip go as smoothly as possible.
A little thought upfront will save you a lot of hassle when you hit the trail.