My Top 3 Choices for the Best Backpacking Axe
When I hear the word "Axe", what comes to my mind is an implement or a tool with a heavy bladed head at the end of a long piece of wood called a handle. This tool is most commonly used to shape, split and cut wood, since centuries gone by.
There is a lot of information on the internet about Axes in general and the best backpacking axes that are multipurpose and can be used for varied jobs like cutting, chopping and splitting wood and cutting up and slicing hunted game just to name a couple. There's even some backpackers and hikers who tramp the forests and wilderness, who use their axe to apparently shave their beards, I think that is quite creative, but also quite dangerous!
My Top 3 Candidates for a Backpacking Axe
After studying the qualities and features of a few axes myself, my top 3 choices would be as follows:
#1 – Ultimate Survival Technologies SaberCut Camp Ax
I think that the avid backpacker in me is really looking for an axe like this heavy-duty camp axe. For me it was love at first sight and after examining its features, this is more precisely the backpacking axe I may have been looking for.
Just look at some of its cool features. This axe is ideal for tough cutting jobs as it is made from 5mm thick, 440 stainless steel. The bead blasted texture on the handle facilitates a firm grip for me to use this axe in adverse wet weather conditions and cold temperatures. The small dimensions and light weight of this axe makes it an excellent axe for both men and women to handle.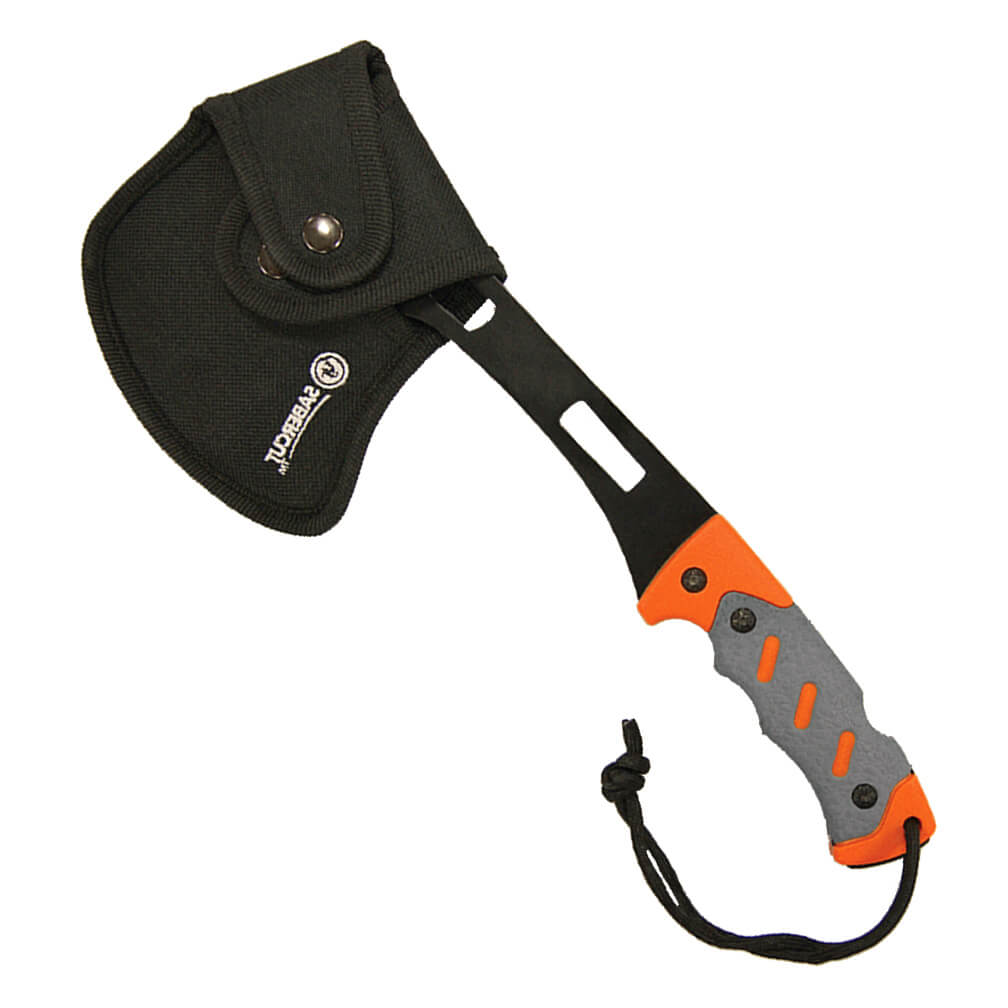 Pros
Value for money product

Only 17" long and weighs only 1 lb

Black oxide finish prevents blade rust

Blade comes extremely sharp

Better leverage because of extended neck, when cutting

Pry bar head attached to the top of the handle

Comes with nylon sheath for blade protection

Lifetime Warranty
Cons
Cannot use this axe for heavy-duty cutting jobs as it is light weight

Is ok when I am cutting and splitting wood to create a small fire but probably a definite disadvantage if I need to split wood to build a larger fire.

The axe may not be durable if used to split larger pieces of wood

The sheath is too large for the blade and the blade moves around in the sheath – unsafe
#2 – Cold Steel 90PTH – Trench hawk axe
In the absence of my Top #1 choice, my next choice at #2 will be the Cold Steel 90PTH axe which is quite capable of cutting different types of wood easily. I believe that this is one of the best axes in 2017 from Cold Steel. It has an edge of 3-1/2 inch for cutting, and a solid wedge shaped spike.
Furthermore, its poly propylene handle is very resistant to impact and shock and protects your hands and wrists, from long term damage due to prolonged usage.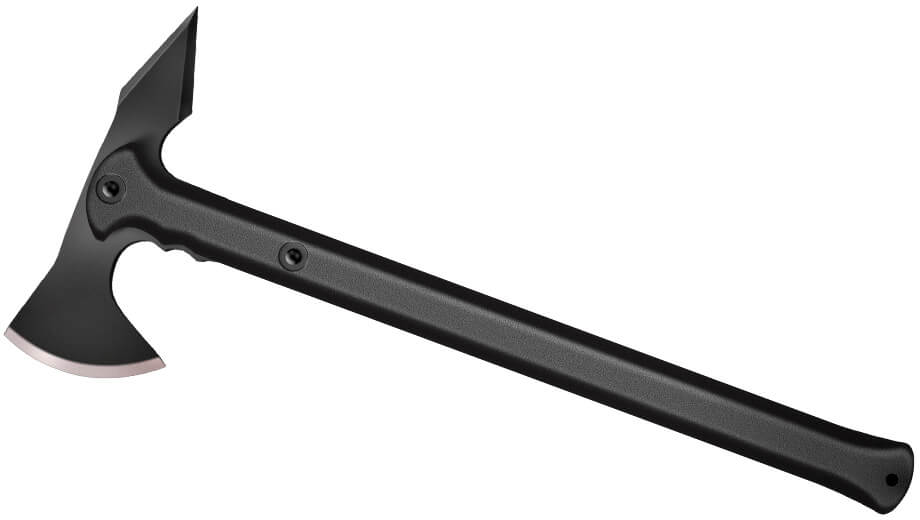 Pros
This axe comes with special wedge shaped spike, ideal design for splitting wood, making fire wood or peeling trees

The comfortable handle allows users to perform clean cuts while cutting wood

Weighs 1.5 lbs and has a length of 19"

Exclusive Secure-Ex sheath which ensures durability
Cons
The axe handle lacks a textured layer so a good grip in wet and adverse weather may be an issue

No belt loop with the included sheath
#3 – Gerber 31-000917 Splitting Axe
I know the quality of Gerber axes and the fact that they are famous for their cutting precision. I would place this axe as my Top #3 as I can confidently use this axe to split any type of wood.
This axe's head is created from durable forged steel which maintains the sharpness of the edge. Its fibre handle lets you cut in a variety of ways, as it is virtually indestructible. Due to its unique design, the axe has an ideal weight and balance that enables a user to effortlessly swing away to cut different types of wood.

Pros
This is the highest rated axe from Gerber and the carefully crafted steel head can handle sustained use on different types of wood.

The length of the axe is 28.46 inch, weight is a bit heavy at 3.4 lbs but
ideal for heavy duty cutting jobs
The fibre combed handle feels safe while cutting branches, twigs, logs, and other wood material
Cons
The sheath that comes with the axe is a little hard to put over the axe head, as per some owners
Conclusion
If it is entirely up to me to make a choice between these three multipurpose axes, then my choice for the best backpacking axe would clearly and doubtlessly be the light and versatile Ultimate Survival Technologies SaberCut Camp Ax.