I've been an outdoor enthusiast for as long as I can remember thanks to the numerous camping and hiking trips that I took with my dad and the one thing that I always keep with me is a good hunting knife. A lot of people take this aspect really lightly and don't realize that the difference between a good hunting knife and a normal one can usually be the difference between life and death – especially if you're stuck in a tricky life-threatening situation.
However, since you're reading this, it obviously means you're here to make a better choice and try and find the best hunting knife for you. That's what I'm going to help you do and because of my numerous years of experience in hunting, survival and tactical situations, I've made this detailed guide to help you achieve just that.
Below you'll find detailed, in-depth reviews of the Top 10 hunting and survival knives in the market along with an objective analysis to help you narrow down to the right one. So go ahead because there is a great hunting knife out there for every person and for every budget!
My Personal Review of the Top 10 Hunting Knives
With so many options in the market when it comes to hunting knives, it can become extremely confusing for someone to hone in on the right one. To save my readers precious time, I've done the hard work for them and spent hours and hours on research (along with my personal experience with these blades) to bring you this detailed list of the Top 10 Hunting knives out there.
Not only are the knives mentioned below the best of the best, they also are within everyone's budget. However, most important of all is that these have been chosen after detailed analysis and discussion with other hunting experts and that's why you shouldn't think twice before picking any of the hunting blades mentioned below.
Ka-Bar Becker BK2 Campanion Fixed Blade Knife
#1 on my list of the best hunting knife is the truly impressive Ka Bar Becker BK2 and with this hunting tool by your side, there is very little to fear. Whether it be splitting kindling or skinning game, the BK2 Campanion works flawlessly thanks to the 1095 Cro Van steel that it sports.
This Made in the USA, full tang blade comes with a MOLLE nylon sheath and features a drop point blade that gives you more control and adds to the tip strength. It also helps while skinning games because the lowered drop point helps you avoid nicking internal organs accidentally.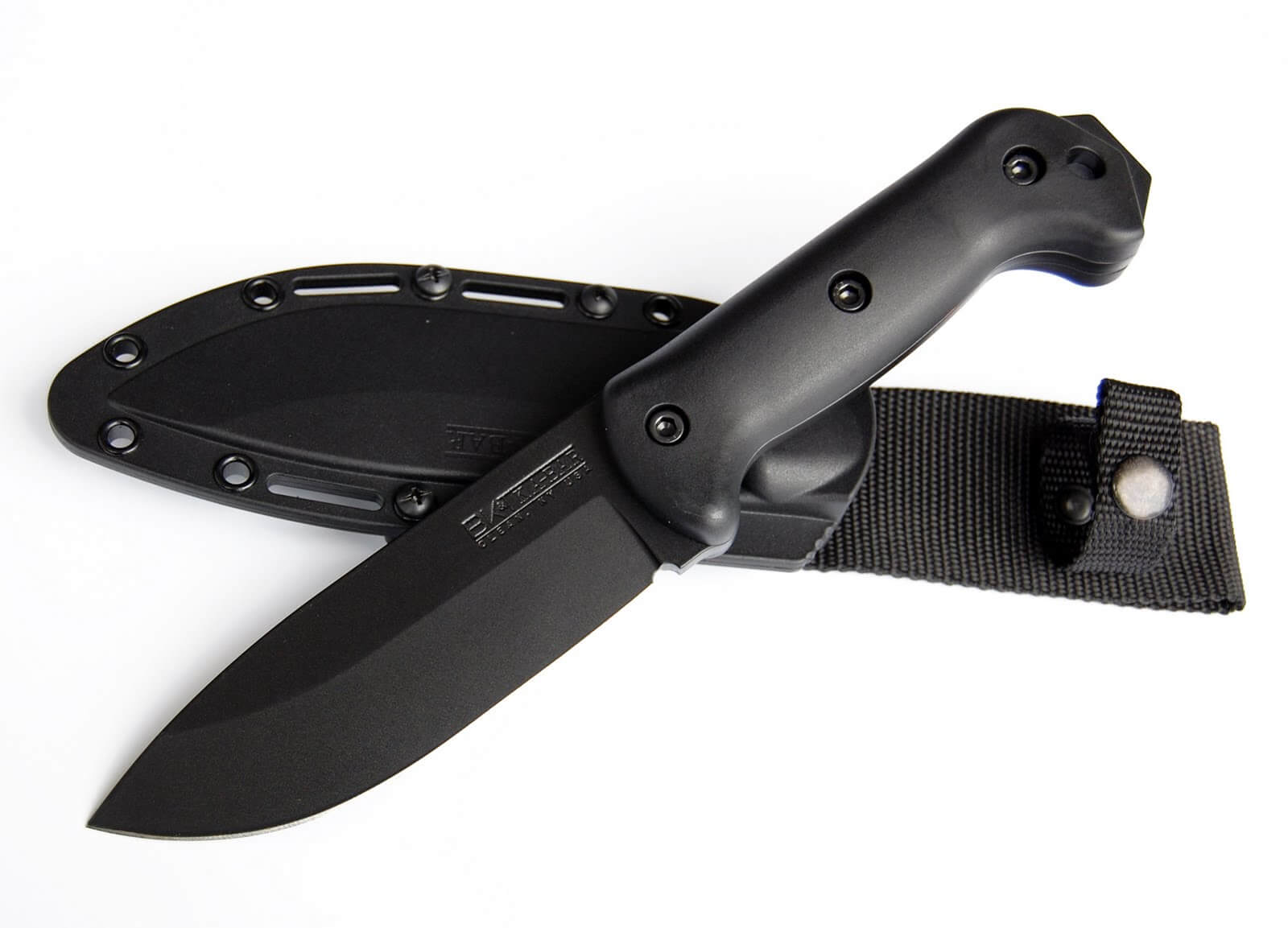 The overall length of the blade is ten and half inches while the blade itself is about five and a half inches long and the thickness of the blade is 0.25 inches. I personally love the Kydex sheath and it has a lot of lanyard holes that come in handy.
I've earlier also owned a 1st edition BK2 but these days if you order from Amazon, you'll get the 2nd generation BK2 delivered which has a slightly more extended tang and can also be used as a chisel. When you hold this knife in your hand, the first thing you'll notice is how sturdy and hefty it feels and for a proper hunting knife, that is an extremely important characteristic to have. Another thing I like about this tactical hunting blade is the Grivory handle with a really strong grip to it and I've felt comfortable holding it even when it's been pouring outside.
I've mentioned the kydex sheath earlier and trust me; that is one of the best things about this survival knife. It holds the knife firmly in place plus it also has a drain hole at the very bottom which allows any unwanted water to drain out – now that just goes to show how much thought has been put into this by the makers!
All in all, this is one the best hunting knives under $100 in the market and comes highly recommended by me and other hunting enthusiasts. It can take a lot of abuse which is what you want in a great hunting knife and that coupled with the affordable price point makes this a no brainer.
Buck Knives 0119 Special Fixed Blade Knife with Leather Sheath
Next up on my list for the Best hunting knife in the world is the Buck 0119 that comes with an amazingly classy leather sheath. It features a large 6 inch clip blade made with 420 HC steel which gives it great edge retention plus makes the blade of extremely high strength. The handle length is approximately four and half inches and is comfortable to hold.
The wooden handle is made from smooth Cocobolo Dymondwood and there is a brass pommel at the end of it which gives the knife a really classy look. All Buck knives are made in the USA so that's an added incentive for any proud American and is a proper "full tang" knife.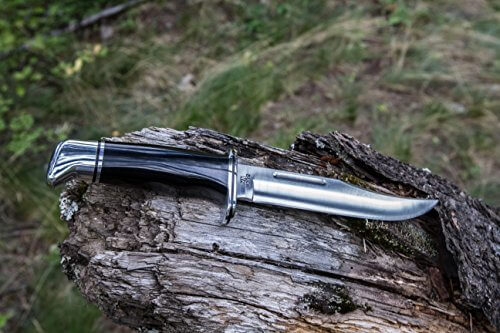 I've personally carried this knife on numerous camping and hunting trips and it has held me in good stead in a number of tricky situations. Another great thing that I like in particular about the Buck 0119 is the brown leather sheath that comes along with it and which has a belt loop to wear around your hip.
The balance and heft of this hunting blade will appeal to most hunting enthusiasts and the only issue I've had so far with the knife – actually it's an issue with the sheath really – is that one of the rivets continuously rubs against the wooden handle and leaves small scratch marks on it. You can remove that rivet if you like (which is what I did) and solve this little niggle.
With a price tag of under $100 (I bought mine from Amazon on a deal for around $75), this is a great hunting knife that will last you for years to come.
KA-BAR Full Size US Marine Corps Fighting Knife
#3 on this list that reviews the Top 10 hunting knives is the KA-BAR Full Size US Marine Corps Fighting Knife – a 7 inch, 1095 Cro van steel blade with a straight edge and one of the most famous fixed blade knife designs in the world.
This knife will fulfil all purposes of being a survival, hunting & tactical knife all rolled into one. It comes equipped with a smart leather handle that gives this blade a vintage look. This full tang knife has a great sharp point and is well suited to outdoor hunting tasks like skinning, slicing and dressing. Also, because it's a Made in the USA knife, it should appeal to all of you.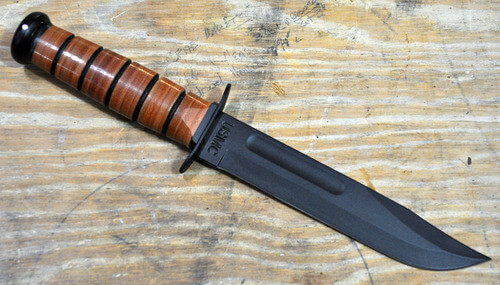 I like the fact that it doesn't weight much (just under 0.7 pounds) and yet, the knife feels sturdy enough in my hand. The USMC stamp is a tribute to all the marines who've used this knife in real combat situations and it does make you feel pretty brave holding this knife when you're out there in the wild outdoors.
During my research into the KABAR, I was extremely fascinated with the process that the company uses to make their signature knives. After a 3 step heating process which includes cryogenic freezing & tempering, the blade then undergoes a grinding process followed by an oxidizing process that makes the blade corrosion resistant.
Coming back to my experience with this hunting tool; I really love the grip and balance that it offers. There is also a sufficient curve provided that makes it easy to slice and skin game and enough heft to make all those slashing and chopping motions perfect.
The cost is extremely reasonable and at its present cost of under $70, you will be hard pressed to find a better blade in the market. For all of you who want a trust all in one knife for your hunting and tactical needs, the KA-BAR Full Size US Marine Corps Fighting Knife is the right choice.
Gerber Bear Grylls Ultimate Serrated Knife
One of the most popular knives in the world, the Gerber Bear Grylls Ultimate Serrated Knife does make its way to this list of the best hunting knives thanks mainly to its performance in the outdoors. If you're an avid Bear Grylls fan like me, then this knife will really impress you. Made from 7Cr17Mov stainless steel, the blade has an HRC in the range of 57-59 and comes in-built with an integrated fire starter and diamond sharpener.
The earlier Gerber knives had a huge problem with the pommel falling off regularly but the company listened to its customers and have corrected the issue in the later versions of the knife. The blade length is just under 5 inches while the overall length of the knife is close to 10 inches and the combined weight of the knife & sheath is around 14 ounces.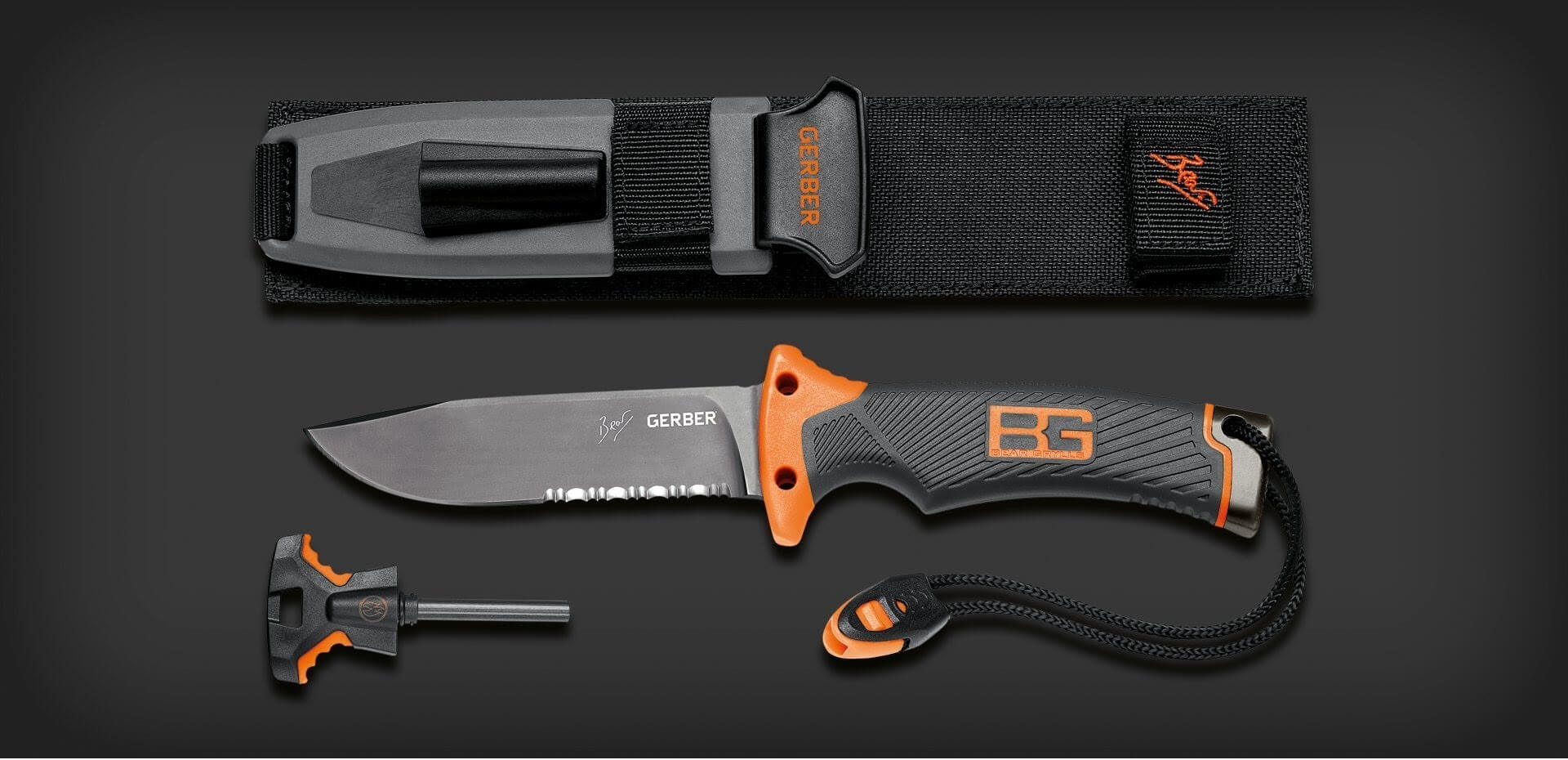 It features a drop point blade that gives the knife additional strength along the blade and helps preserve the edge much better. When I got mine right out of the box, I did not like the sharpness so I had to use a knife sharpener but you'll still do fine with the original sharpness. There is also a serrated edge along one end to help you cut through rope, vines etc and that actually helps if your fine edge becomes dull while in the outdoors.
The nylon sheath that comes along with it is military grade and lightweight plus mildew resistant so that's one more reason to go in for this hunting tool. There is also a small whistle attached via a lanyard and the pommel itself is made of stainless steel. I also put this knife under a tough batoning test simply because I believe every hunting & survival knife should be able handle the batoning process in emergency scenarios. To my delight, the 4 mm wide blade passed the test with flying colours and left me with a good stack of firewood.
All in all, this is a great hunting knife for all fans of the "Man vs Wild" star and if you're getting a good deal on Amazon for this knife, make sure you go for it!
Knife King "Snowdown Hunter" Custom Damascus Handmade Hunting Knife
This hunting knife is a late entrant into the market and a lot of people haven't really heard of it or used it but I have tested this extensively and that's why it makes it on this list of the best hunting knife. It's a pretty unique knife in the fact that it's made from over 200 layers of Damascus steel and has a range of 58-60 HRC. The overall length of the knife is 9.25 inches while the blade itself is 4.75 inches long and the micarta handle is approximately 4.25 inches long.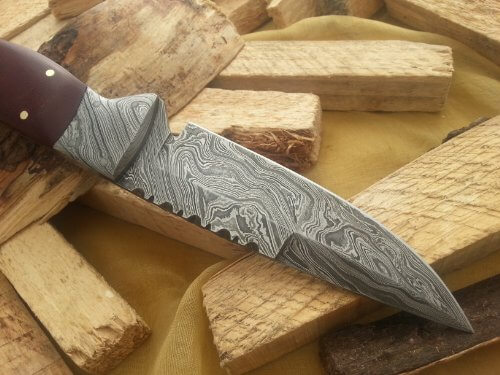 This original Damascus blade ships from outside the US so it will take some time to reach you especially if you're ordering this during the sale period. It comes with a sheath although if you read some of the reviews on Amazon, you'll notice a few people saying they didn't get any sheath. Well, mine came all neatly wrapped up so I'm guessing it doesn't happen often.
One thing you should remember about Damascus blades is that you need to oil them from time to time to prevent rusting. It's slightly different from stainless steel so you will need to take care of it a little more.
After a year of continuous use, the sheen has slightly come off and the knife does look worn in quite a few places but I think any hunting blade put to good use will suffer from some sort of wear and tear. At a price point of less than $50, it's a good deal and a quality knife to add to your hunting accessory portfolio.
Fallkniven A2 with Kraton Handle
One of the besting hunting & survival tools in the market is the Fallkniven A2 which, unfortunately, most people pass on due to its expensive price tag. But if you look beyond the 300 odd dollars that you'll end up paying for this knife, you'll realize that there is no other hunting knife that even comes close to the Fallkniven A2 in terms of quality and build.
With a Krayton handle to enhance it looks, the overall length of the knife stands at a whopping 12.7 inches with the blade alone measuring close to 8 inches. The HRC is at a good 59 on the Rockwell range and the blade is made from VG 10 steel.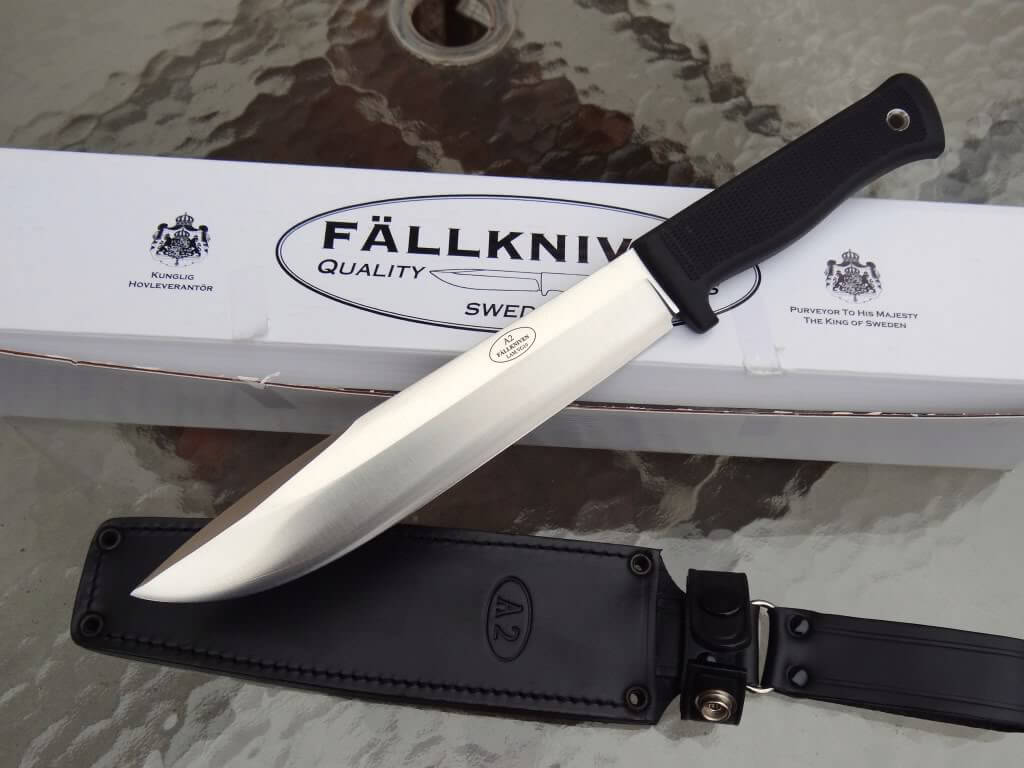 VG 10 steel is unusually hard and this makes the A2 an ideal chopping knife. I've had the pleasure of catching a lot of catfish in the outdoors and the A2 has been my trusted companion when it comes to chopping off the head in 2-3 nice swings. The leather sheath comes with sealed seams and is of a good, thick quality which makes it very comfortable to carry around.
It comes out really sharp straight out of the box so you won't need to waste time on sharpening it. If you're ever going to sharpen it, make sure you use a wet stone and not a dry one because the temperature will play spoilsport with the hardness of the steel blade. The blade has been designed exclusively in Sweden but is made in Japan and the quality of workmanship really stands out. This big knife is very easy to swing about and the balance is perfect for someone as tall as me (6 feet two). I would definitely rate this among the best hunting knives I've ever owned and if the price wasn't that high, I would definitely own more of this survival tool.
Tops Knives Steel Eagle
Well, we're more than halfway through this list in our effort to finding the best hunting knife and making its way in at #7 is the Tops Knives Steel Eagle. This 13 inch long knife (blade length of 7 inches) is made from 1095 steel and features a serrated edge at one side. The blade thickness is about 0.25 inches and it's one of the best knives I've used for outdoor camping or survival.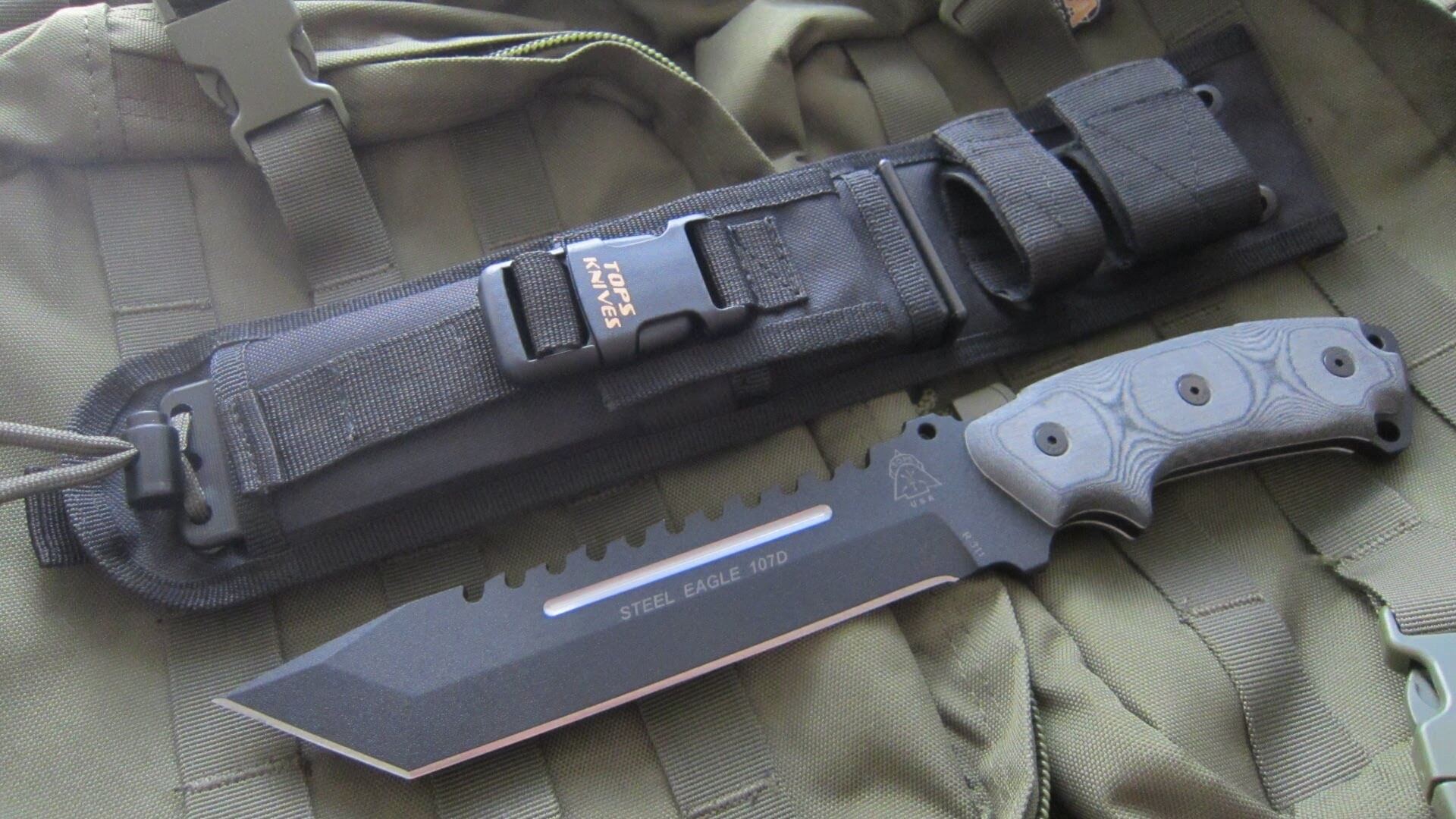 Overall, the knife is extremely solid and the saw tooth design at one end help achieve a lot of task such as cutting/chopping wood or notching and the weight is also pretty decent at just under 1.4 pounds. If you're really into camping, then I would highly suggest this knife as I've literally cut down oak tree branches many a times – it's so easy to get rid of the tree limbs. The knife retains its edge even after hard use although you'll probably have to sharpen it a bit after 6-7 months.
To be honest, I am not a big fan of the sheath that comes with it. The nylon sheath does it job but I've seen some really better ones in the market so I personally think the manufacturers can work on improving on that front.
Tops knives are generally well known for their great quality and having earlier owned the 111A and 105, I had high expectations from this one. It doesn't disappoint, is built like a tank and although some people might deem it a tad expensive, I think it's a great value for money hunting knife and one that you should definitely consider.
Important Details about the Tops Knives Steel Eagle:
Hardness – 58 HRC
Steel Type – 1095 high carbon steel
Thickness – 0.25 inch
Blade features – extended tang, chisel tooth serration & draw cutting saw teeth
ESEE Junglas Blade with Kydex Sheath & Canvas Micarta Handles
So this is another monster hunting knife that I'm going to feature on this blog and by the time you finish reading my brief review of the ESEE Junglas Blade, you'll wish this bad boy was already in your pocket.
With an overall length of 16.50 inches and blade length of 10.375 inches, the ESEE Junglas Blade is a proud Made in USA knife that uses 1095 Carbon in its core. In terms of big knives, my favourite used to be the Ontario SP50 until I got my hands dirty on this hunting blade. The Junglas chops and slices with extreme ease and even batoning will seem extremely easy to you once you begin to use this knife.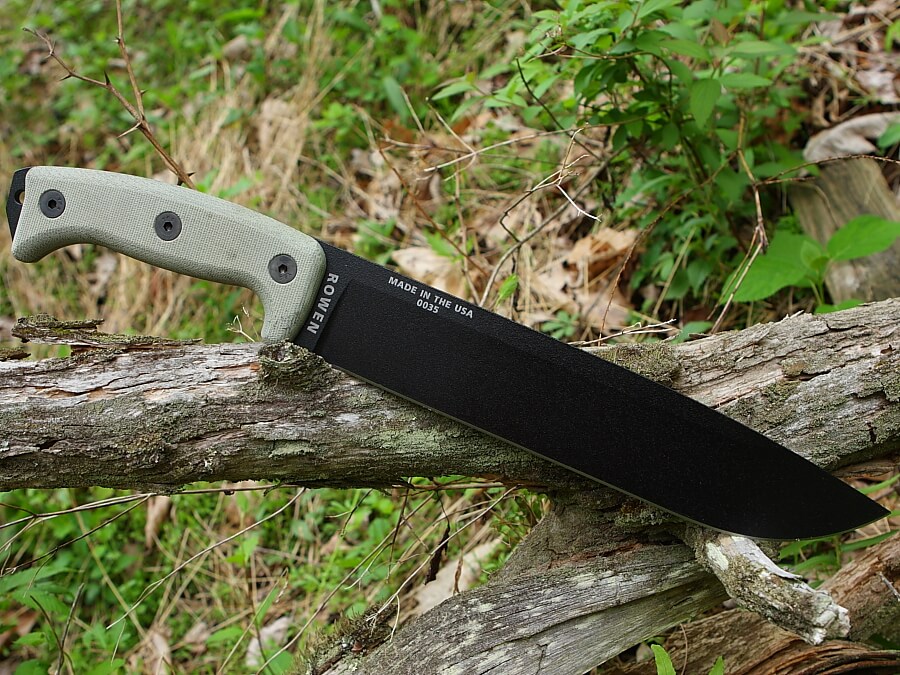 It comes with a kydex sheath and canvas micarta handles so retaining the blade is not much of a problem. You have the option of buying this without the sheath as well but I really wouldn't recommend doing that – just go for both and you'll thank me later.
ESEE knives always tend to be of great quality thanks mainly to their superior heat treatment process and this one is no exception. I particularly like the micarta handles as well – they have a good rounded profile and a great thick grip which you will only appreciate once you hold this hunting blade in your hand.
Fun Fact – the ESEE Junglas is named after the Columbian police drug task force that is made up of elite commandos so you should really be able to imagine the lush green forests and Special Forces hacking their way out of survival situations.
The knife weighs in at just under 33 ounces with the sheath combined and might seem heavy to a few folks and your first impression on seeing this might be similar to seeing a machete but in truth, the ESEE Junglas is built a lot heavier and has a wicked edge. Of course, you'll get the odd rusting problem and ESEE has tried to reduce it by applying a black powder coat but you should still try and keep this knife well-oiled and dry when not in use.
All said and done, this knife definitely deserves its place on this list of the top 10 hunting knives and at under $180, it's a great deal for every survival enthusiast.
Elk Ridge ER-052 Fixed Blade Hunting Knife
Well, we're almost at the end and making its way in at #9 on this list is the Elk Ridge ER052 Hunting Knife. Equipped with a 9.5 inch long, 440 stainless steel blade, the Elk Ridge ER052 is a beautiful full tang knife with a double blood groove.
It comes along with a leather sheath but the handle looks so awesome that you're going to be staring at it for a long time. To be honest, it's not the most impressive knife in the market and that's why it's not at the top of the list; that being said, it is a high quality blade and is priced very reasonably so it makes it to the consideration set of a lot of people.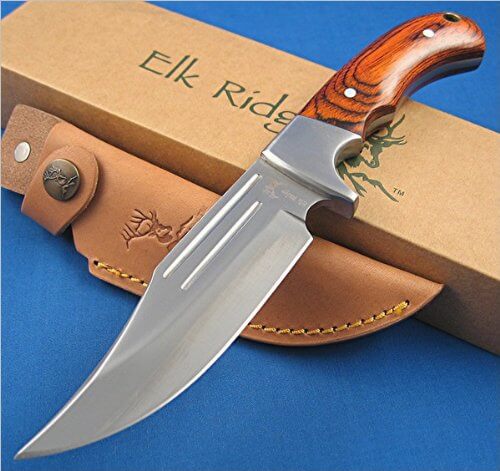 It's a Straight edge hawksbill blade which means that it has a unique design that will get you a lot of attention. It comes out pretty sharp out of the box but I still chose to sharpen mine a bit more. The leather sheath is of really good quality so make sure you get it included while buying the knife – my only issue was that it didn't have an inner slice guard but that's a personal choice.
The balance of the blade is good and fair although the handle might seem a little small to people who're used to bigger knives. Like I said, it's not the most awesome knife in the world but at just about $15, it's incredible value for money and that's why I've included it on this list – trust me, it's a better bet than some more similar yet double the price knives in the market.
Think of it as a spare blade to carry while hunting or camping and this little boy will not let you down one bit.
KA-BAR Fighting/Utility Serrated Edge Knife
Phew! This is indeed turning out to be a mammoth post and I've finally reached the #10 spot in my quest to help you find the best hunting knife. While so far, we've looked at some great hunting/camping/survival knives, I thought there should definitely be an all-purpose utility knife in this list and that's why I chose the KA-BAR Fighting/Utility Serrated Edge Knife.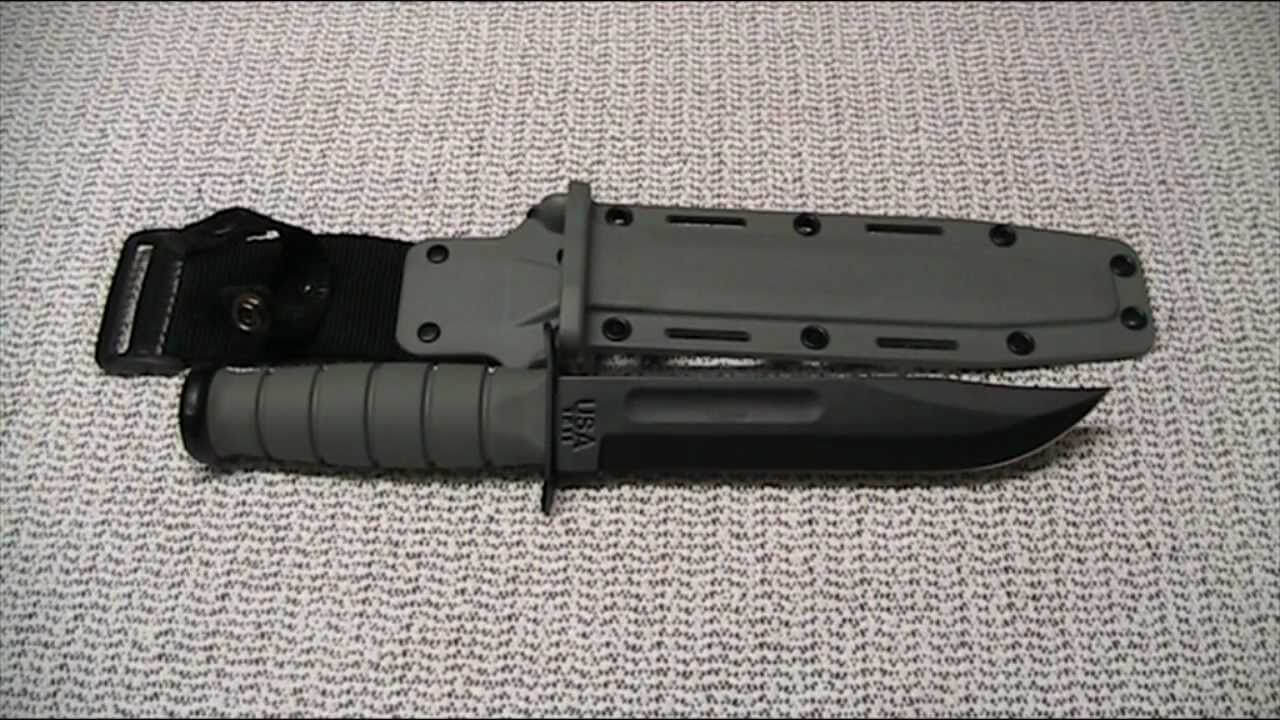 With over 600 consumer reviews on Amazon, this definitely is one of the most popular utility blades in the market and I couldn't agree more with all the praises showered on this knife. I've owned the KA-BAR Fighting/Utility Serrated Edge Knife for roughly 2 years now and have used it pretty roughly during that time but the knife still hasn't given up on me.
This full tang 11.75 inches long knife (7 inch blade) is made from Cro-Van Steel (Chrome and Vanadium) and is rated 56-58 HRC on the Rockwell range. The solid Krayton handle features a hilt and a flat pommel with the latter holding a pin that extends right through and is really useful. The blade design is partially serrated (approximately 1.75 inches) and is like a typical bowie knife with a concave clip point. The thickness of the knife blade is 0.17 inches and the only thing that I wished this knife had was some lanyard holes. Instead, it has 5 deep grooves in the handle and hilt that one can use to create a makeshift spear.
Ka-Bar has also very smartly priced this at around $65 which makes it a great value for money utility knife. If you go for the sheath, it will cost you a little more but I personally bought it without the sheath. The knife will also require some sharpening but post that, it's a treat while using it to split and cut wood. All in all, a great utility knife to add to your hunting trip and one that comes highly recommended by me and other hunting experts.
Types of Hunting Knives
Now that you've gone through my list of the Top 10 Hunting Knives, you should also be aware of the different styles of hunting knives available in the market which are mainly of two types:
Fixed Blade Hunting Knives or Full Tang Hunting Knives
Folding Hunting Knives
Generally, most people including me, tend to prefer full tang knives because they are stronger, more reliable and provide a better grip. Folding knives may be easier and simpler to carry but because of their moving parts, they are not that reliable.
Factors to keep in mind when buying a Hunting Knife
Although there is no one "perfect hunting knife" because a lot depends on individual preferences, there are 5 parameters that one should definitely keep in mind when looking to buy the best hunting knife. These parameters are:
Full or Half Tang
In other words, a fixed or foldable hunting tool. One of the main reasons I prefer a fixed blade hunting knife is because of the durability factor. A full tang knife will always outperform a folding knife when it comes to durability and heavy duty tasks like skinning, chopping etc.
On the other hand, a folding knife is much easier to carry and takes up less space. They can easily be hidden and are generally considered much quicker to use plus you don't always need a sheath to carry one. However, because of the many moving parts involved, they are more susceptible to breaking and cleaning them is a real pain.
All in all, I would suggest that you always go in for a fixed blade knife when given the option but you should also try and carry a useful folding tool as a backup. This strategy has worked well for me in the past and I can use the best of both while hunting in the outdoors.
Handle & Grip
Another often overlooked part is the handle but trust me, it is one of the most important factors to consider when buying any knife – be it survival or hunting or tactical. A great handle makes tasks like chopping and slicing much more easily and is often the difference between a good purchase and a bad purchase.
I also prefer a firm grip as mostly you will be dealing with wet conditions in the outdoors – rain or sweat – and your handle should have a nice, solid grip. Full tang knives generally have a much better grip and higher quality handle than folding ones and that's another factor you should keep in mind.
Blade Material – type of steel
Another very important factor when it comes to choosing great hunting knives is the type of material used in making the blade. The two most common ones are stainless steel and carbon steel and both types have their own set of aficionados.
Stainless steel blades are tough, resistant to rust but sometimes lack in sharpness are made up of metal like carbon, chromium, nickel etc. Carbon blades, on the other hand, are extremely sharp and do not require sharpening for a long time unless you really abuse the blade. However, they do require more care because of rusting and discoloration issues so always remember to check the warranty while buying a carbon steel blade because sooner or later, you will need to take care of the rusting.
If you're looking to compare the two types in further detail, then do check out the video below which discusses the major pros and cons of both.
Knife Length & Size
Another important parameter to keep in mind while searching for the best hunting knife is the size and length of the blade. Bigger is not always better because with a bigger blade, tasks like dressing and carving become more difficult. For example, if you've ever carved precision snares, you'll know exactly what I'm talking about.
On the other hand, a smaller knife will compromise your ability rugged and work intensive tasks like chopping and batoning. So, when you're looking to split that piece of stubborn wood, a bigger knife will make your life ten times easier.
I've personally tested hundreds of knives and for me the ideal knife length range lies between 8 to 12 inches with the blade length being half of that. It doesn't have to be exact but if you stay within this range, you" be able to maximize the ability of all knife tasks.
Sheath
If you've been sensible and chosen to go with a fixed blade knife, then another important factor for you to consider has to be the sheath. Apart from keeping you safe from cuts, a good sheath does more than that and I've heard numerous horror stories from my survivalist friends who chose a good knife but a bad sheath to go along with it.
My personal preference is towards Kydex sheaths but leather ones are also great in terms of performance. Try and avoid nylon sheaths as they are of little use except for cosmetic purposes.
Traditionally, sheaths were almost all leather but recently the trend has changed to favor Kydex sheaths and most of the high performance hunting blades comes equipped with a Kydex sheath. The advantage that it offers as compared to leather sheaths is that it removes the need for a strap to hold the knife in place. In terms of quality and durability, Kydex as a thermoplastic material is far superior but lacks a little in terms of looks.
However, at the end of the day, I'd rather care about performance than looks and that's why I'm a little biased about Kydex sheaths and would recommend it to any outdoor hunting enthusiast.
The Most Popular Use of a Hunting Knife and Types of Blades Used
If you're seriously considering buying a great hunting knife, then I'm assuming you know that mostly you will be using it for skinning purposes. A good hunting knife is often also chosen because it is good for skinning and to separate the hide from the meat cleanly, the blade needs to have a really smooth motion.
There are 3 main types of blades that you need to consider while skinning.
Bowie styles blades – These are also known as clip point blades and generally have a straight spine that stops around the middle of the blade and then forms a curve all the way to the tip. The result is a belly with a large slicing surface and a tip that is extremely sharp. While this kind of a hunting knife is perfect for piercing, it lends a little weakness to the knife and hence is an obvious disadvantage.
Zipper Knives – These are also known as gut hooker knives and as the name suggests, is extremely useful when it comes to hooking gut. It's extremely similar to a drop point blade (which is the 3rd kind and one that I'll discuss later) but has a sharp hook cut at the end of the spine. So if you're looking to open the abdomen of a deer without damaging the muscle, this knife is perfect for your needs. The disadvantage of these knives is that the hook at the end does not remain sharp for long so you'll need to constantly sharpen it again using a good hunting knife sharpener.
Drop Point Hunting Knives – If you're looking for absolute control in a hunting blade that offers a lot of slicing surface, then a drop point blade is perfect for you. The spine slopes down slowly till the end and the shape helps in minimizing scenarios where you accidentally puncture the organs thus leading to loss of good meat. I own a variety of drop point blades (see my list of the top 10 hunting knives above) and the only downside is that they are not very good for piercing purposes. I generally use a Bowie style knife in conjunction with a drop point blade while skinning and preparing deer.
How to Clean a Hunting Knife – The Right Way
If you're even slightly passionate about the hunting knives that you own, then this is probably the most important section you should read and no article or guide about buying the best hunting knife is complete without mentioning how to take care of them once you own one.
Just because you bought a stainless steel knife doesn't mean it won't ever rust. There is a big difference between being "rust proof" and "rust resistant" so an outdoor hunting enthusiast, you need to be prepared for a daily upkeep of your favourite tool.
For regular clean ups, one needs to oil their knife from time to time in order to make it more long lasting. A rusty blade is almost as good as not having a blade in the outdoors so remember to clean and oil your knife after every use.
If somehow you forgot to clean your blade and you now have a pretty dirty knife in front of you, then keep it simple and use soap and warm water. Do not wet the hold knife and instead use a damp cloth along with an all-purpose camping soap. After that make sure to dry the knife with a soft cloth and then use a polishing agent such as Metal Brite.
I've used Metal Brite on my Buck knife after reading the instructions given on the official Buck website as well and was really happy with the results. Since then, it's become my go to polishing agent to remove rust, oxidation and discoloration.
I highly suggest you watch the below video to get more clarity on how to clean a hunting blade.
Want to see some more Hunting Knives on this List?
Now that we're at the end of this mammoth guide, I'm pretty sure you would have narrowed down your choice when it comes to choosing the best hunting knife after reading all the reviews.
That said and done, there are new survival and hunting blades that keep coming out from time to time. Also, I might have overlooked at least one great hunting knife so it would be really great if you could offer some feedback via the comment box below.
I will also try and update the hunting knife comparison chart from time to time and anytime you wish to reach out to me, please do so through the Contact Me page!